Ruby Rose Hopes Batwoman's Sexuality Will Empower Young People
The CW has a fairly solid track record of putting people on TV who represent a variety of races, cultures, and sexual orientations — though it, and every network, could still do better in that regard — and that tradition is continuing with Batwoman, its newest DC superhero series.
Batwoman stars Ruby Rose, who is gender fluid and also the first openly gay lead of a live-action superhero show. Additionally, Batwoman is the first LGBTQ+ superhero lead on TV — though don't forget that Black Lightning has an out-and-proud supporting character in Anissa Pierce/Thunder (Nafessa Williams). So once again, The CW is definitely putting LGBTQ+ characters on increasingly more shows, though as star Rose tells the 2019 TCA Summer press tour, everyone can do better. She also thinks growing up now as an LGBTQ+ youth might be even harder than growing up 20 years ago because of the advent of social media.
"Social media is terrifying. I do think that we are coming a long way in acceptance, and people are becoming more progressive, and we are getting much more representation on television. In a way, social media is great because you can find communities and you can find people that are like yourself and you can find these people that will help support you and talk to, but at the same time, it's a whole portal of people being able to attack you when you are in your bedroom at home," says Rose, adding, "I didn't get a cell phone until I was probably, like, 16 . . . so I didn't really get when I was home, I was safe."
She continues, "Now I feel like there's a lot of pressure on kids, and that's why making this show is so important to me and to Caroline and to Sarah, to everybody, because we do want young everyone to watch this, but especially young people can watch this and feel like they can identify and they can relate to the people that they are watching on the screen and hopefully be empowered by that."
What Rose is specifically referring to is that her love life is built right into the pilot. This iteration of Batwoman is Kate Kane, who was kicked out of a military academy for getting caught in a relationship with a female cadet, who is also a character on the show. Sophie, played by Meagan Tandy, was Kate's girlfriend at the academy and now works for Kate's dad, so their scenes are fraught with tension of a romance gone by and what could have been, especially because their breakup was facilitated by their getting caught at the academy.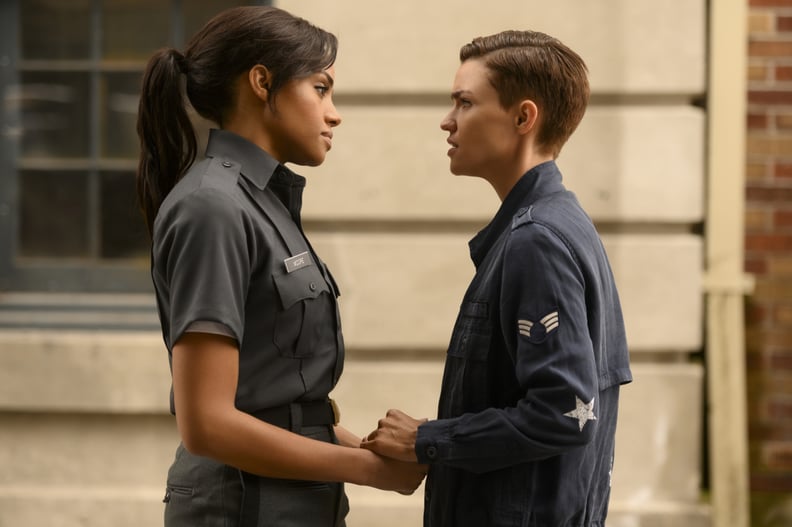 "Their relationship when they were training in military school, it was very genuine. So it wasn't just like some little fling. They actually genuinely had a connection, a chemistry, and for it to end so abruptly, there wasn't really any closure with it," says Tandy. "So when Kate comes back to try to save her ex, obviously, some sparks kind of flare up between the two, and they are having to discover what that means and what they are going to have to do with it. But, yeah, it ended, but did it really? And they have to figure that out."
Rose adds that it was interesting to explore the "don't ask, don't tell" era of the armed forces because that's not something she has had any experience with, but it gave their breakup scene some enormous gravitas.
"Touching on the 'don't ask, don't tell,' and that whole period . . . wasn't an experience that I've had in my life. So I couldn't draw from something in that scene. But when I thought about all of the people that were separated from their partners or were kicked out of the military, who had done these amazing things and fought for the country and risked their lives and then, over something as simple as who they loved, were separated or booted out, I immediately just was like, there's a lot of weight on this scene that . . . could just be 'Oh, that's so sad. They are breaking up. One stayed. One didn't,' you know? But it's, like, no — I just suddenly was like, 'You need to think about what this means to people that are still dealing with that right now.'"
Batwoman premieres Oct. 6 on The CW.