Dan Levy Posted an Emotional Tribute to Schitt's Creek, and Now I'm Sobbing Into My Wig Wall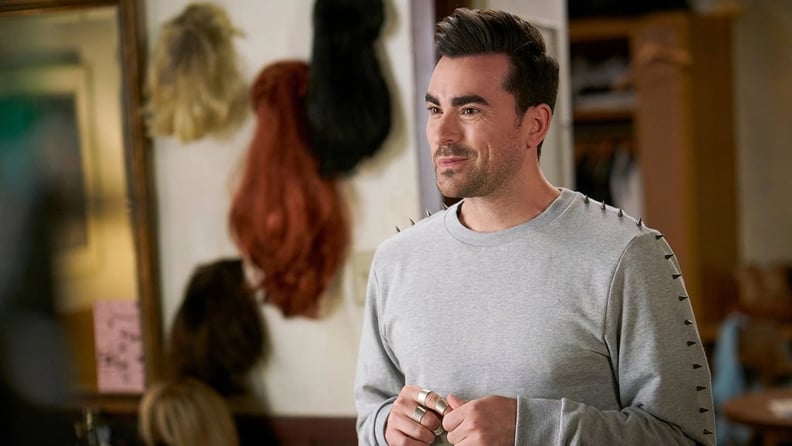 Pop TV
Pop TV
Nothing gold can stay, right? At least that seems to be the case with Schitt's Creek, which is going out while it's still on top.
Dan Levy's delightful, brilliant comedy about a wealthy family who suddenly lose their fortune and are forced to move to a tiny backwoods town to get by has captured the hearts of viewers all over the world since its debut in 2015. Now, the show has officially wrapped filming its last episode ever, since the POP TV series will end with a sixth and final season.
Levy, who cocreated and stars in the series alongside father Eugene Levy (who plays his onscreen dad, Johnny Rose), posted a touching tribute to Schitt's Creek and his character, David Rose, on Instagram. Along with a night shot of the Rosebud Motel, he wrote about the immense gratitude he feels for his family, friends, crew, and fans:
That's a wrap, friends. Don't think my heart has ever felt more gratitude than it did last night. Thank you to everyone who made this little show happen. To my family, thank you for being patient with me while I fussed over every detail, big and small, for six life changing years. To our magnificent cast and crew, I am still trying to find the words to properly describe the breadth and strength of your talents and how much you've inspired me... To our fans, you've got a season made with a whole lot of love coming your way next year. And lastly, to Prince David, long may you f*cking reign. ❤️✌🏼🥂
Are you crying a little bit? Because I'm definitely crying a little bit. So, to spare myself any further embarrassment, ignore my tears and just take a look at the photo Levy posted ahead.