Taylor Swift Started Fall Off Right With a Gorgeous Rendition of "Holy Ground"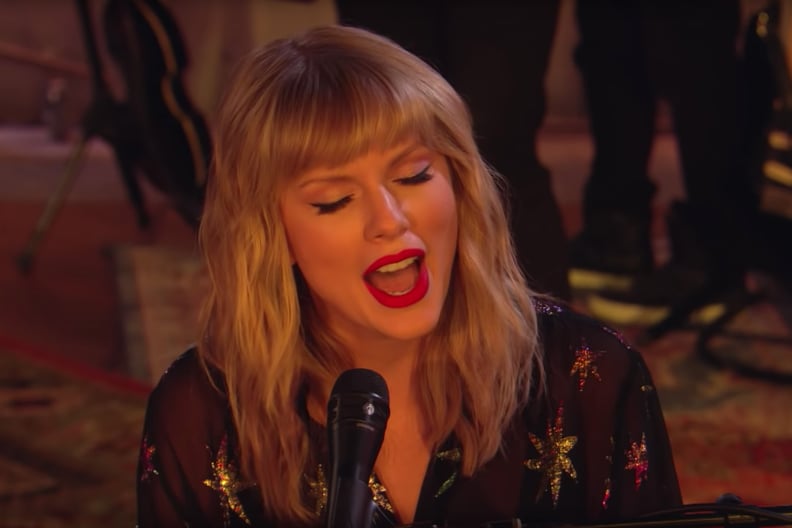 Taylor Swift performed at BBC Radio 1's Live Lounge on Monday, and she pulled out a special deep cut song that has RED fans freaking out. In addition to singing her recent singles "You Need to Calm Down" and "Lover" from her latest album, the singer also gave a chilling rendition of her 2012 hit "Holy Ground" — only this time, it was completely stripped down with Swift on the piano.
From the haunting backup vocals to the warm lighting on the stage, this performance has us ready to bust out our old scarf, grab a Pumpkin Spice Latte from Starbucks, and scream-cry over the RED album all over again. If this is any indication of what Swift's rerecorded albums will sound like, she can just take our money now! See the rest of her stunning performances ahead.
Taylor Swift Performing "The Archer" at BBC Radio 1 Live Lounge
Taylor Swift Performing "Can't Stop Loving You" by Phil Collins at BBC Radio 1 Live Lounge
Taylor Swift Performing "You Need to Calm Down" at BBC Radio 1 Live Lounge
Taylor Swift Performing "London Boy" at BBC Radio 1 Live Lounge
Taylor Swift Performing "Holy Ground" at BBC Radio 1 Live Lounge
Taylor Swift Performing "Lover" at BBC Radio 1 Live Lounge