What It Was Like For Teresa Giudice to Watch Her Release From Prison on The Real Housewives of New Jersey
After a year behind bars, Teresa Giudice is back at home and on the new season of The Real Housewives of New Jersey. The reality star was released from prison in December, and the show captures not only the moment she sees her family again, but also the months following her return to suburban life. We spoke to Giudice about what it was like to watch that emotional scene, plus who's creating the most drama this season, which premieres July 10.
POPSUGAR: How do you feel about the season, knowing everything has already been shot?
Teresa Giudice: Everyone is gonna love this season. It's pretty amazing. You can see it's very heartfelt, it's raw, it's life. It's obviously my journey, what I've been through. I'm sharing it with everyone; I've gotten feedback from people that I've inspired them through tough times in their life and it makes me feel good that I was able to help people out there.
PS: Have you been able to watch the moment you come back into the house?
TG: Yeah, it was really hard for me to watch.
PS: What do you want to say to your fans who have supported you throughout this time?
TG: I love, love, love, love them so much and thank you for being there. I got so much mail when I was away. It's just amazing. It means a lot that people, even when I wasn't around, they still sent me letters and cards. It brought tears to my eyes; I know everyone is busy in life and for them to take out the time to still think about me and send me a card or a letter, that really meant the world to me. I'm grateful for that.
PS: Your relationship with Melissa and your brother has been through so many ups and downs on the show — what can we expect from this season? Are you on the up and up, or is it rocky again?
TG: It's the way it was before the show. Our relationship is amazing and we've grown. You're going to see what our family was like before the show.
PS: Which of your castmates are you the closest with right now, after filming?
TG: Everyone but Jacqueline.
PS: What was it like filming with her again?
TG: You'll see; it starts off good, then it gets bad again, unfortunately.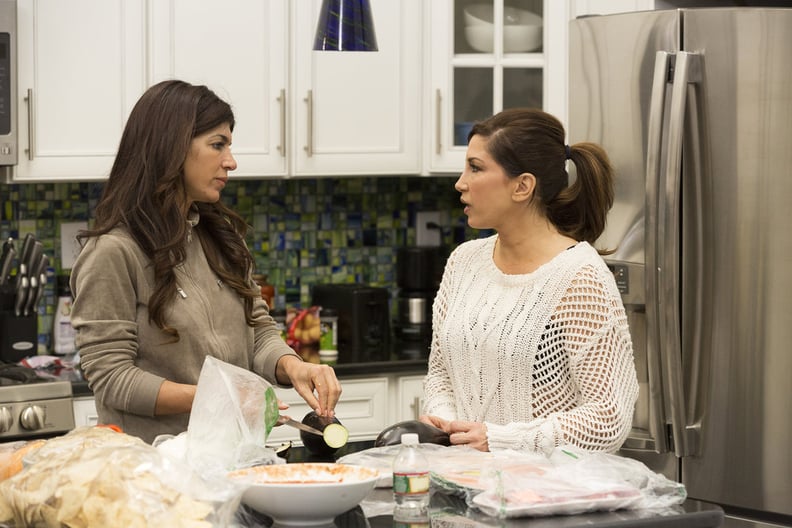 PS: Do you have any regrets after filming this season?
TG: After this season? No.
PS: What about the series as a whole?
TG: I would change the way I reacted to certain things and I wouldn't let it get to me so much. I would just brush it off. Throughout all these years I have grown and I wish I knew then what I know now. What people say doesn't really matter. It's best to just brush it off and move on.
PS: Which newcomer did you bond with more, Siggy or Dolores?
TG: Dolores and I go way back to my 20s, and Dolores has been on the show before. Dolores and I, we get each other. We finish each other's sentences. She's my girl, but I have to say I love Siggy too. She's amazing also.
PS: So no bad blood there?
TG: No, no bad blood at all.
PS: Who is causing the most drama this season?
TG: I told you who I wasn't talking to, right?
PS: Your new tagline is, "I used to flip tables. Now, I turn them," which is also very close to the title of your book. What does that mean to you?
TG: I guess things used to get to me before and now I try to look at things in a positive way. If someone says something negative to me, I'll just turn it around into a positive.