How Will Grey's Anatomy Handle That Big Cliffhanger? We Have an Idea
All things considered, the 14th season finale of Grey's Anatomy is one of the happiest endings we've seen in the show's history. Nobody dies or gets in a horrible accident — that all happens the week before, luckily — and though we say goodbye to two beloved characters, they still get their happy endings: April gets to ride off into the sunset with Matthew, and Arizona sets her sights on an optimistic new chapter in NYC. Yes, most of the finale is tied up neatly in a bow, but there is one semicliffhanger that's been rolling around in our heads: what's going on with Jo and Alex?
As a quick catch-up, Jo receives some pretty exceptional news in the finale: she's been accepted into a very exclusive medical program. Oh, and she'll have to move to Boston to do it. Meredith spends the episode hemming and hawing; she even offers Jo a resident job at Grey Sloan. Why? Because she doesn't want to lose Alex like she's lost everyone else. Eventually, Meredith comes around and gives the couple her blessing. Now, we can't help but wonder if Alex and Jo are really moving to the other side of the country.
Consider this: we've already lost April and Arizona, and there's been no announcement that Alex and Jo (aka actors Justin Chambers and Camilla Luddington) are leaving the show any time soon. This means the writers have to find a way out of the this corner. We could always follow Alex and Jo as they move on to a new adventure in Boston, but historically, that hasn't really panned out. Remember when Cristina moves to a new job in the Midwest after the plane crash? Sure, her relationship with Dr. Thomas is cute, but it's not long before her storyline runs dry and she eventually moves back to Seattle.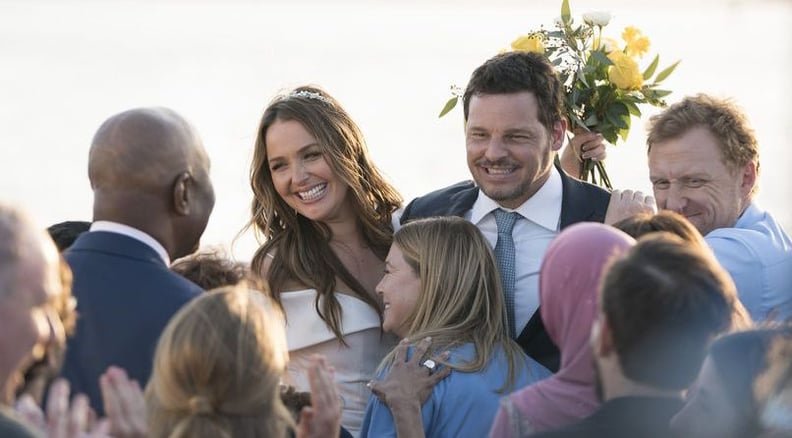 What if there is a way for Alex and Jo to go to Boston but continue their storyline in Seattle? To accomplish this, there's one obvious move that makes a lot of sense: a time jump. Grey's isn't afraid to do a minileap forward; most notably, we leap forward a whole year with Meredith after Derek's death. So maybe we hop forward a few months, when Jo decides she hates Boston and wants to be back in Seattle. Or maybe we hop forward even further, to a point where she's completed the program.
This, of course, would cause a lot of interesting ripples. Teddy, who is back for season 15, will be a lot more pregnant. Or, she'll already be a mom! There may also be interesting developments between other characters: Jackson and Maggie, Owen and Amelia (and Teddy), and maybe even the on-sabbatical Miranda Bailey. While a time jump will certainly help figure out the whole Alex/Jo situation, it seems it might shake up the whole show in general for season 15. And that, if you ask me, is something Grey's Anatomy desperately needs.