Toheeb Jimoh Talks Sam's Romance With Rebecca on Ted Lasso
Toheeb Jimoh Says Ted Lasso's Most Unexpected Romance Has Been in the Works Since Season 1
Watch out! This post contains spoilers.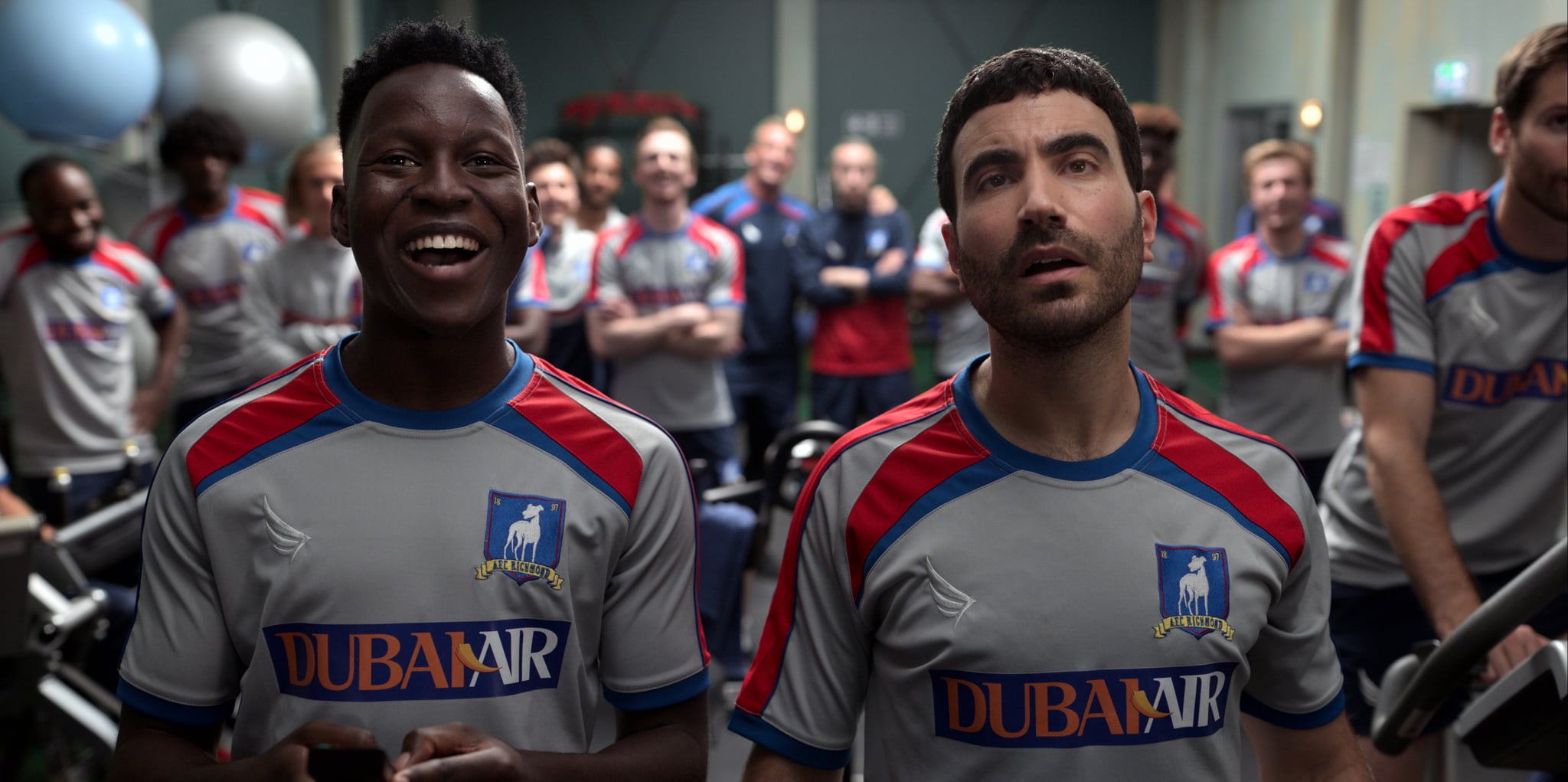 Toheeb Jimoh was taken straight away by Ted Lasso's Sam Obisanya. A young African football player who comes into England struggling to find himself? That's Jimoh's story just as much as it is Sam's. The actor was born in the UK but lived in Nigeria for a time and identified with how the character navigated a cultural shift. The titular character, Ted, a coach with a mission to make young athletes into the best versions of themselves, also tugged at Jimoh's heartstrings. Now, he's learning to handle the spotlight as the show's not-so-secret heartthrob.
Jimoh auditioned for Ted Lasso while the script was still being workshopped, he told POPSUGAR. Sam was originally meant to be a Ghanian, but Jimoh adjusted the role to match his own cultural identity as a Nigerian. One memorable season one scene in particular helped Jimoh step into Sam's shoes for the first time: It's Sam's birthday, and the team is giving him gifts. Ted tries to bestow a tiny military figurine to him, and Sam responds: "Do you mind if I don't keep this? I don't have the same fondness for the American military that you do . . . Imperialism."

"He can use his platform in a way that he can stand up for himself and his family. I think that's all down to Ted."
Those are the types of witty one-liners viewers have come to expect from Sam in nearly every episode. Yet season two gives Sam, and by extension, Jimoh, the opportunity to grow beyond the quips.
"The Sam that we got in episode two of season one who is not playing very well, he hasn't quite found himself, is being bullied by Jamie . . . he's just kind of taking it and trying to find himself and can't really use voice properly," Jimoh recounted. But in season two, things change. "He can use his platform in a way that he can stand up for himself and his family. I think that's all down to Ted." Ted's leadership permeates the hearts of all the AFC Richmond players, but Jimoh said, "Sam's arc exemplifies that the most."
Nowhere is this more evident than in season two's third episode. At the behest of his father, Sam takes a stand against the team's sponsor after learning its parent company, a fictional oil corporation, is doing irreparable damage to Nigeria's environment. For Jimoh, Sam's political activism feels personal, and the response he's received since the episode aired is "overwhelmingly positive."
"I have a lot of people, a lot of Nigerian people, on my Instagram and on my Twitter who reach out and just say that they feel seen because of the episode," Jimoh said. He emphasized that while the episode's storyline may have been fiction, there's a real need to pay attention to the Nigerian government's corruption, as evidenced by the tragic Lekki Toll Gate massacre that killed at least 12 protestors in 2020. Jimoh feels a responsibility to "look out for" his fellow Nigerians.
The episode also felt personal because Jimoh's real-life parents played a role. In the scene where Sam looks at a picture of his folks, Jimoh used a photo of his actual mom and dad. They keep that clip in their family group chat. Jimoh said his mom gets "really giddy" when she sees him on screen and his dad is a "very typical Nigerian man" who'll keep his "cards close to the chest" — but even then, Jimoh can see the excitement shining through. "They try to play it cool, but I think they're over the moon about the whole thing."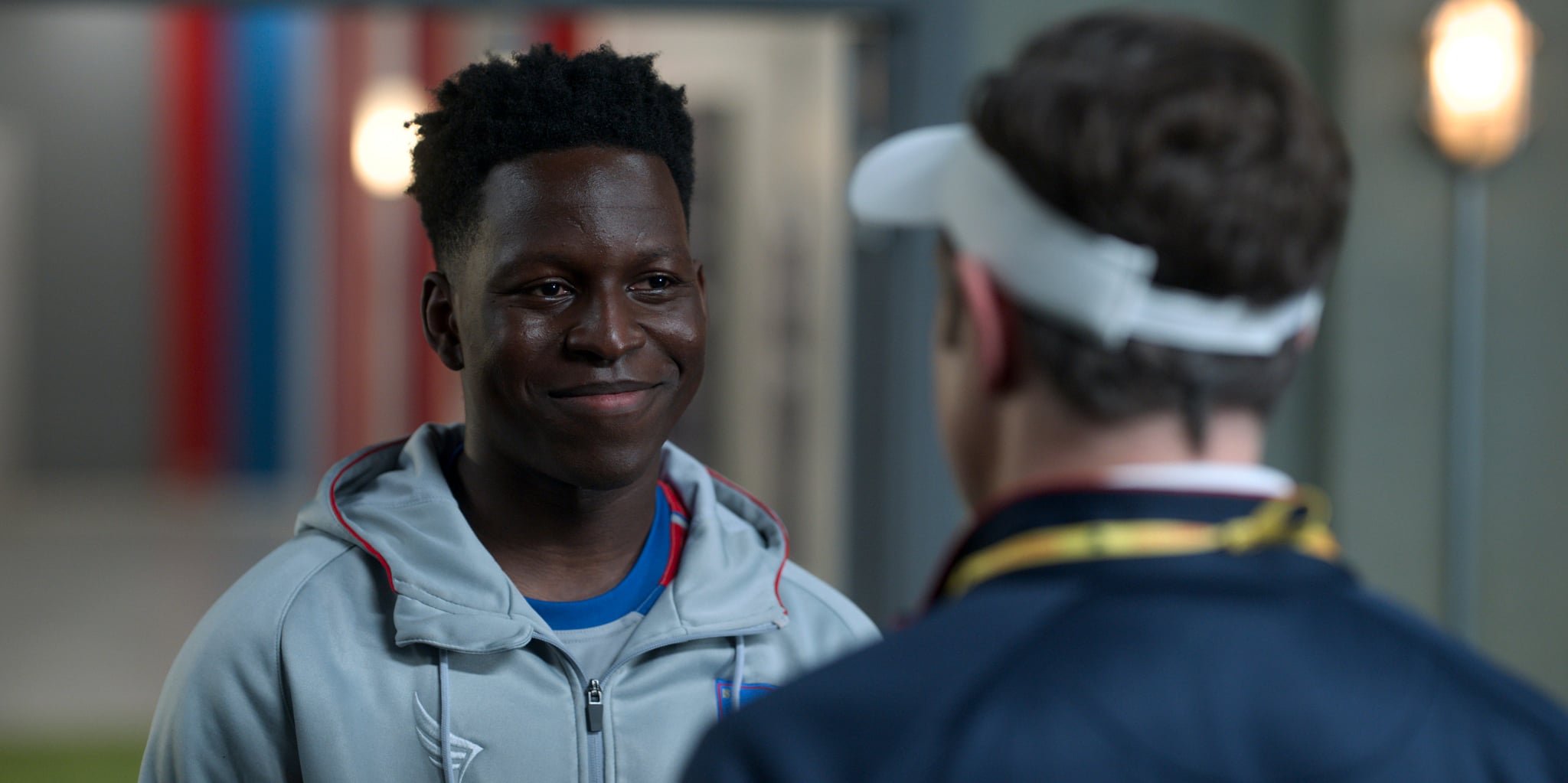 Mental health and therapy are also major themes in season two. Although the cast and crew filmed months ago, the introduction of Dr. Sharon Fieldstone to the team is timely, as real-life athletes like Naomi Osaka and Simone Biles publicly prioritize mental health over competition. Jimoh is "glad" this season coincides with actual world events and "proud" of how Ted Lasso tackles the conversation in its own way.
Nearly every player of the Richmond team ends up knocking on Dr. Fieldstone's door — a reminder that, for all of its cheeriness, the show is made up of people who are still figuring it all out. This is the aim, according to Jimoh: "Let's take all of these characters that you love, that you've seen grow, that you empathize with and you really like, and let's show them struggling in the same way that every single one of our audience members probably will at some point."
"You're cool if you're a good person, that's the aim. If you're anything less than that, then it just isn't it."
Struggle, growth, compassion — that's the ethos of Ted Lasso, and Jimoh buys into it 100 percent. "The guy who's overwhelmingly optimistic or positive, or even a character like Sam who's really genuine and sincere and nice, usually just gets taken advantage of and made fun of, but in our show, it's cool," he said. "You're cool if you're a good person, that's the aim. If you're anything less than that, then it just isn't it."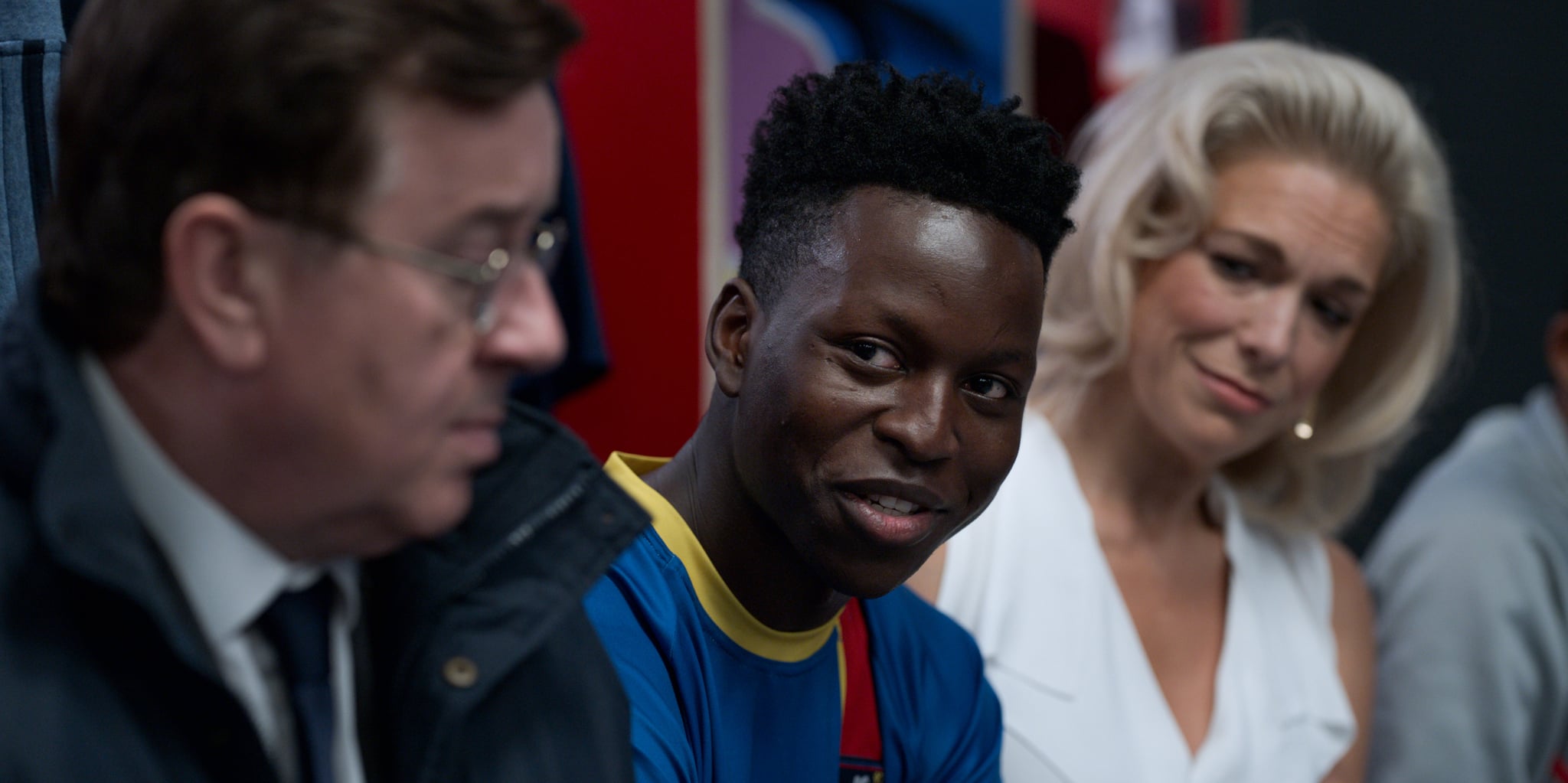 In a season full of surprises, Sam's sincerity and charm are shown off in the most unexpected way when he's revealed to be the mysterious stranger on the other end of Rebecca's Bantr messages. The show definitely led fans to believe a romance was brewing between Ted and the team's owner, but in season two's seventh episode, viewers finally put Sam's face to user "LDN152." Jimoh said this was brewing in Jason Sudeikis's mind from the beginning.
This checks out with a careful rewatch: Jimoh and Hannah Waddingham, who plays Rebecca, only have a handful of scenes together, but even then, tension is building. In season one's sixth episode, Rebecca mistakingly thinks Sam is asking her on a date. At the time, they laugh it off. But Jimoh also reminds viewers of another "little clue" in season one episode seven where Sam eagerly takes Rebecca's bag before she sings karaoke. In a rehearsal of the scene, Sudeikis specifically and rather slyly suggested Jimoh take the bag. "It's moments like that where you go, Jason Sudeikis," Jimoh said, "he knows everything, don't question him, just do what he says."
Jimoh wasn't clued into Rebecca and Sam's dating-app encounter until well into filming season two, but he said fans of the show picked up on their chemistry much earlier. "After season one finished, people would message me on Instagram and be like, 'Is Sam and Rebecca a thing?' And I'd be like, 'Huh? Why do they think that?'" Knowing what he knows now, Jimoh expects a big response and fully plans on sending out a few side-eye emoji on Twitter and then "[leaving] my phone alone for like a week."
"I'm loving this little journey I'm on."
Details about the season's remaining episodes are under tight wraps, but there's certainly more to navigate if the relationship progresses. In addition to the significant age gap, Rebecca is Sam's boss. At the moment, neither Sam nor Rebecca know who's on the other side of these messages, and Jimoh can't elaborate further on what's to come, but the overall message of season two is what matters, and he hopes it leaves people feeling joyful.
"I'm glad we're making people happy a little bit. You can sit down and watch a show for 30 minutes and just forget about all the other stuff that's going on in the world and just be distracted a little bit and maybe learn some cool lessons and learn a bit more about other cultures," he said. "It's a unique experience to get to work on a show like this, where I get to just chill with people I really like and play football and do good work that makes people happy. I'll definitely be sad when it's all over. I'm loving this little journey I'm on."
Image Source: Apple TV