We Need to Talk About the Twist in This Is Us
One of the new Fall TV shows we're most excited about is the NBC drama This Is Us. Way back when all we had was a trailer, we were already obsessed with the family-focused series — we love a good cry, and hello, Milo Ventimiglia's butt. While the show's cast and drama-laden feeling were reason enough to tune in, the additional premise added even more intrigue: the main characters are linked by their same birthday. Cute, I thought. Then I watched the show, and had my mind blown a little by the twist. Now that the show premiered this week and we've all had a chance to watch, we need to talk about the twist and the questions it brings up. Here's your spoiler alert: do not proceed if you have not watched the first episode of This Is Us and don't want to know what happens.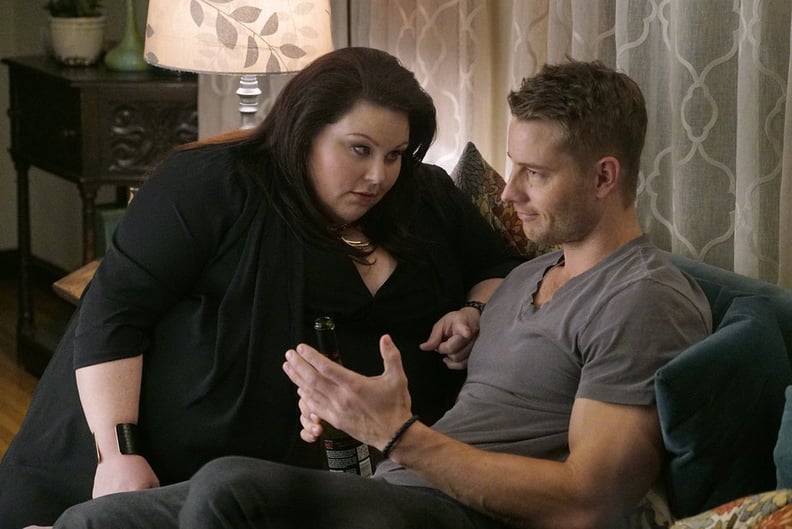 The Setup
It's the 36th birthday for four people: Jack (Ventimiglia), whose wife, Rebecca (Mandy Moore), is about to give birth to their triplets; Kate (Chrissy Metz) who's struggling with her weight and loneliness; her twin brother Kevin (Justin Hartley), who's at a career crossroads; and Randall (Sterling K. Brown), a man adopted as a baby who has finally tracked down his birth father in order to confront him. We spend the fated birthday with each character, getting to know them individually, but the connections to each other (save for the twin relationship) aren't revealed until the final moments. And when they are revealed, it's so much more than we were expecting.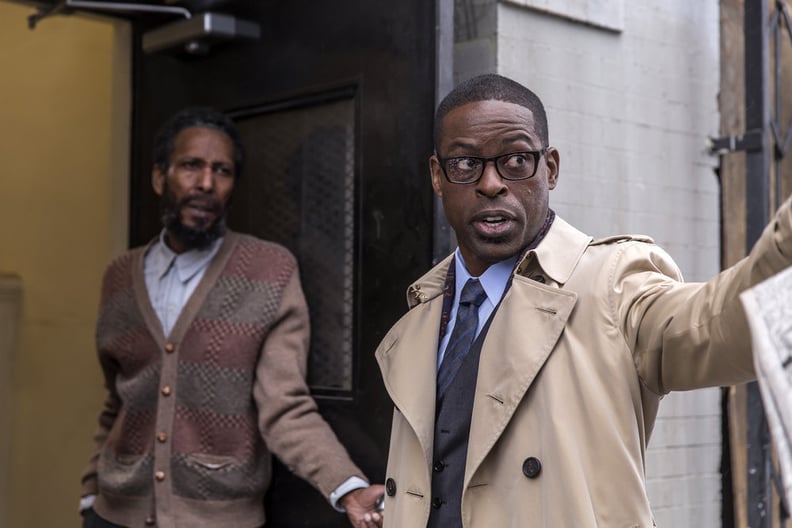 The Twist
As we come to the end of Rebecca's tough labor, tragedy happens, and one of the babies doesn't make it. Her distraught husband Jack has a moving heart-to-heart with their doctor (Gerald McRaney), and at the end of the pep talk, he looks at his two children in the hospital, and learns of an infant who's just been brought in after being abandoned at a fire station. It's Randall, and the three babies clearly complete Jack's picture of the three children he had always intended to bring home. But that's not even the biggest twist, you guys!
As it sinks in that Kate, Kevin, and Randall are siblings, the camera pulls out for the big reveal: Jack is their father, not just some dude with the same birthday, and it's 1980. 1980, you guys. Suddenly Milo Ventimiglia's beard and shearling jacket do not seem like hipster accoutrements, but era-appropriate clothing. Everyone is dressed like it's 36 years ago, and after you recover from this trickery, it's time to think about the implications.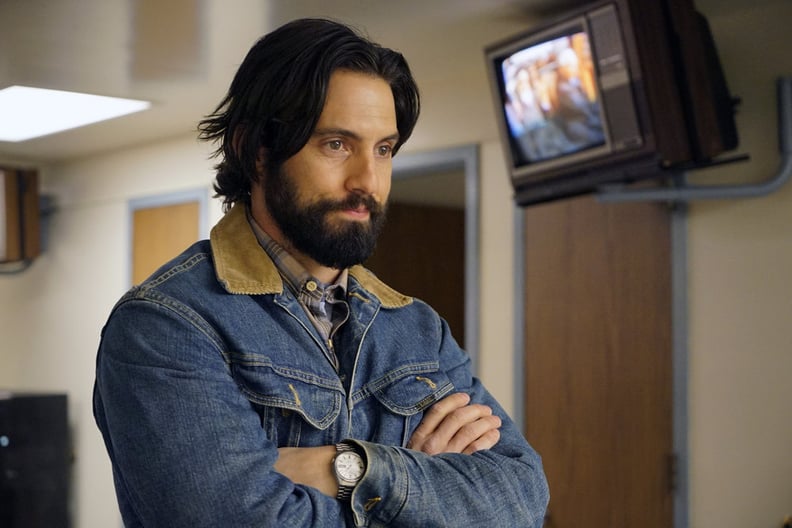 The Questions
To keep the twist under wraps before its series premiere, very little has been said about how the show will proceed after episode one, but at TCA, show creator Dan Fogelman left a few bread crumbs, saying "Milo and Mandy's storyline jumps around a lot, and you see there's different looks we play with." So . . .
Are we going to go back and forth between present day and 1980? Are Jack and Rebecca going to interact with their grown-up kids? Subquestion: are we going to see Milo Ventimiglia and Mandy Moore in aging makeup? How old are we going to see them?! Did Milo Ventimiglia keep that jacket from when he played Jess on Gilmore Girls?!