The First Haunting Teaser For the Upcoming Walking Dead Spinoff Is Here: "A New World"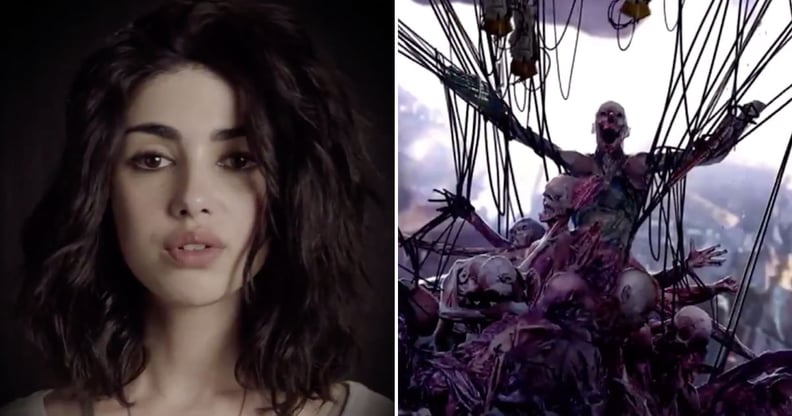 Are you ready for a whole new world of The Walking Dead? On Tuesday, AMC tweeted out a brief glimpse of the zombie drama's spinoff that's shuffling onto TV in Spring 2020, and though it doesn't contain any new footage, it's haunting all the same. As drawings of characters from the show's concept art transition into the young, real-life actors who will be portraying them in the as-yet-untitled series, we hear a bit about what the new story will entail.
"What if you grew up in a world of safety, and you decided to leave to discover the truth of who you are and what the world really is," the first three actors say as disturbing images of zombies writhing inside a plane crash flash on screen. "There have been things going on in The Walking Dead universe since the very start of the story, all happening over all the years, in other places we haven't seen, with people we haven't seen."
So, it seems the future of the franchise will follow a group of four teenagers who leave the safety of their compound behind to venture out into the world of the walking dead and meet new (and likely dangerous) characters along the way. The core group will feature two young female protagonists, and all will be of the first generation to come of age in the apocalypse.
The second spinoff of The Walking Dead (after Fear the Walking Dead) was cocreated by Scott M. Gimple and has Matt Negrete on board as showrunner. As far as the cast is concerned, Alexa Mansour (Madame Secretary), Nicolas Cantu (The Good Place), Hal Cumpston (Bilched), Annet Mahendru (The Americans), and Aliyah Royale (Major Crimes) are all attached.