Movies that center around weddings [1], like many love-themed movies, often get a bad reputation for being overly sensitive or filled with emotions while simultaneously possessing zero substance. Sure, this is true for plenty of romantic movies, but I would argue that not every movie has to have a moving message or a tug of war between your morals; it can simply be entertaining. Though wedding movies [2] stereotypically fall within the romantic or rom-com genres [3], there is still so much substance in this category. Movies about romance that involve weddings usually fare well among audiences, so what is it that attracts people to weddings and romance movies as a whole?
The answer has to do with our psychology and how we project our own desires to the world around us. Phillip Hodson, a psychotherapist and author, elaborated on this with Time [4]. "We need to live by stories that help us deal with tough realities. Idealism has a role to play — it can convince us that no matter how misshapen, decrepit, or dull we are, there is someone out there for us. And you know what? There is!" Furthermore, movies that involve weddings often have that magical fairy-tale element to it that humans, no matter how young or old, are always drawn to. This can be attributed to our innate desire to seek purpose and hope in our lives, according to Ellen Handler Spitz in The New Republic [5]. "[Fairy tales] stimulate rainbows of feeling, insatiable curiosity, and inexhaustible searches for meaning," she wrote. So if you are a sucker for rom-coms, don't worry, it just means you're a perfectly normal human.
It doesn't have to be wedding [6] season for you to indulge in some of the best romance movies out there. Whether you are having a girls' night in or are seriously caught in your feels, we've compiled the perfect list of 45 wedding [7] movies to fulfill your fairy tale dreams.
My Big Fat Greek Wedding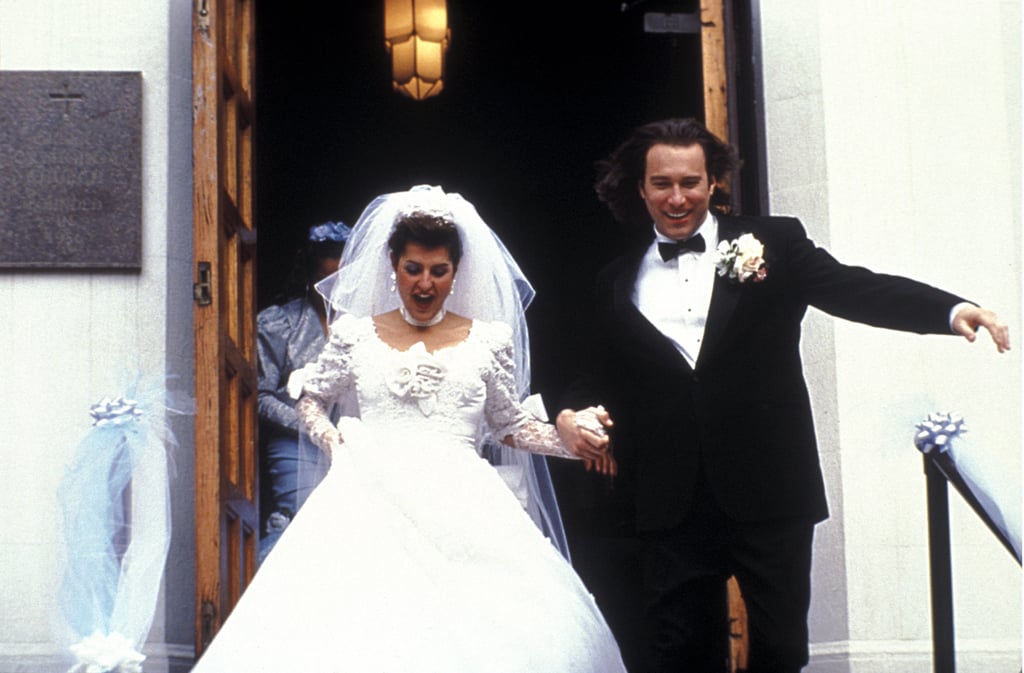 Toula Portokalos (Nia Vardalos [8]) lives an unfilled life. The 30-year-old is single; works at her family's Greek restaurant, Dancing Zorba's; and has dreams of going to college. Considered the "ugly duckling" of the family, Toula has never had a boyfriend, but this all changes when she meets school teacher Ian Miller (John Corbett [9]). The only problem? Ian isn't Greek, which makes it difficult for Toula's family to accept him. Despite this, they eventually warm up to him, and the couple have a traditional Greek wedding [10]. The entire film sets up the importance of being with the one you love and following your dreams, but it also has an amazing sequence of scenes leading up to the wedding day — making it loved by fans (and my personal favorite).
My Best Friend's Wedding
Love makes people do some crazy things, but nothing compares to what Julianne Potter (Julia Roberts [11]) does in "My Best Friend's Wedding [12]." Upon finding out that her best friend, Michael O'Neal (Dermot Mulroney [13]), is getting married and wants her to be the maid of honor, she realizes she is in love with him. Now, Julianne must compete with Michael's gorgeous and kind fiancée, Kimmy Wallace (Cameron Diaz [14]), who has the best of intentions and just wants to befriend her. Just four days before the wedding [15], Julianne does everything in her power to stop the wedding from happening — but will she succeed?
Wedding Crashers
Friends John Beckwith (Owen Wilson [16]) and Jeremy Grey (Vince Vaughn [17]) are divorce mediators by day and womanizers by night. The pair are regular wedding [18] crashers, doing so to meet beautiful women and ultimately have sex with them. When the pair are invited to a party by US Secretary of the Treasury William Cleary (Christopher Walken [19]), John and Jeremy find themselves breaking their shallow sex rules and actually falling in love with the women they meet. The only problem? John is in love with Claire Cleary (Rachel McAdams [20]), who is engaged to be married. Now, John and Jeremy have to conceal their past to land the women of their dreams.
The Wedding Singer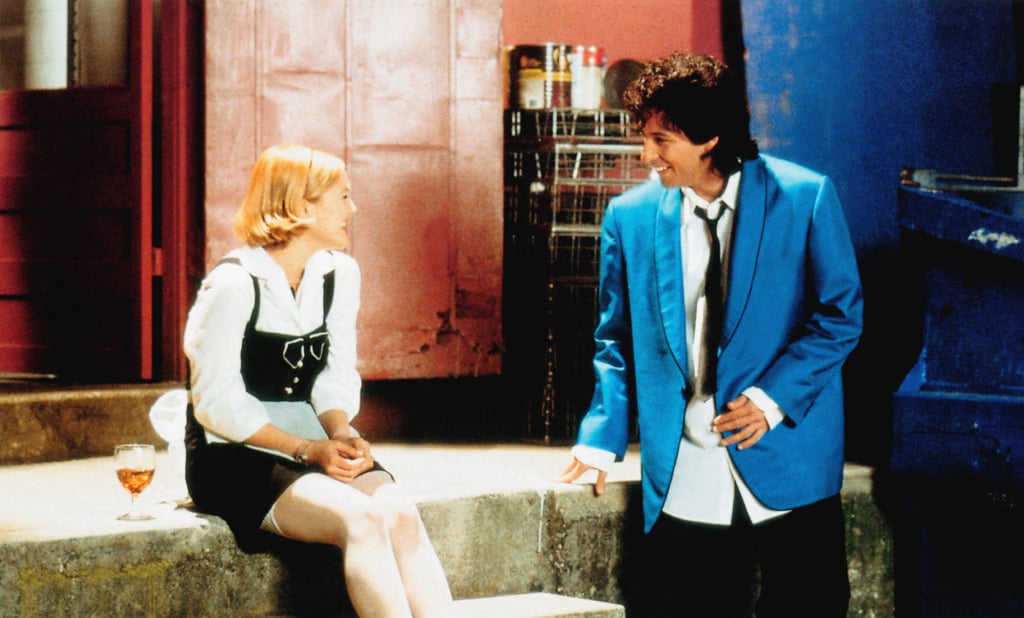 The chemistry between Adam Sandler [21] and Drew Barrymore [22] is undeniable in this '90s classic. In 1985, wedding [23] singer Robbie Hart (Sandler) is kind and about to be married when he is dumped the day of his wedding. Julia Sullivan (Barrymore) works at the event space where Robbie performs and is engaged to a pompous Wall Street broker. The two gradually start to realize they have feelings for one another, and it's up to Robbie to stop her wedding before it's too late.
Bridesmaids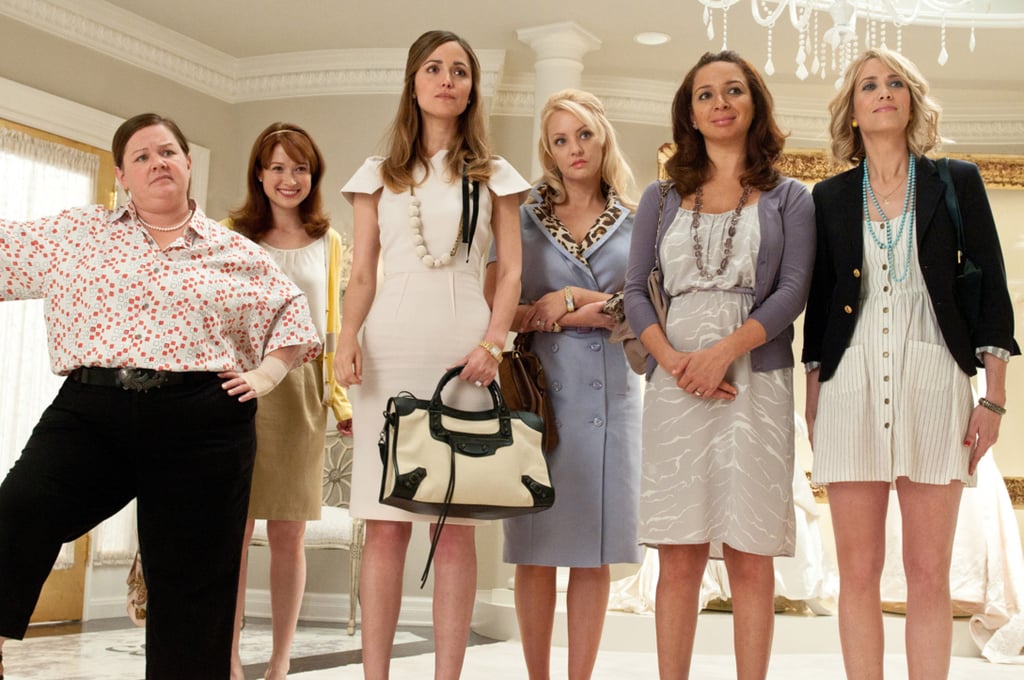 Filled with a hilarious all-women cast and raunchy humor, "Bridesmaids" became an instant classic. Annie (Kristen Wiig [24]) is asked by her best friend, Lillian (Maya Rudolph [25]), to be her maid of honor. Annie immediately accepts but becomes overwhelmed by the duties of the position. Along with Lillian's group of diverse bridesmaids, Annie strives to give Lillian the best wedding [26] ever, but these efforts don't go without their own complications.
27 Dresses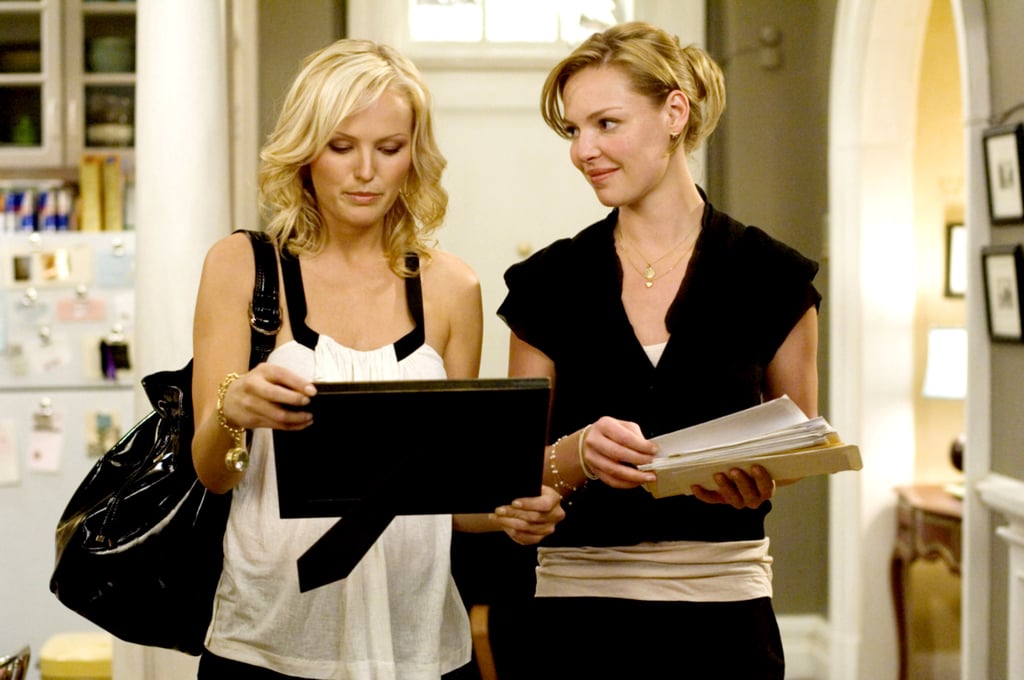 Hopeless romantic Jane (Katherine Heigl [27]) is notoriously single and never gets her shot at love. Instead, she is always on the back-burner and a bridesmaid — 27 times to be exact — for all her friends. When Jane's sister, Tess (Malin Åkerman), tries to steal the love of her life, George (Edward Burns), Jane must put herself first or be subjected to being a bridesmaid for their wedding [28].
Father of the Bride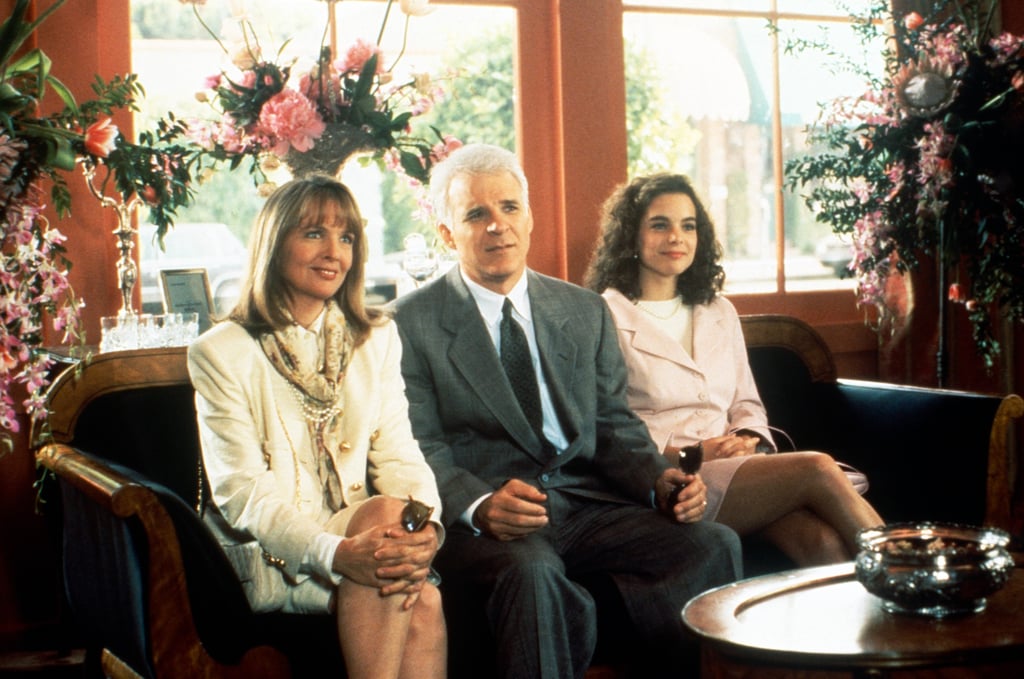 An unavoidable part of life with children is watching them grow up, no matter how painful it may be. George Banks (Steve Martin [29]) is a typical middle-class dad who loves his children. When oldest daughter Annie (Kimberly Williams-Paisley) is planning to get married, George finds himself having a hard time letting go while trying to be supportive at the same time. The film is a remake of the 1950 film by the same name starring Spencer Tracy and will undoubtedly warm your heart with its heartfelt acting and overall message.
The Proposal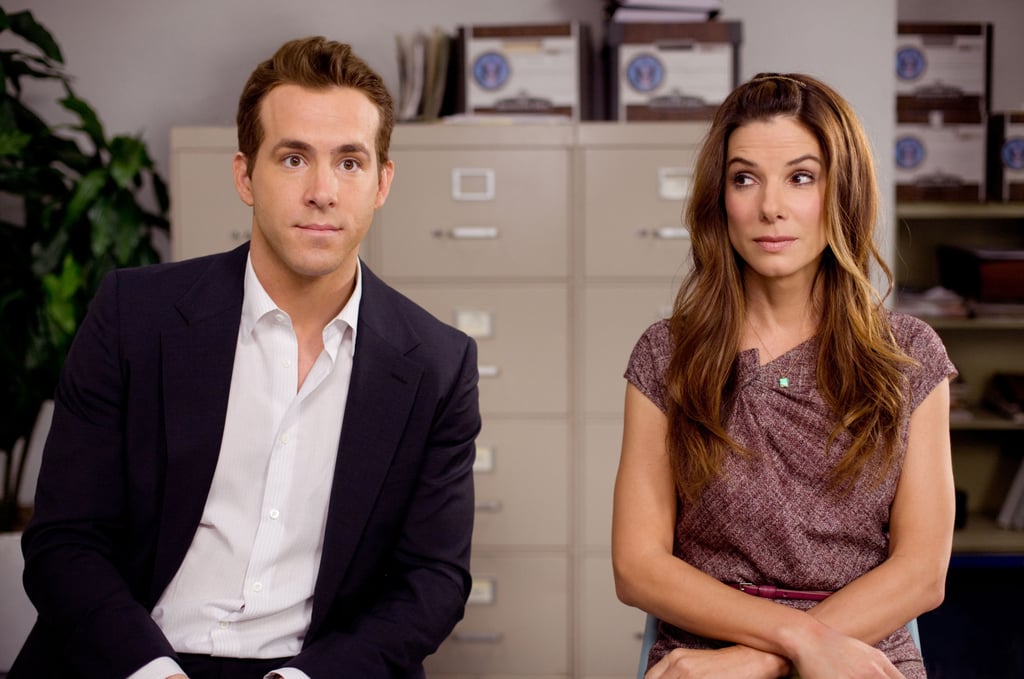 Margaret Tate (Sandra Bullock [30]) is a passionate and dedicated editor at a large New York-based publication. When the Canadian discovers her visa has expired, she comes up with an idea to save her from being deported — marry her assistant, Andrew Paxton (Ryan Reynolds [31]), and give him a promotion for his trouble. The two now must fake their union well enough to get immigration services to believe them while navigating a trip to Andrew's family home.
The Wedding Banquet
One of Ang Lee's earlier works, "The Wedding [32] Banquet" is a piece of rom-com gold. Wai-Tung Gao (Winston Chao) lives in Manhattan with his partner, Simon (Mitchell Lichtenstein). Wai-Tung's parents have no idea he is gay and start nagging him about marriage. To silence their nags and calm any suspicions, Wai-Tung arranges a marriage with Wei-Wei (May Chin), a Chinese immigrant seeking a green card to live in the US. This announcement thrills Wai-Tung's parents, and to his dismay, they travel to America to throw him a proper wedding [33] banquet.
Runaway Bride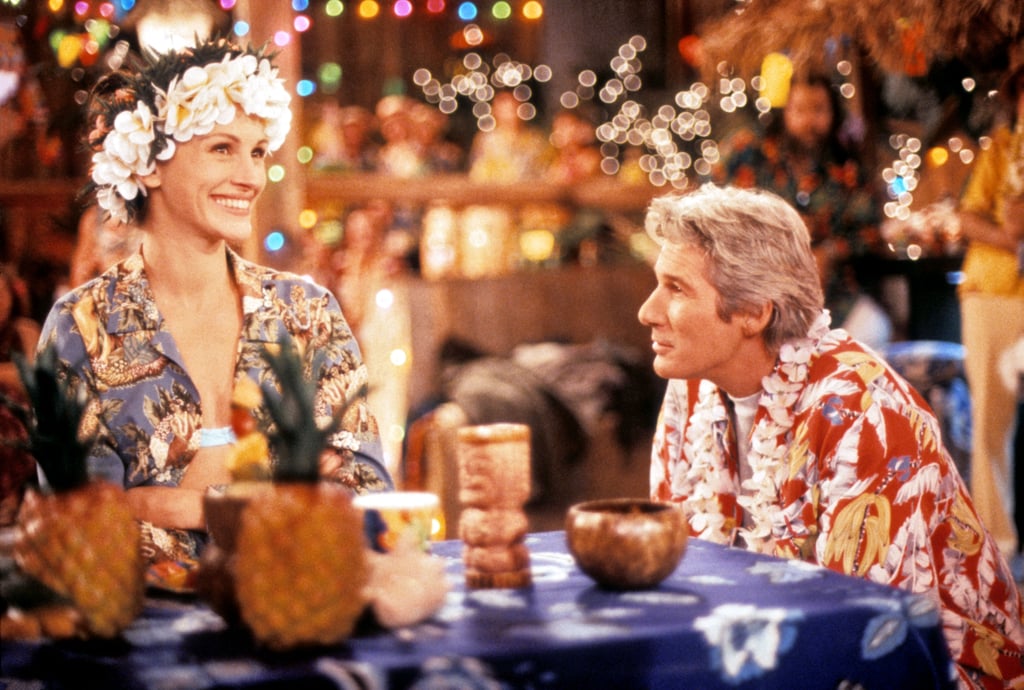 Director Garry Marshall, known for classic rom-coms like "Pretty Woman," brought Richard Gere [34] and Julia Roberts [35] together again for a loving movie about following your heart. Maggie Carpenter (Roberts) has an unfortunate reputation for getting cold feet at the altar and dumping her fiancés. Journalist Ike Fisher (Gere) hears of this story and seeks to write about the "runaway bride." When he tracks Maggie down, she is engaged again to high school football coach Bob Kelly (Christopher Meloni [36]). While trying to prove himself as a journalist and write a solid story, Ike falls for Margaret — but will she stay long enough for him to catch her?
Rachel Getting Married
Anne Hathaway [37] shows her versatility as an actress in "Rachel Getting Married." Kym Buchman (Hathaway) is released from rehab after a nine-month stay to attend her sister's wedding [38]. Struggling with reintegrating back to normal life after being monitored at rehab, along with familial pressures, Kym tries to be on her best behavior for the wedding, but her past continues to rear its ugly face. Though "Rachel Getting Married" is not your traditional wedding movie, Hathaway's performance is unforgettable.
Four Weddings and a Funeral
Written by acclaimed screenwriter Richard Curtis, known for films like "Bridget Jones's Diary" and "Love Actually," "Four Weddings and a Funeral" follows Charles (Hugh Grant [39]) and his friends as they bounce from wedding [40] to wedding looking for love and adventure. Through these various celebrations, Charles meets Carrie (Andie MacDowell [41]) and falls for her, and she falls for him. When Carrie leaves for America, Charles navigates his feelings and makes several attempts to get her back.
The Best Man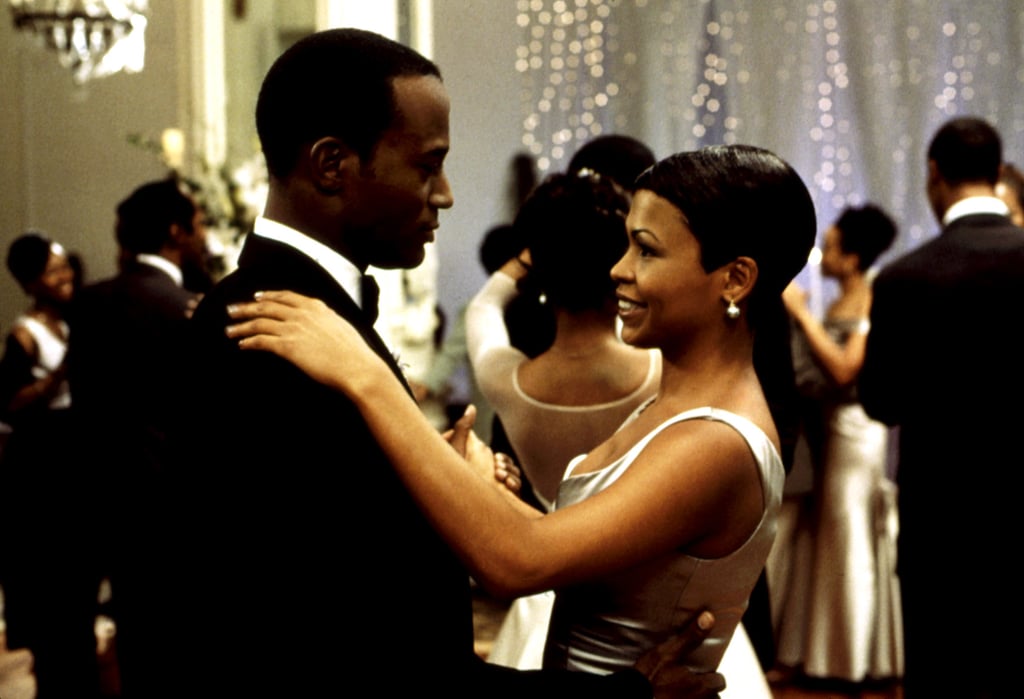 Author Harper (Taye Diggs [42]) is about to publish an autobiography while planning to celebrate the wedding [43] of close friend Lance (Morris Chestnut). All is well if you overlook Harper's unsatisfied girlfriend, an encounter with an old fling, and the revelation that Harper had sex with Lance's bride-to-be years ago in an unpublished copy of his book. Amid all this, Harper is to be the best man at Lance's wedding — making for an interesting turn of events.
Mamma Mia!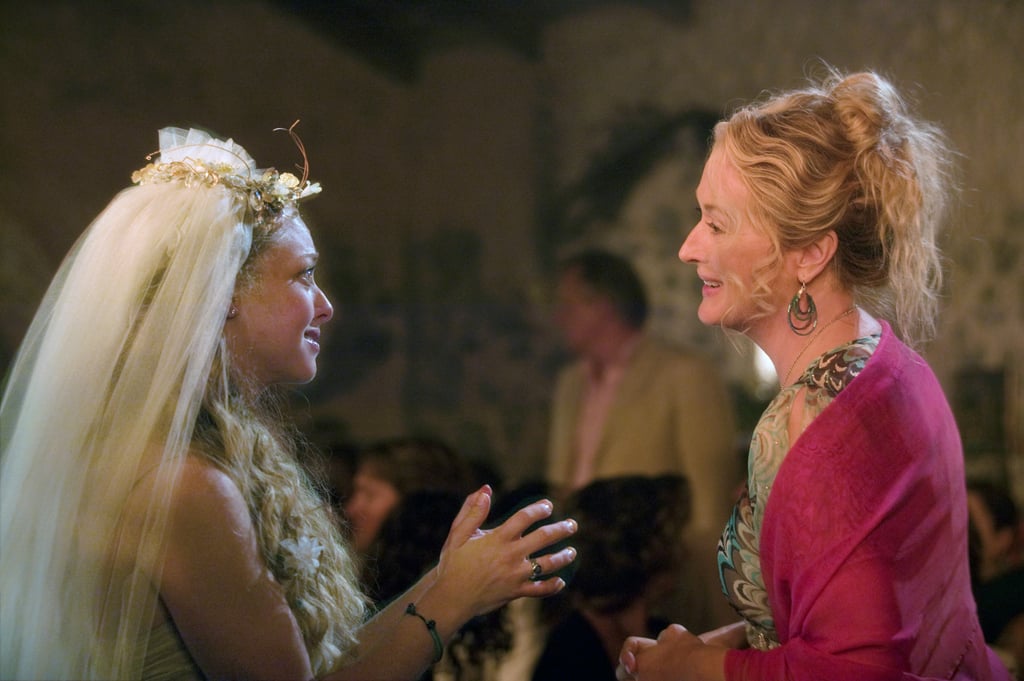 "Mamma Mia!" can fall into a number of movie categories: musical, comedy, romance, and certainly wedding [44]. As beautiful bride-to-be Sophie (Amanda Seyfried [45]) prepares for her wedding in Greece, she finds out that three different men could be her father. In an attempt to connect with her potential dad, she invites the three to her wedding, keeping the secret from her mother, Donna (Meryl Streep [46]). Along with a stellar ensemble cast and an amazing soundtrack based on the hits of ABBA, "Mamma Mia!" is a musical and a wedding film wrapped together.
The Wedding Date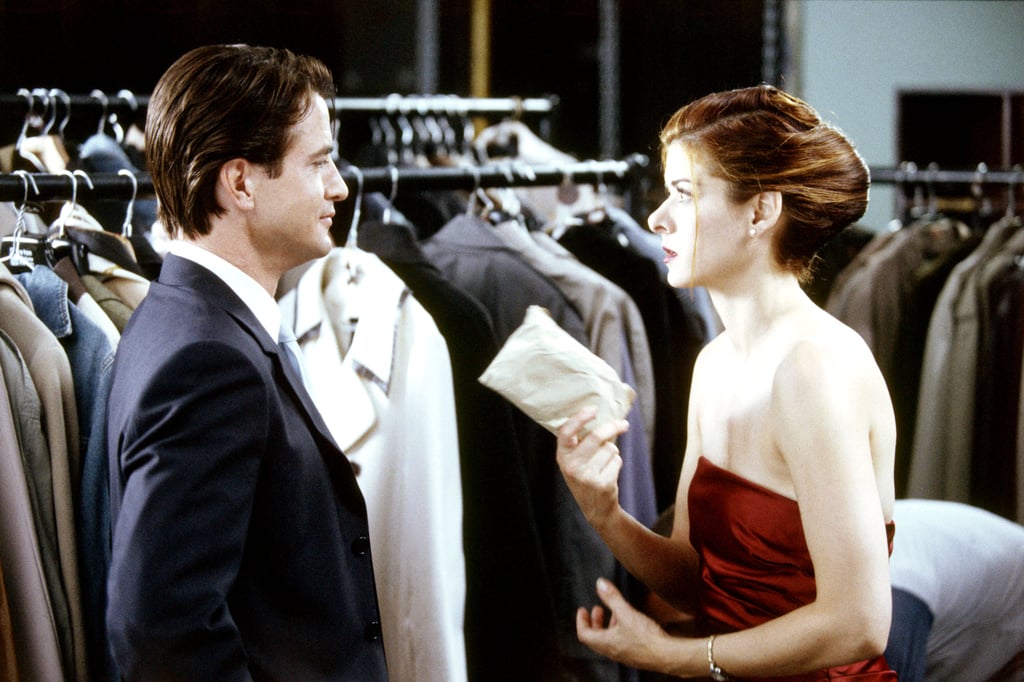 When the single Kat Ellis (Debra Messing [47]) returns home for her sister's wedding [48], she does everything in her power to avoid pity from family and friends for not being in a relationship. In order to save her image and sanity, Kat's next best move is to hire a male escort, Nick Mercer (Dermot Mulroney) to be her date and pose as her boyfriend at the wedding. This plan backfires when the two click and begin to catch feelings for one another.
Meet the Parents
An iconic comedy of the 2000s, "Meet the Parents" centers around nurse Greg Focker (Ben Stiller [49]) as he seeks the approval of the family of his fiancée, Pam (Teri Polo), before their wedding [50]. This proves to be more difficult than Greg originally thought due to her former CIA agent father, Jack (Robert De Niro [51]), who is constantly putting him to the test.
Monster-in-Law
Charlotte Cantilini (Jennifer Lopez [52]) has not been lucky in the world of love.
After countless years of bad dates, she finally falls in love with Kevin Fields (Michael Vartan). Everything seems great until Charlotte meets Kevin's mother, Viola (Jane Fonda [53]), who is the mother-in-law from hell. Not wanting to give up her son, Viola does everything to scare Charlotte away and break the pair up, but Charlotte isn't going down without a fight.
American Wedding
Part of the popular American Pie film franchise, "American Wedding [54]" revolves around Jim Levenstein (Jason Biggs [55]) as he tries to transition to adult life and marry Michelle Flaherty (Alyson Hannigan), his longtime girlfriend. As Jim is trying to plan the wedding [56], his friends from high school, still stuck in their wild ways, barge in to liven up the celebration with a bachelor party.
Made of Honor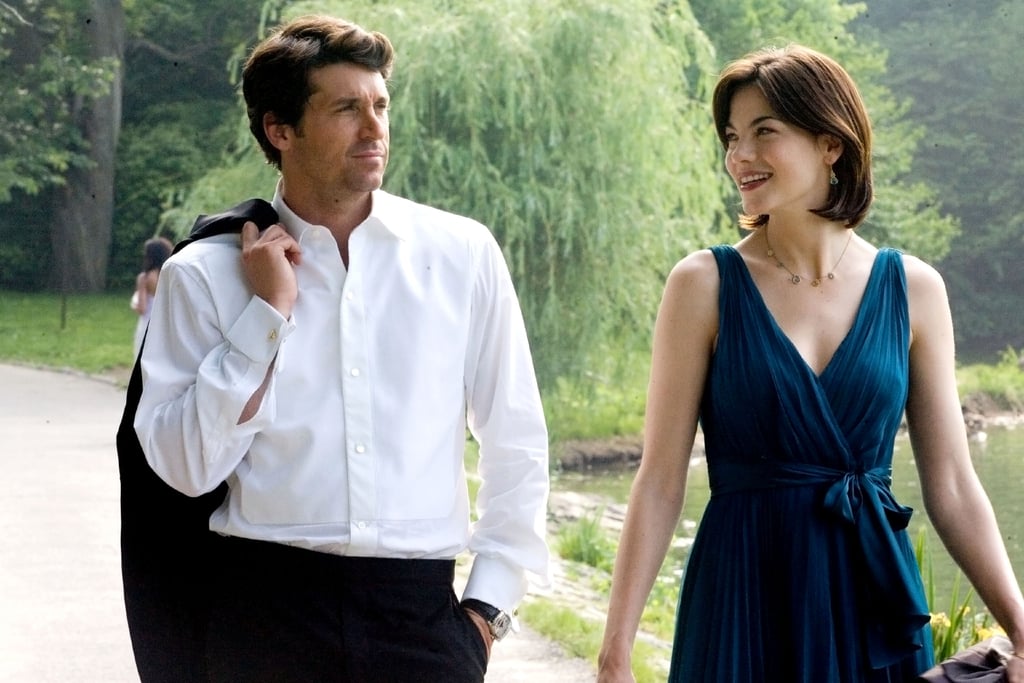 The friends-to-lovers trope is common in rom-coms and wedding [57] movies,
but they always work, so who cares! In "Made of Honor," Tom (Patrick Dempsey [58]) and Hannah (Michelle Monaghan [59]) have been close friends for a decade and have taken part in each other's most important life events. Now, Tom has to be a part of Hannah's biggest life event, her wedding, as her "maid" of honor. Sick with his dating life and in love with Hannah, Tom uses his newfound opportunity to try and sabotage the wedding so he can be with her instead.
The Wedding Planner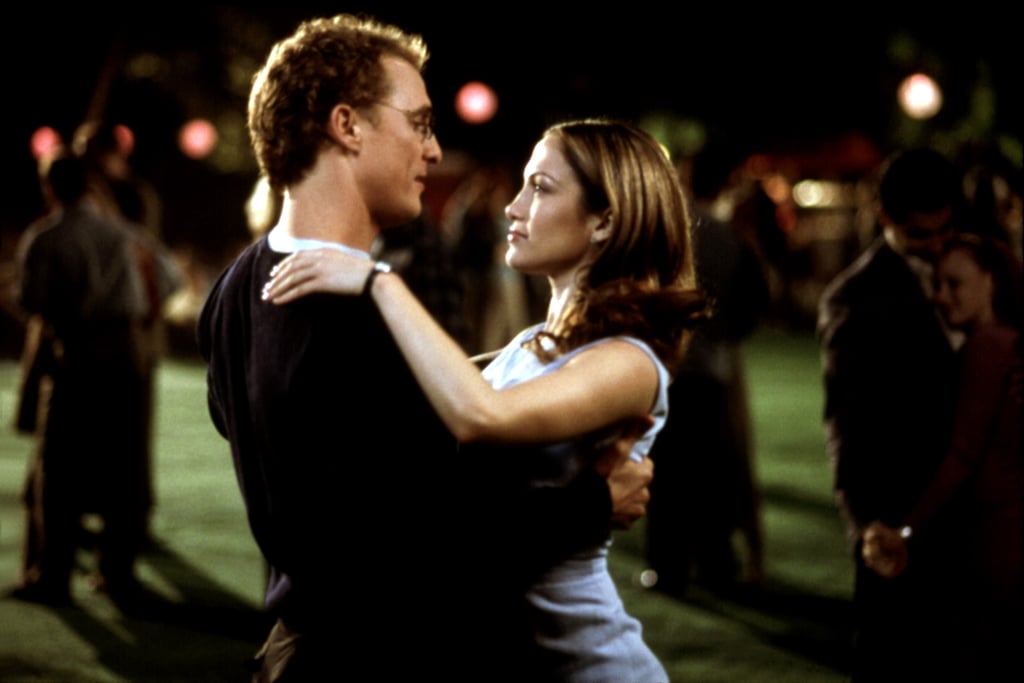 Jennifer Lopez [60] was on a rom-com streak in the 2000s, and she didn't shy away from movies that revolved around weddings. Mary Fiore (Lopez) is the top wedding [61] planner in San Francisco. Dedicated to her job and a total professional, she is thrown off guard when she has to plan the wedding of handsome doctor Steve Edison (Matthew McConaughey [62]). As she plans with him, Mary begins to fall in love — but will she remain loyal to her job and uphold her reputation, or go with her feelings?
I Love You, Man
Dedicated to his job and his fiancée, Zooey (Rashida Jones [63]), nice guy Peter Klaven (Paul Rudd [64]) doesn't have many friends. As he is planning his wedding [65], he reluctantly acknowledges he needs a best man. After several unsuccessful attempts, he randomly meets Sydney Fife (Jason Segel [66]), a chill guy who seems cool to hang out with. The two instantly hit it off, but their friendship starts to interfere with the important things in Peter's life.
License to Wed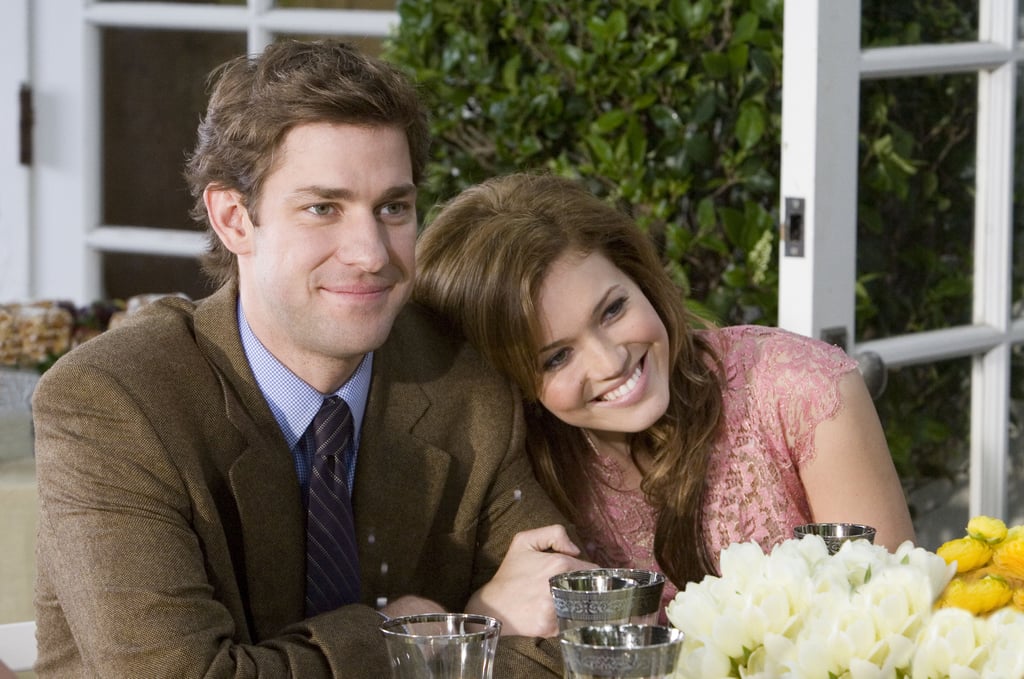 Engaged lovers Sadie Jones (Mandy Moore [67]) and Ben Murphy (John Krasinski [68]) are soon to be married but are conflicted between marrying on an island resort or at Sadie's family church, St. Augustine's. The pair settle on the church and are urged by Reverend Frank Littleton (Robin Williams [69]) to undergo a series of tests to determine their commitment to one another. The tests are absolutely ridiculous and range from taking care of robot babies to starting arguments between one another. Will their love survive the tests?
The Hangover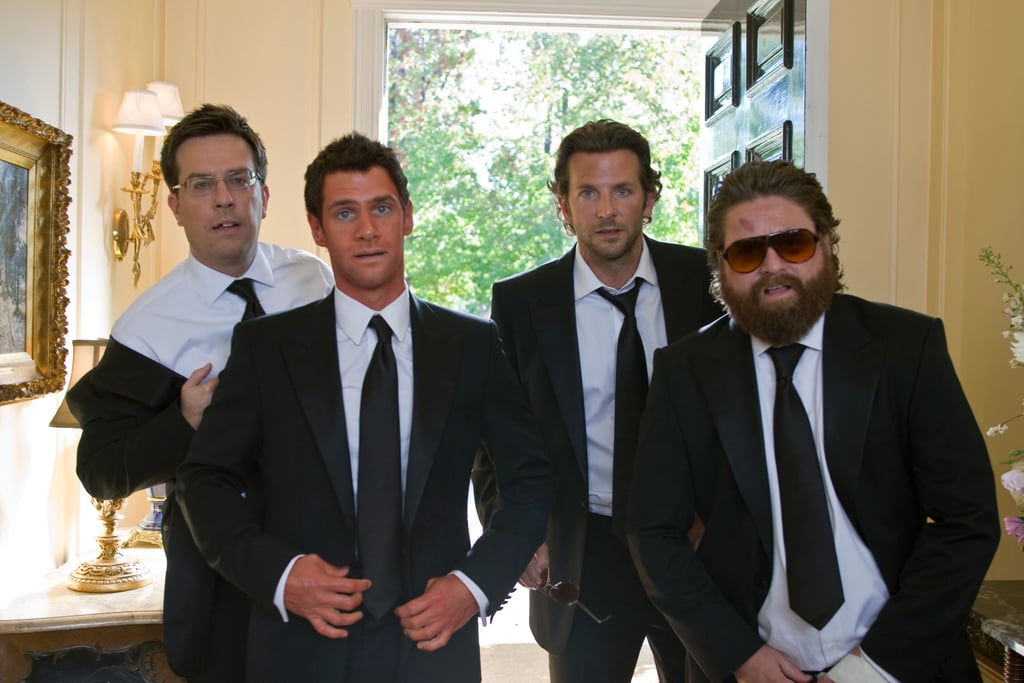 Friends Doug (Justin Bartha [70]), Phil (Bradley Cooper [71]), Stu (Ed Helms [72]), and Alan (Zach Galifianakis [73]) plan to travel to Las Vegas to celebrate Doug's last hours of freedom before he gets married. At first, the trip seems normal, but when the group take shots together, all hell breaks loose. The next morning, their hotel room is destroyed, Phil has a hospital band on his wrist, Alan has a baby with him, Stu is missing a tooth, and the groom-to-be, Doug, is nowhere to be found. It is now up to the group to retrace their steps in order to determine the events of the previous night and find out what happened to Doug just hours before the wedding [74].
Bride Wars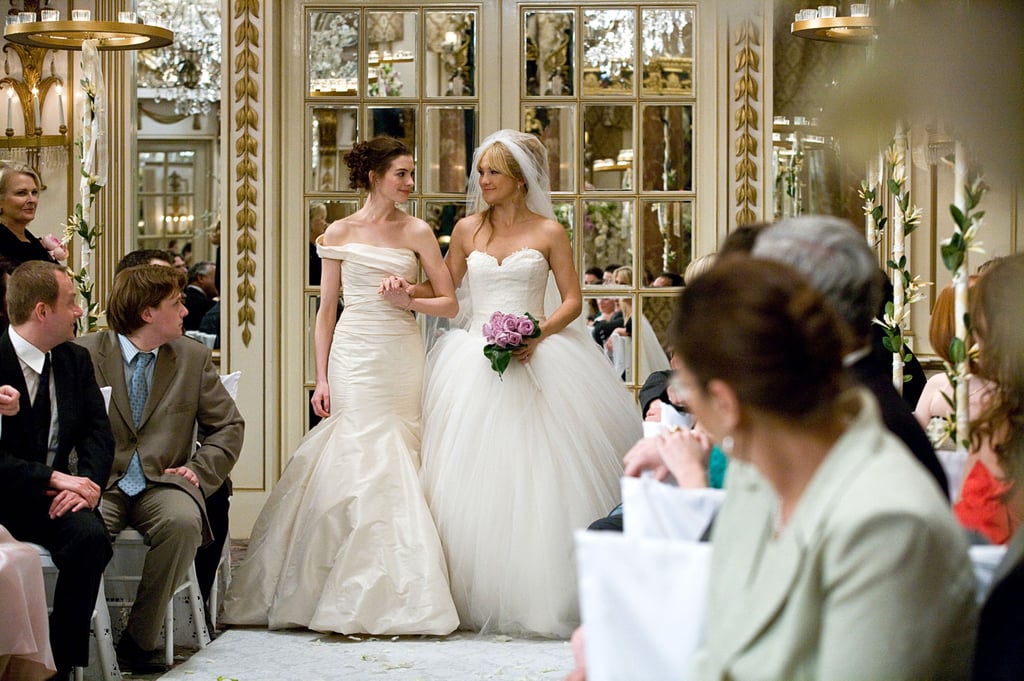 Best friends Liv (Kate Hudson [75]) and Emma (Anne Hathaway [76]) have known each other since they were kids and have always dreamed of having a picture-perfect wedding [77]. Their lives couldn't be more synchronized when their boyfriends propose at the same time. Liv and Emma both plan their wedding to be at the Plaza Hotel, but after a mix-up, their weddings end up being scheduled on the same day. Each friend is unwilling to change her date, making them resent each other and sabotage their weddings.
The In-Laws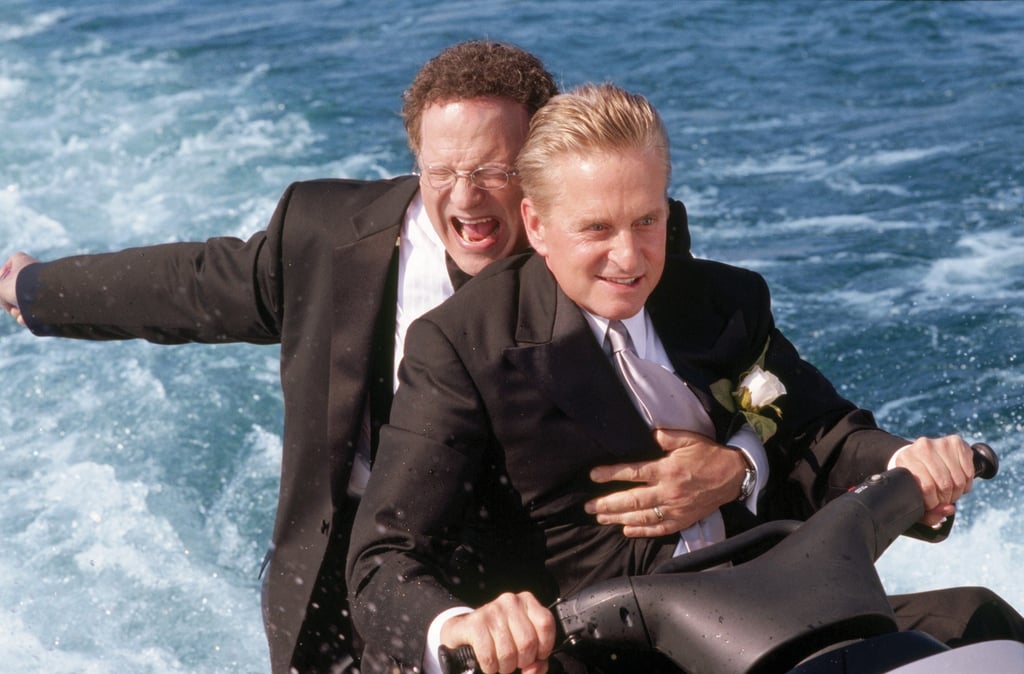 When getting to know in-laws, there is so much more than what meets the eye. Soon-to-be married couple Mark Tobias (Ryan Reynolds [78]) and Melissa Peyser (Lindsay Sloane) want a simple wedding [79], but their plans are hijacked by their parents. Jerry Peyser (Albert Brooks), a podiatrist, wants every part of being involved in the wedding, as well as getting to know Mark's father, Steve (Michael Douglas [80]), whom he considers to be shady and mysterious. Little does Jerry know, Steve is an undercover CIA agent whose work has completely taken over his life, even finding its way into his own son's wedding. When Steve's undercover mission inadvertently involves Jerry, it has consequences on the relationship of their children.
The Princess Bride
Told as a fairy tale by a grandfather to his grandson, "The Princess Bride" is equally heartwarming and humorous. The fairy tale focuses on a farmhand named Westley (Cary Elwes [81]) who is in love with the beautiful Princess Buttercup (Robin Wright [82]). Westley is determined to marry her, so he travels overseas to earn enough money to take care of her. When his ship is attacked by pirates, he is presumed dead and Princess Buttercup is forcibly engaged to Prince Humperdinck (Chris Sarandon). Is Westley really dead? Will he come back and marry the woman of his dreams?
The Five Year Engagement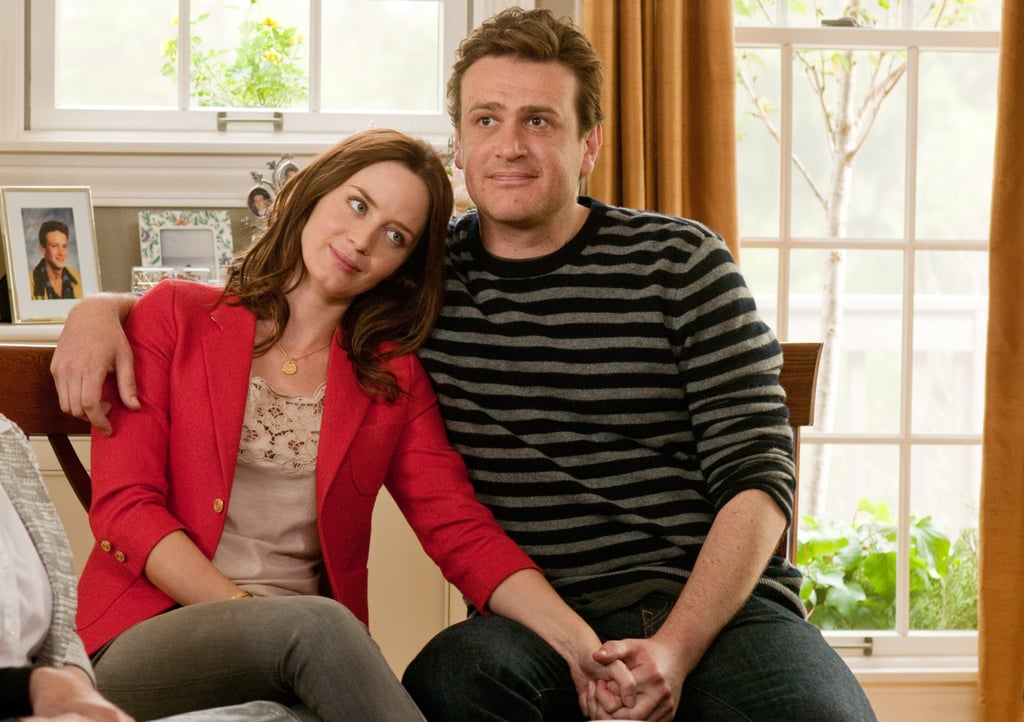 Couple Violet Barnes (Emily Blunt [83]) and Tom Solomon (Jason Segel [84]) are both successful in their careers: Violet is a psychologist and Tom a sous-chef. The two are engaged and plan on getting married, but an opportunity for Violet states away puts their plans on pause. At first, this is no big deal, but year after year something comes along to interfere with their wedding [85] plans, leading the pair to be engaged for five years, which inadvertently puts a strain on their relationship. Through these events, their love will either survive or crumble.
Love Actually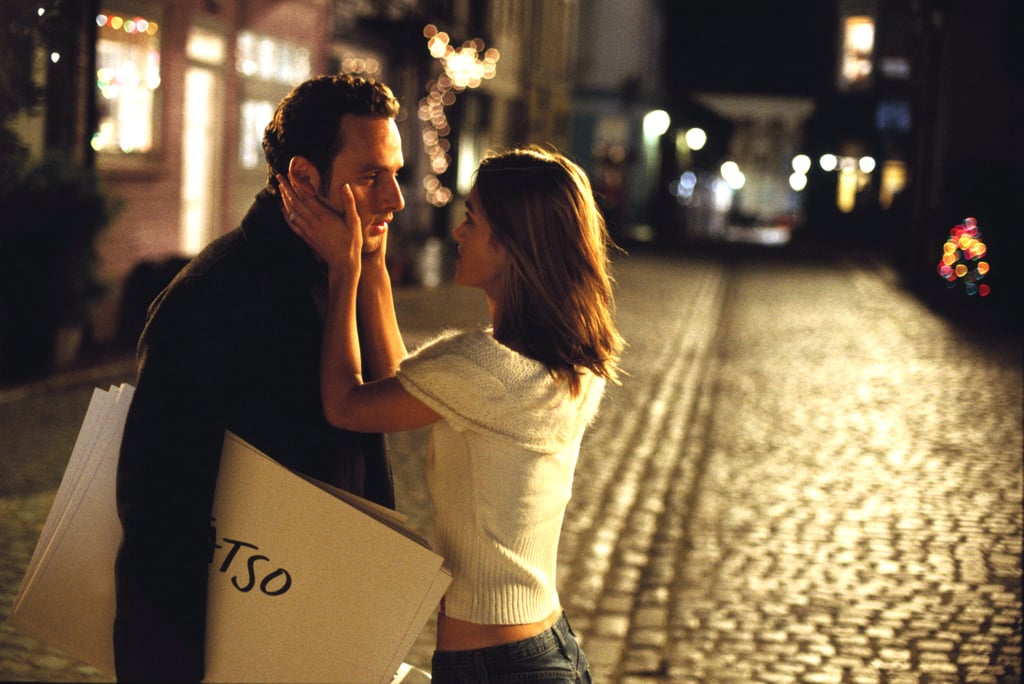 Undeniably one of the greatest holiday movies of all time, "Love Actually" may not exclusively center around weddings, but there is one amazing wedding [86] scene in the movie, on top of tons of love and romance as well. Juliet (Keira Knightley [87]) and Peter (Chiwetel Ejiofor [88]) are getting married, and the couple request the help of mutual friend Mark (Andrew Lincoln) to film their special day. There is a large crowd, a beautiful choir rendition of "All You Need Is Love," and Juliet looks breathtaking. Mark appears to be filming the entire ceremony, but to Juliet's discovery after she persistently asks to see the footage, Mark was only filming her the entire time, and concealed his love for her from both Juliet and Peter. He later returns to Juliet's flat and shows her cue cards that detail the depth of his love for her, and the two share a kiss. Sure, they don't get married, but the wedding did help get some secrets out!
About Time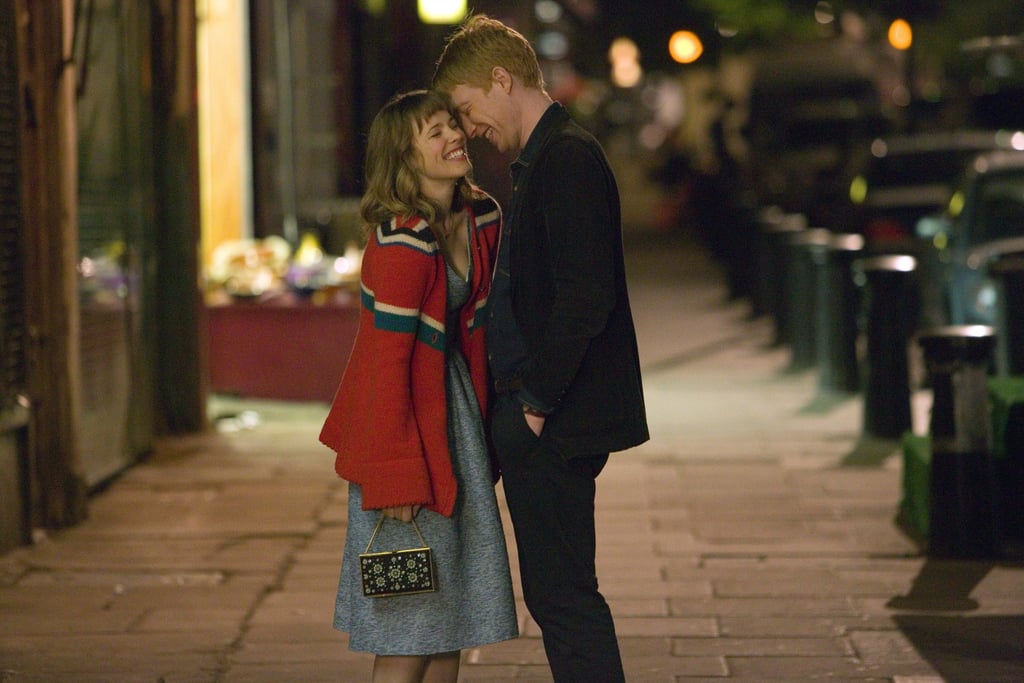 Richard Curtis, who wrote "Love Actually" and "Four Weddings and a Funeral," presents a love story everyone wants. In his 20s, Tim Lake (Domhnall Gleeson) discovers his ability to time travel. He uses this newfound power to get the only thing he wants in the world — a girlfriend. Through a series of attempts, he meets Mary (Rachel McAdams [89]) and the pair fall in love. Through a manipulation of time travel, Tim must change the course of time to make Mary remember him and be his partner. It finally works, and now Tom wants to use his ability to avoid the painful parts of having a wedding [90], like drunken speeches and tireless planning. This proves to be more difficult than expected and has consequences on his future.
Crazy Rich Asians
Rachel Chu (Constance Wu [91]), a successful professor at NYU, and her boyfriend, Nick (Henry Golding [92]), travel to Singapore for the wedding [93] of their mutual friend Colin (Chris Pang). To Rachel's surprise, she discovers that Nick and his family are essentially royalty in Singapore due to how rich they are — a secret he kept throughout their relationship. The pair are very much in love, but his family want him to be with someone of equal status. With Colin's wedding (which is absolutely stunning, by the way) as a backdrop, Rachel must prove herself to Nick's family and Nick must push his familial pressures aside so he can propose to her.
Monsoon Wedding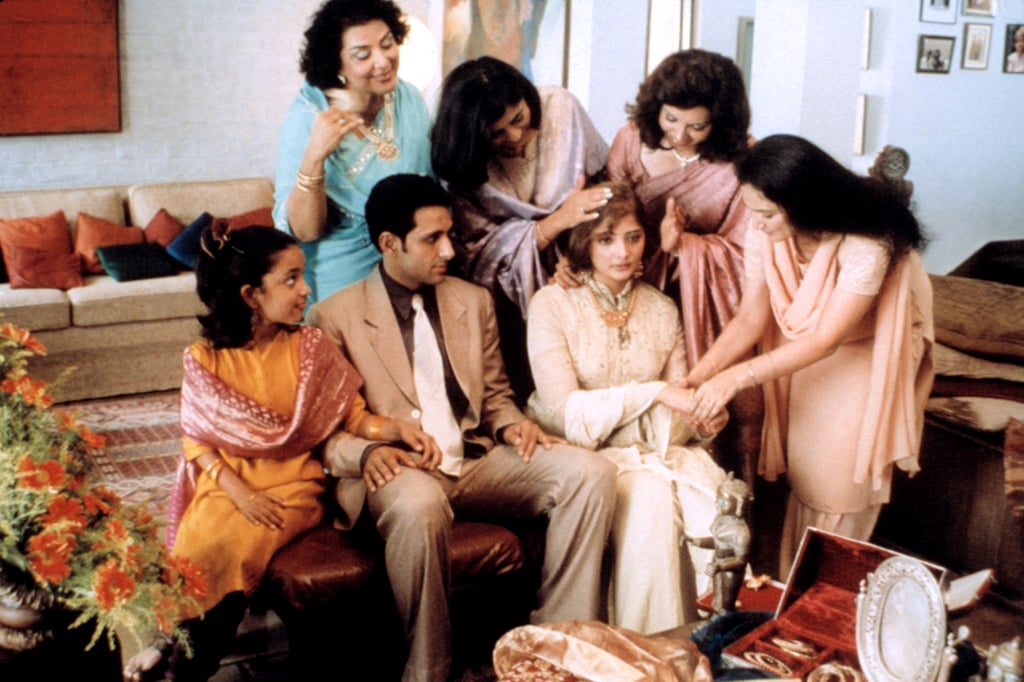 Romance, family drama, and clashes between Western and Indian cultures are explored in "Monsoon Wedding [94]." Aditi Verma (Vasundhara Das) is in love with a married man, and her affair is cut off when she is arranged to marry Hemant Rai (Parvin Dabas), who is living in Texas. Aditi's father, Lalit (Naseeruddin Shah), plans on hosting the most extravagant, expensive wedding [95] for her and invites family from all over the world to New Delhi to participate in the event. Now, Aditi must push her old love aside and get to know a new husband she hardly knows.
The Graduate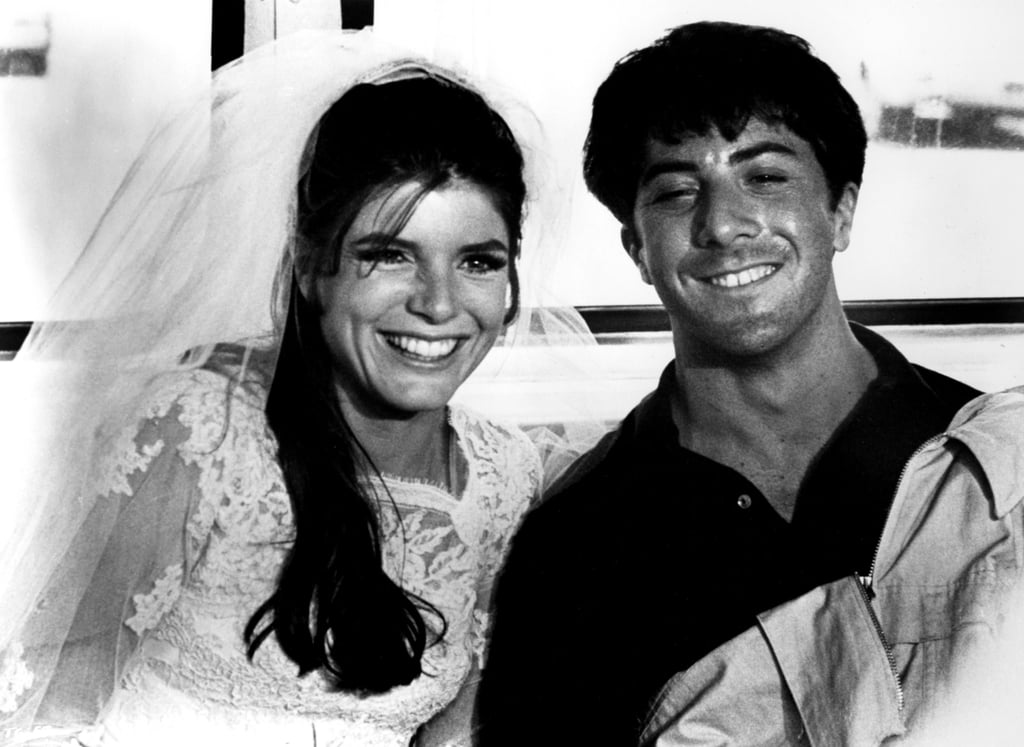 Dustin Hoffman's [96] breakthrough role as Benjamin Braddock in "The Graduate" paved the way for him as an actor and influenced cinema for years to come. A wedding [97] may not be at the forefront of "The Graduate," but like other films, it explores the complexity of romance and features a pretty iconic wedding scene at the end. Recent college graduate Benjamin is torn between his love for the young, beautiful Elaine (Katharine Ross) and her seductive mother, Mrs. Robinson (Anne Bancroft). When Benjamin finally realizes his true love for Elaine, Mrs. Robinson forbids the two from seeing each other out of jealousy and Elaine gets engaged to Carl Smith (Brian Avery). It's up to Benjamin to win her back before it's too late.
My Big Fat Greek Wedding 2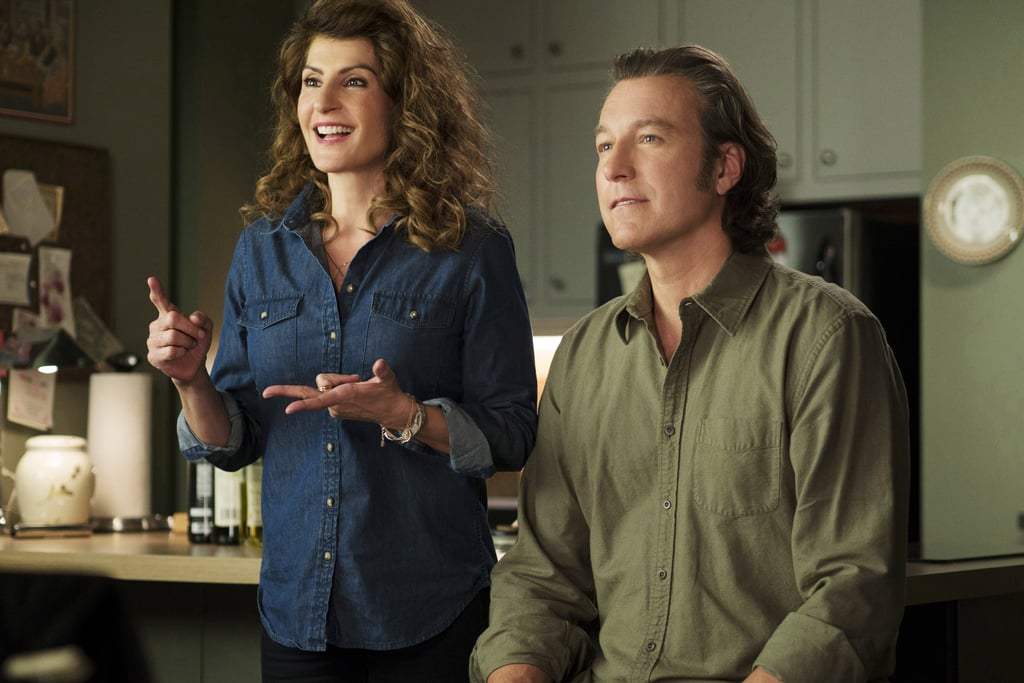 Though not as impactful or popular as the first, "My Big Fat Greek Wedding [98] 2" still has the charm of the first with returning cast members and a fun plot. Years have passed since Toula Portokalos and Ian Miller married and started a family. Their daughter, Paris, is now in high school and about to graduate, and Toula's parents are close to celebrating their 50th wedding [99] anniversary. When Toula's father, Gus (Michael Constantine), discovers their marriage certificate was never signed by a priest, he tells Toula's mother, Maria (Lainie Kazan), that they must remarry. She agrees on one condition, that Gus proposes again. Gus, with his ego, refuses and angers Maria, but eventually the two agree to marry again and plan the second-biggest Greek wedding ever.
Sweet Home Alabama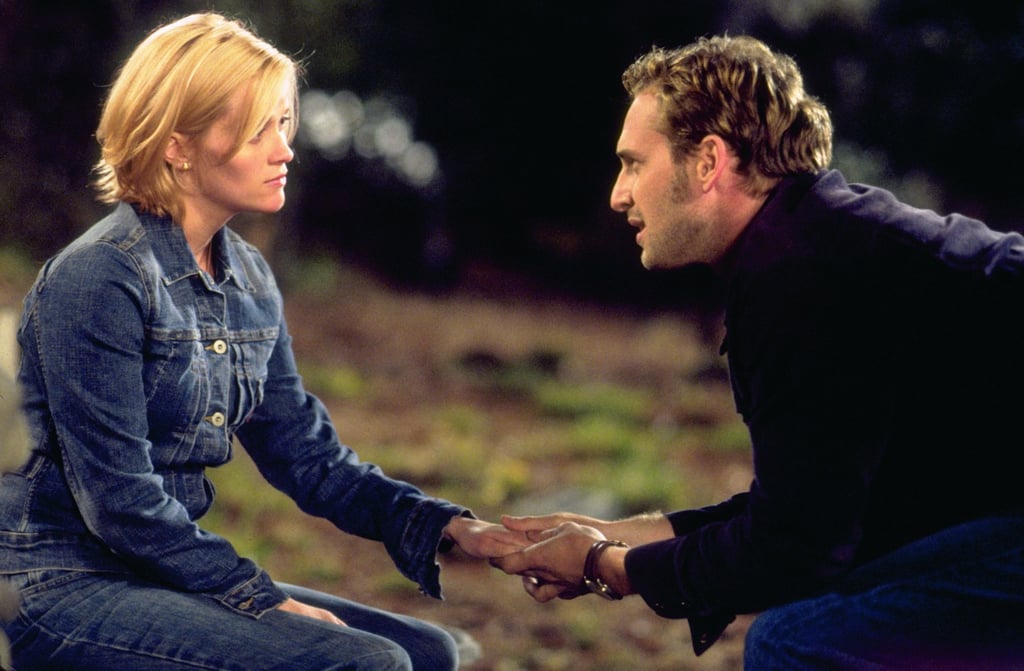 Melanie Carmichael (Reese Witherspoon [100]) is a successful fashion designer in New York City engaged to Andrew Hennings (Patrick Dempsey [101]). At first glance, everything seems to be going smoothly in her life, despite one thing: she is technically still married. Melanie's estranged husband, Jake Perry (Josh Lucas [102]), refuses to sign their divorce papers despite years of being separated. Now she must travel back to her home state of Alabama to get Jake to sign the papers so she can marry her dream man, but old feelings complicate her goal.
Steel Magnolias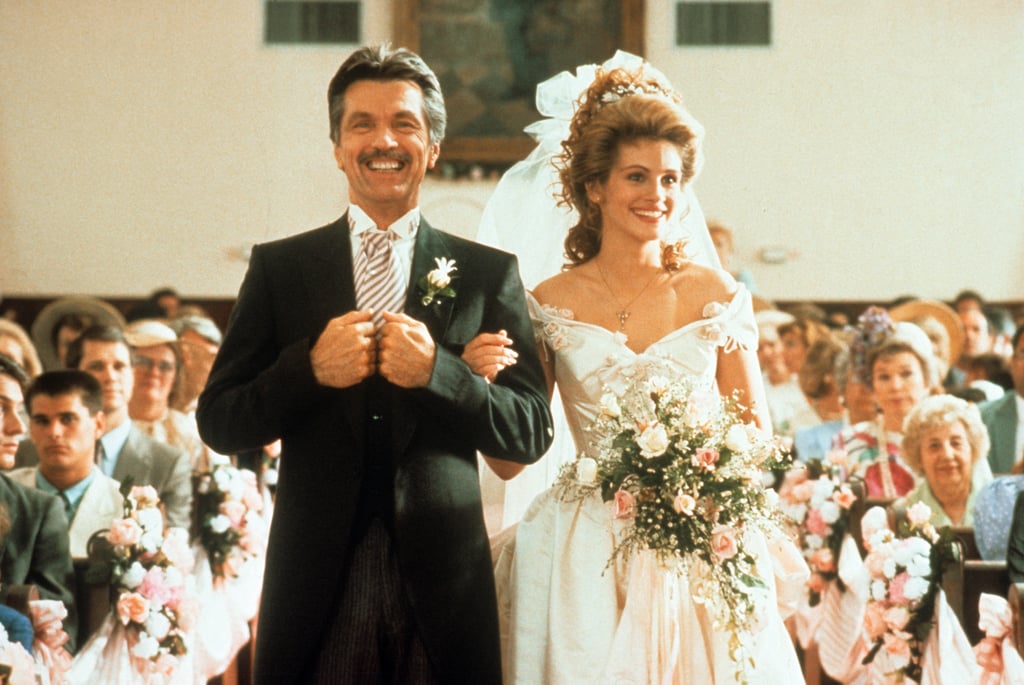 When you combine acting legends Julia Roberts [103], Sally Field [104], Shirley MacLaine, Olympia Dukakis, and Dolly Parton [105], nothing short of magic happens. The film centers around young bride-to-be Shelby Eatenton (Roberts); her mother, M'Lynn (Field); and their close circle of friends as they navigate the highs and lows of life. The group's bond is strengthened as they work together at the beauty parlor owned by Truvy Jones (Parton). The film definitely has its painfully sad moments, but the wedding [106] for Shelby is spectacular, with an abundance of pink bridesmaids dresses and decor, along with some great music and dancing.
Royal Wedding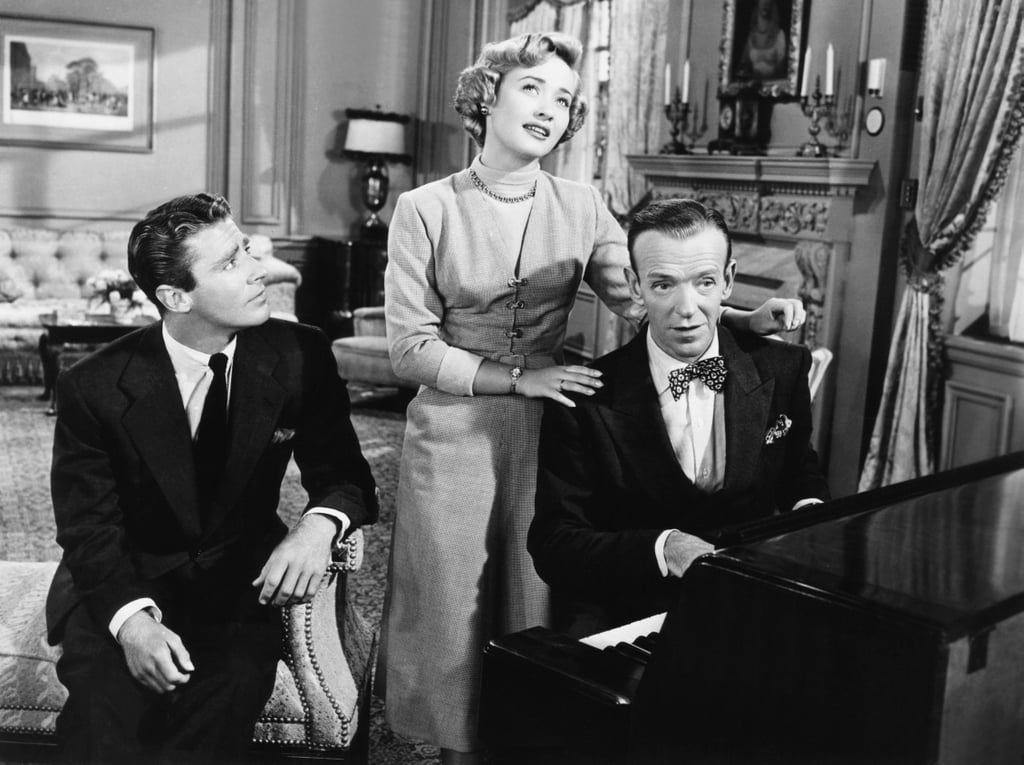 In this 1951 classic, Fred Astaire and Jane Powell play a brother-sister dancing duo who happen to be scheduled to perform in London at the same time that Princess Elizabeth and Phillip Mountbatten are set to marry. With the royal wedding [107] as a backdrop, Ellen (Powell) falls in love with royalty herself and intends to marry Lord John Brindale (Peter Lawford). At the same time, Tom (Astaire) falls in love with fellow dancer Anne Ashmond (Sarah Churchill). The siblings ultimately end up marrying their love interests on the same day as the royal wedding.
Coming to America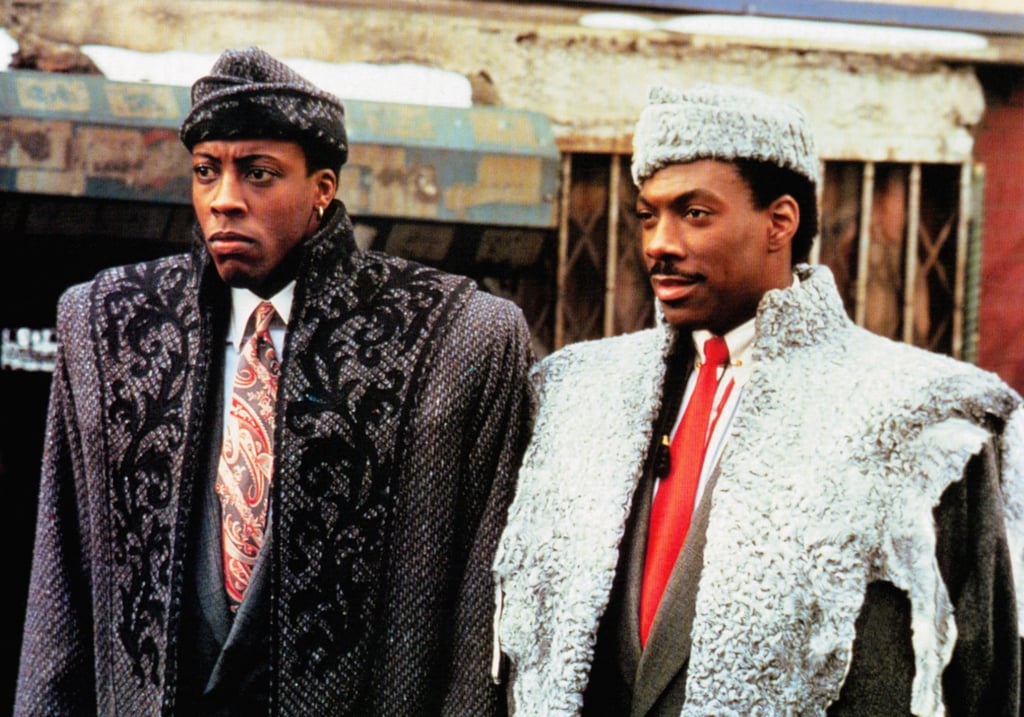 Prince of Zamunda Akeem Joffer (Eddie Murphy [108]) has the world at his fingertips and lives a very lavish lifestyle. When Akeem's parents, King Jaffe (James Earl Jones) and Queen Aoleon (Madge Sinclair) arrange a marriage for him, he declines and instead wants to marry a woman he loves, not some random person connected to any sort of nobility or political power. Along with his best friend, Semmi (Arsenio Hall), Akeem travels to Queens, NY, to find the bride of his dreams and disconnect himself from his royal status. This new adventure does not come without complications, however.
The Philadelphia Story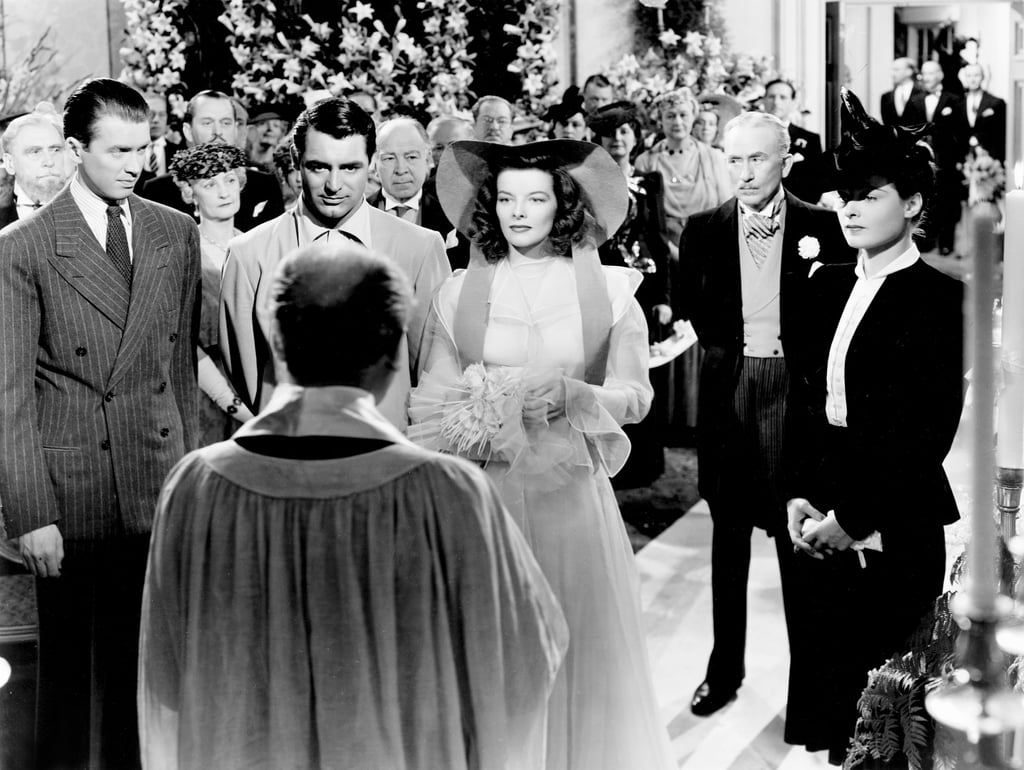 Classic Hollywood beauty Katharine Hepburn is at the center of this 1940 film. Tracy Lord (Hepburn) is a socialite who married and quickly divorced fellow socialite C.K. Dexter Haven (Cary Grant). Years later, Tracy is about to marry businessman and politician George Kittredge (John Howard) when her ex-husband and a journalist interrupt the occasion. Tracy is now torn between her groom-to-be, her ex-husband, and the tabloid journalist, Mike Connor (James Stewart). This love triangle, along with the suspense of which man Tracy will marry, makes for a great watch.
Emma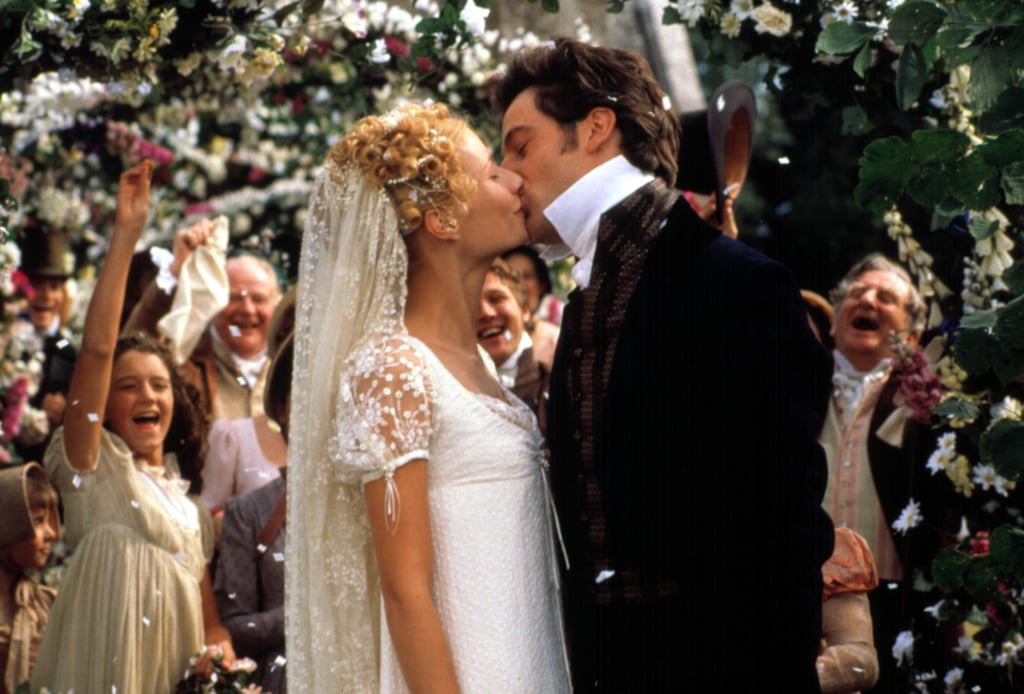 One of the several film adaptations of the Jane Austen novel of the same name [109],
"Emma" is charming and witty with a great cast and script. In 19th-century England, Emma Woodhouse (Gwyneth Paltrow [110]) enjoys playing matchmaker with her friends and interfering with their love lives. At first, this doesn't sound too bad, except Emma intentionally sets up people who couldn't be more opposite for each other. Though entertained by the romantic affairs of her friends, Emma thoroughly ignores her own interests, jeopardizing both her heart and future love life.
Palm Springs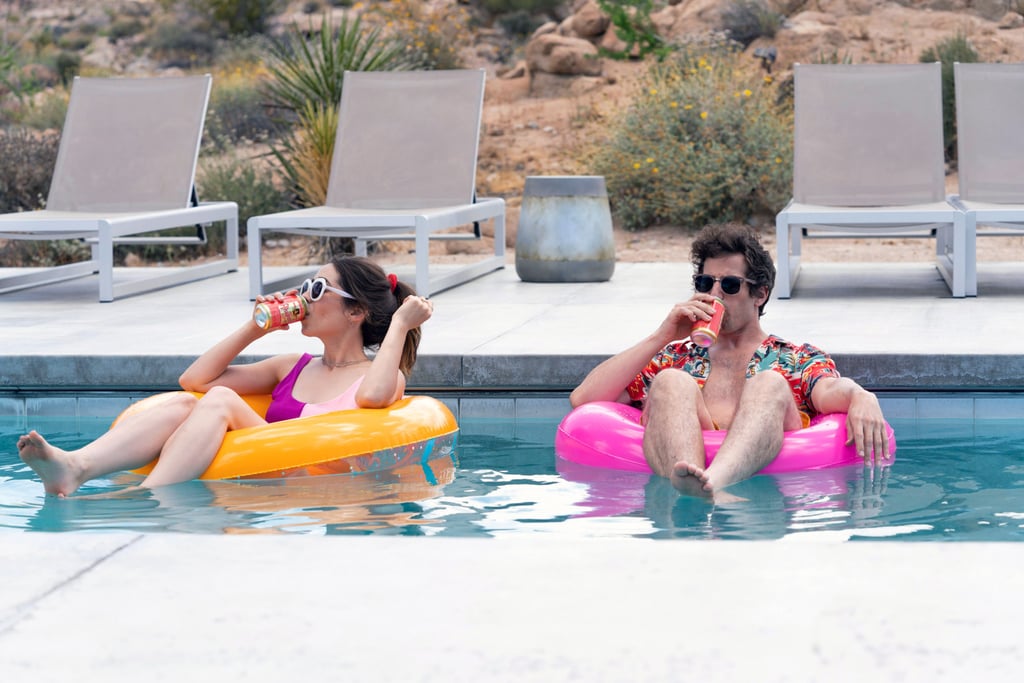 "Palm Springs" is essentially "Groundhog Day" but with a wedding [111] as a backdrop. At a wedding in Palm Springs, guest Nyles (Andy Samberg [112]) meets maid of honor Sarah (Cristin Milioti) and the two hit it off. There is something unusual about their lives, however. The pair are stuck in a time loop, forced to relive the same day over and over again. Will they ever make it out of the loop, or be forced to accept their new reality and unusual circumstances?
Destination Wedding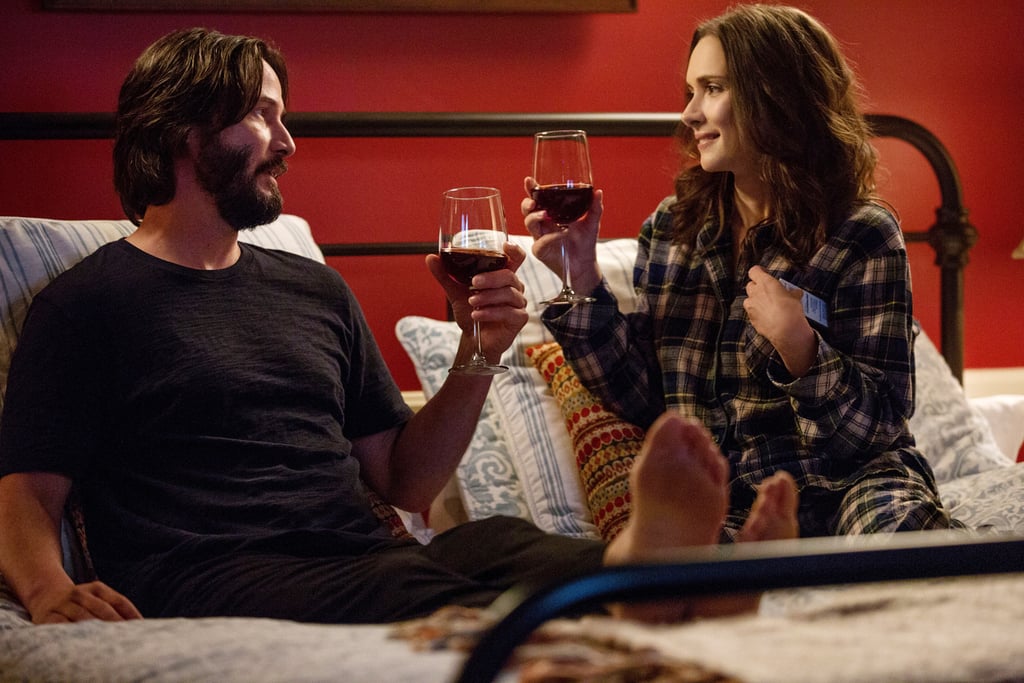 Keanu Reeves [113] and Winona Ryder [114] are back on screen together after playing lovers in the 1991 film "Bram Stoker's Dracula" for this modern romantic comedy. Miserable, pessimistic wedding [115] guests Frank (Reeves) and Lindsay (Ryder) would rather be anywhere else than the destination wedding they are going to. Both hold the attitude that love and weddings are incredibly overrated, but surprisingly this negativity toward love brings the two closer together and connects them — to their ultimate discomfort and disdain. Despite their initial feelings, the pair learn to accept their feelings and give love a shot.
The Sweetest Thing
Successful interior designer Christina Walters (Cameron Diaz [116]) is constantly in pursuit of the perfect man, often abiding by some strict and ridiculous rules, which eliminates any prospects for her. After a night out with friends Courtney (Christina Applegate [117]) and Jane (Selma Blair [118]), Christina meets handsome Peter (Thomas Jane) and dances with him. While spending time together, Peter reveals he'll be celebrating his brother's wedding [119] during the coming weekend. Christina sees this as the perfect opportunity to catch him and takes the trip to Somerset, the location of the wedding, with Courtney. The pair have some wild encounters before they arrive and discover it is Peter, not his brother, getting married, which totally derails her plan.
The Princess Diaries 2: Royal Engagement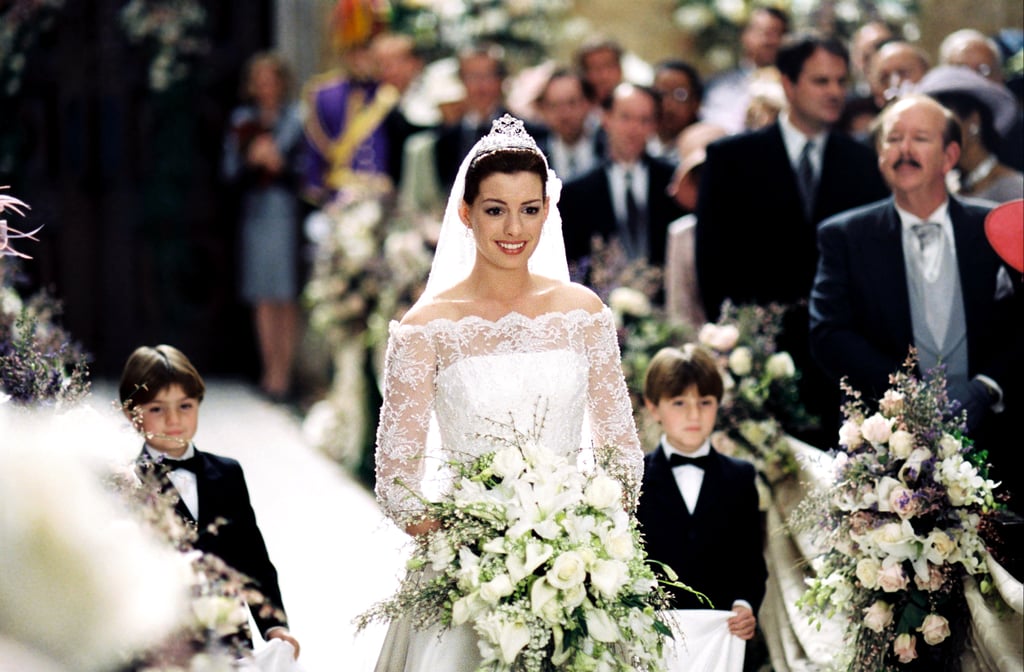 In one of the rare sequels as good as the original, Princess of Genovia Mia Thermopolis (Anne Hathaway [120]) is 21 years old and now of the age when it is appropriate to marry, and she must marry if she wants to be queen, according to the royal rules. After meeting several bachelors, she reluctantly falls for Lord Nicholas Devereaux (Chris Pine [121]) despite her feelings toward his greedy uncle Viscount Mabrey (John Rhys-Davies), who is doing everything to set the pair up.
Our Family Wedding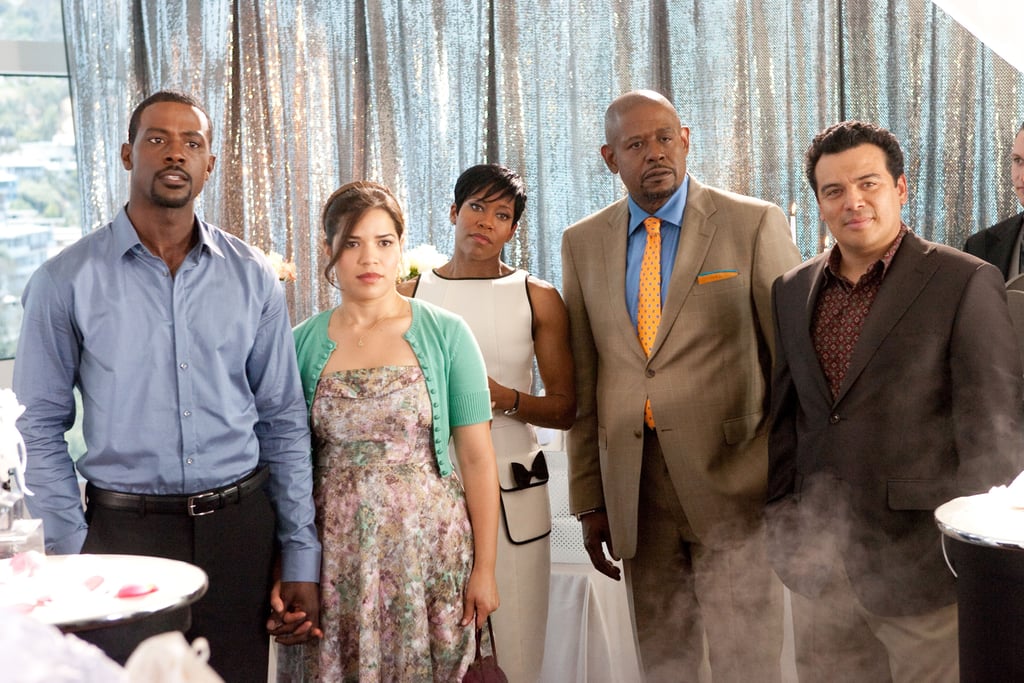 All Lucia Ramirez (America Ferrera [122]) and Marcus Boyd (Lance Gross) want is to peacefully get married and have a nice ceremony. Unfortunately, their fathers, Miguel Ramirez (Carlos Mencia) and Brad Boyd (Forest Whitaker [123]), make this nearly impossible due to their ridiculously inflated egos and their desire to out-show the other.
Guess Who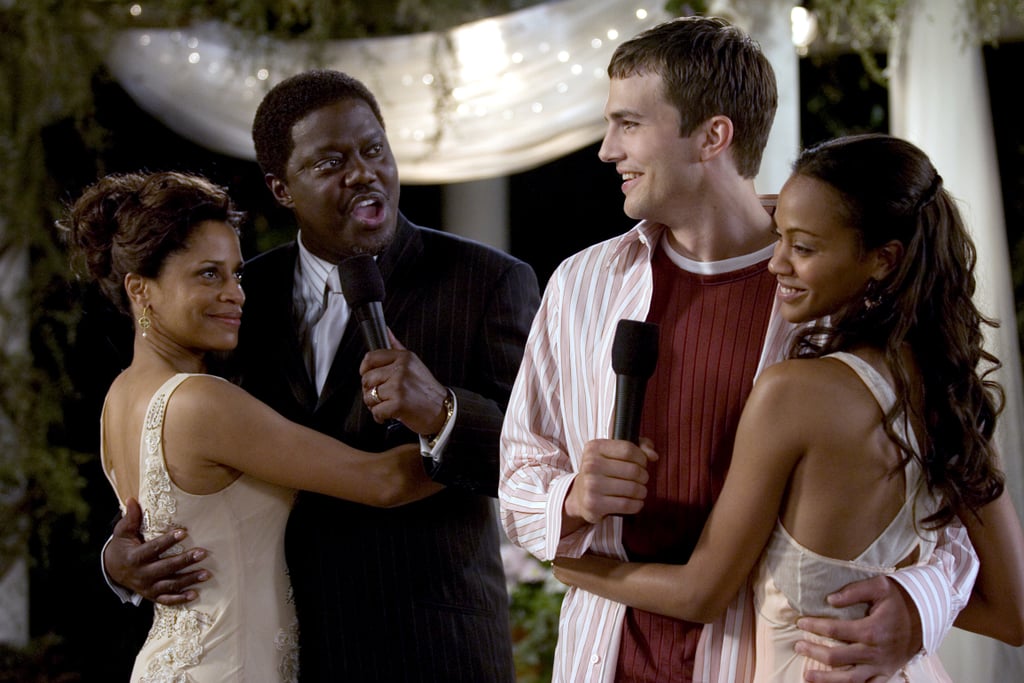 Theresa Jones (Zoe Saldana [124]) is in love with her boyfriend, Simon Green (Ashton Kutcher [125]). She plans to introduce Simon to her parents when they renew their vows. To the surprise of Theresa's parents, dad Percy (Bernie Mac) and mom Marilyn (Judith Scott), Simon is white. Differences in race make Percy apprehensive to accept Simon, which creates tension between everyone, disrupting Percy and Marilyn's vow renewal and driving a wedge between Theresa and Simon. The film is loosely based on the 1967 film "Guess Who's Coming to Dinner," in which the roles were reversed and portrayed by Katharine Houghton and Sidney Poitier [126].