You'll Love These Westworld Halloween Costume Ideas as Much as Teddy Loves Dolores
We're practically all but ripping our freakin' hair out while not-so-patiently awaiting season two of HBO's Westworld. The sci-fi thriller series kept our eyes glued to the screen last year as we watched gasp-worthy plot twist after plot twist unfold within the show's fictional theme park. Although the series unfortunately won't be returning until 2018 [insert buckets of tears here], we can still fuel our obsession by repping our favorite characters this Halloween. Ahead, we've outlined exactly how to mimic the hosts and humans of Westworld — straight down to how you should act throughout your Halloween festivities. Get those fake Southern accents ready!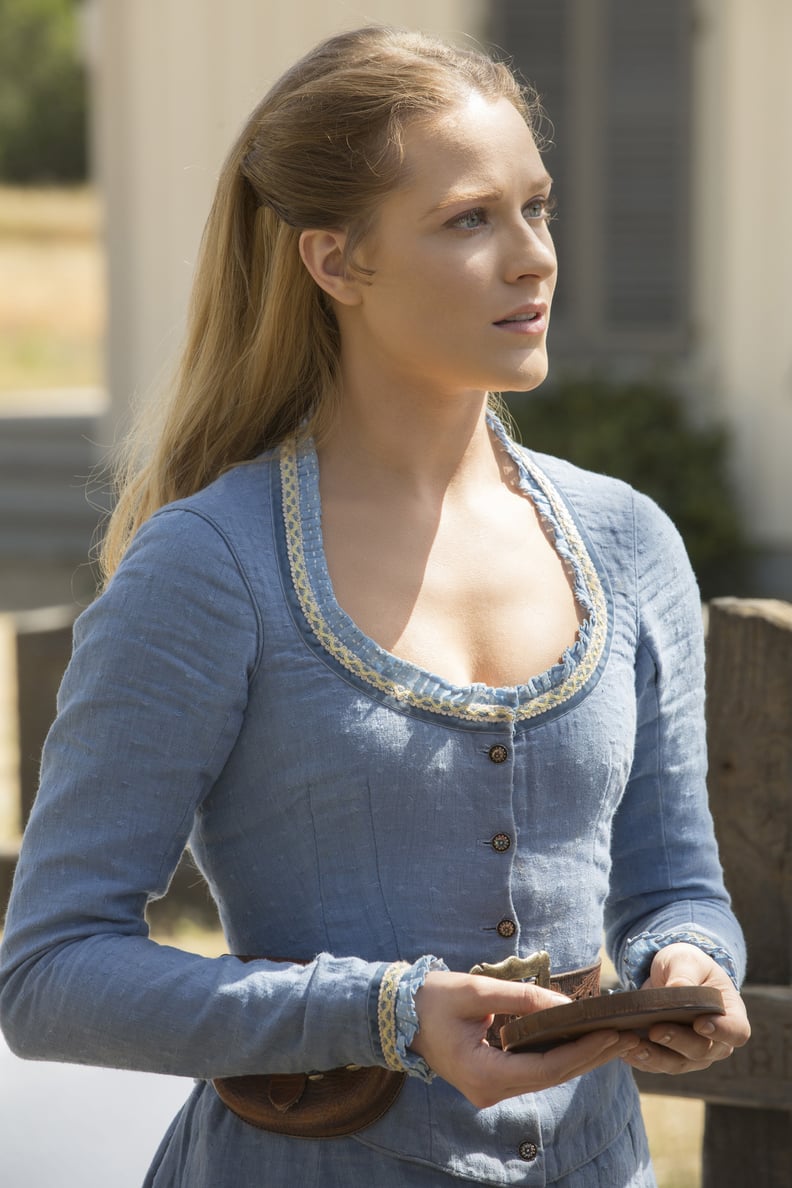 Dolores Abernathy
What to wear: A light blue Western-style dress with a full skirt and long sleeves. Wear a brown leather belt around your waist, and pull your hair up halfway. Bring along an easel and some paints if you really want to get into character.
How to act: At first, act optimistic, innocent, and content. Then, halfway through the evening, start acting suspicious and tough.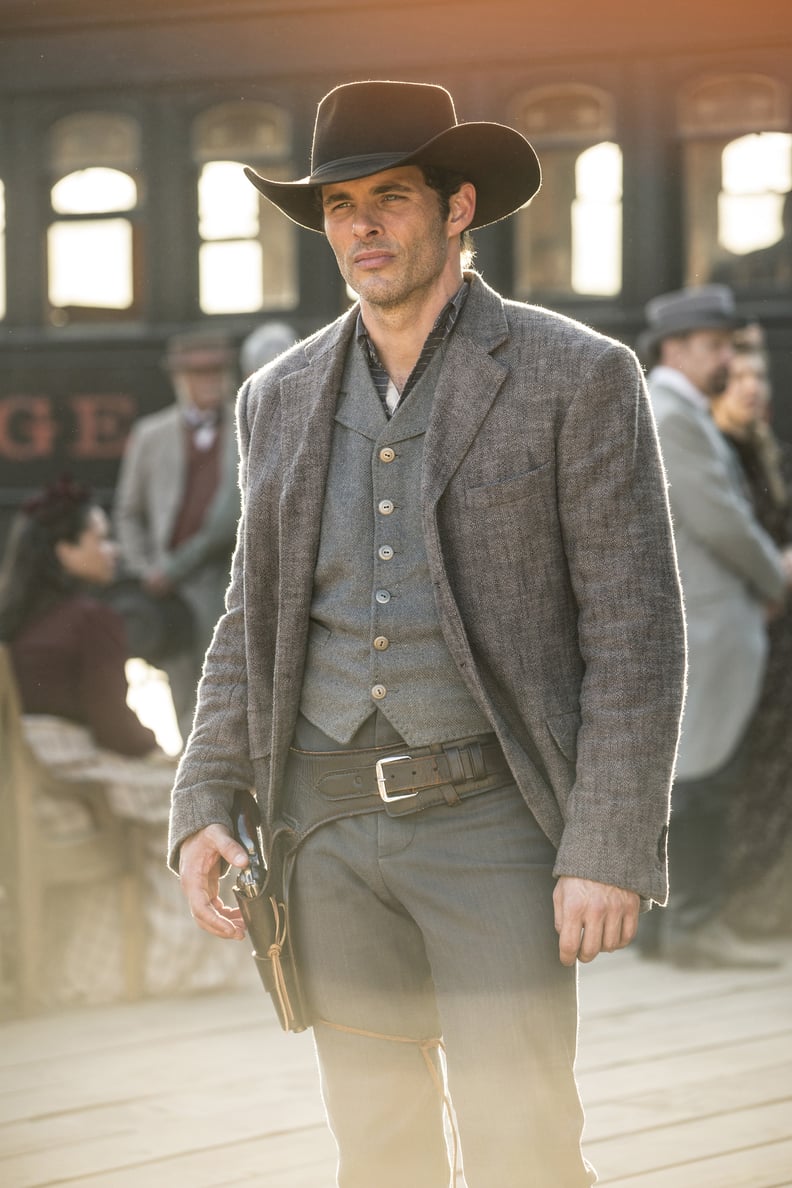 Teddy Flood
What to wear: An all-gray suit with a brown cowboy hat. If you want a prop, bring along Dolores's can of milk that she drops every time she encounters Teddy's character.
How to act: Heroic, daring, and overprotective of Dolores.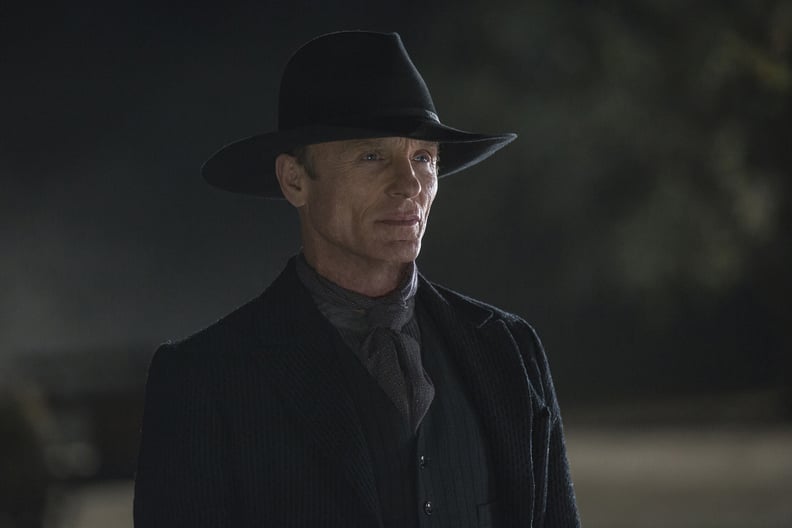 Man in Black
What to wear: Well, all-black clothing, obviously. If you're into specifics, a black suit and tie, leather gloves, boots, and a felt cowboy hat should do the trick.
How to act: Rich, impatient, evil, and, at times, a bit creepy. Ask fellow Halloween party guests what the "deeper meaning" of the party is for an added bonus.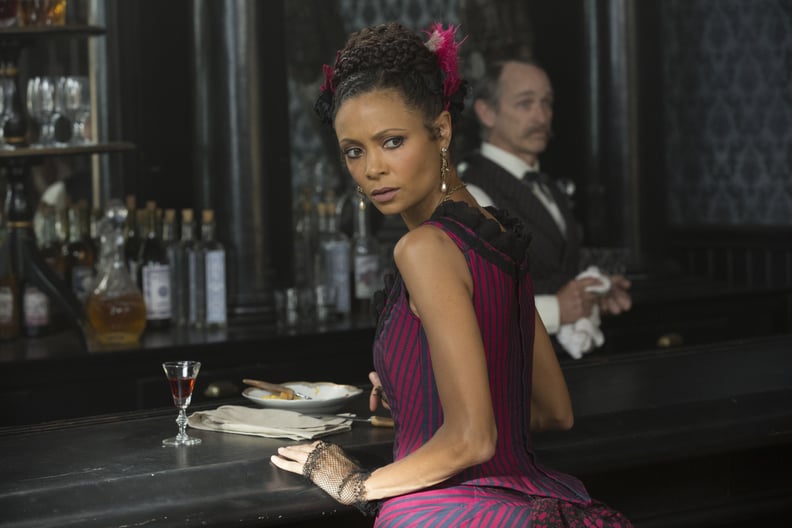 Maeve Millay
What to wear: A frilly, purple, Western-style dress with a chunky necklace and thigh-high stockings. Wear your hair braided and up with a flowery purple headpiece.
How to act: At first, charming and seductive, but then skeptical and ruthless. Sporadically stare into the distance, wide-eyed, as if having a flashback to something in your past.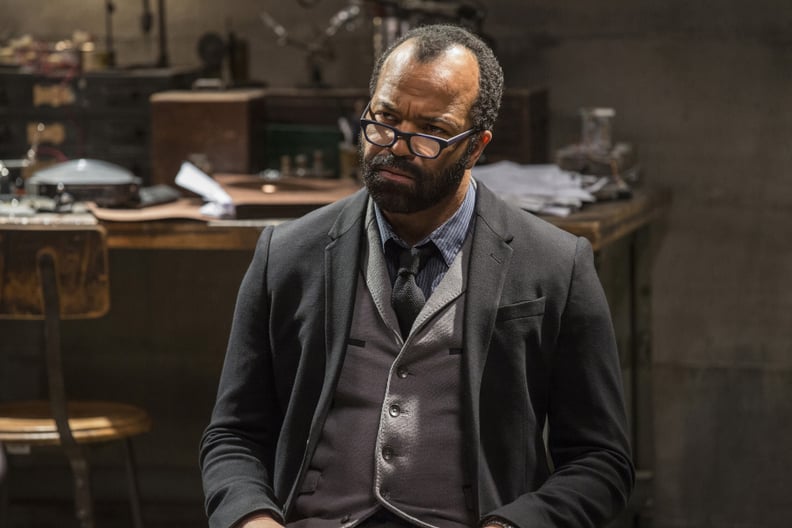 Bernard Lowe
What to wear: A black suit, a blue undershirt, thick-rimmed glasses, and a watch. Bonus points if you DIY a "Head of Programming Division" name tag for your shirt and bring along some sketching papers with elaborate drawings of hosts on them.
How to act: Occasionally fold your arms, furrow your brow, and stare into the distance as if deep in thought. If someone at the party asks you something, simply reply, "Doesn't look like anything to me."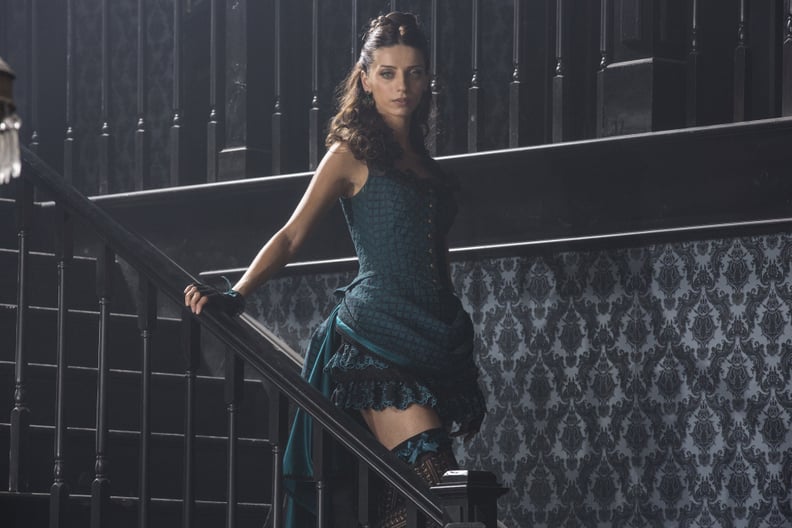 Clementine Pennyfeather
What to wear: A frilly teal dress that's cut high in the front to reveal thigh-high stockings. Also go for some matching dangling earrings, and curl your hair.
How to act: Innocent, softspoken, and gentle. Stare blankly into the distance intermittently throughout your Halloween festivities. If you're really feeling gutsy, hit on other party guests by stroking their cheek while saying, "You're new — not much of a rind on you."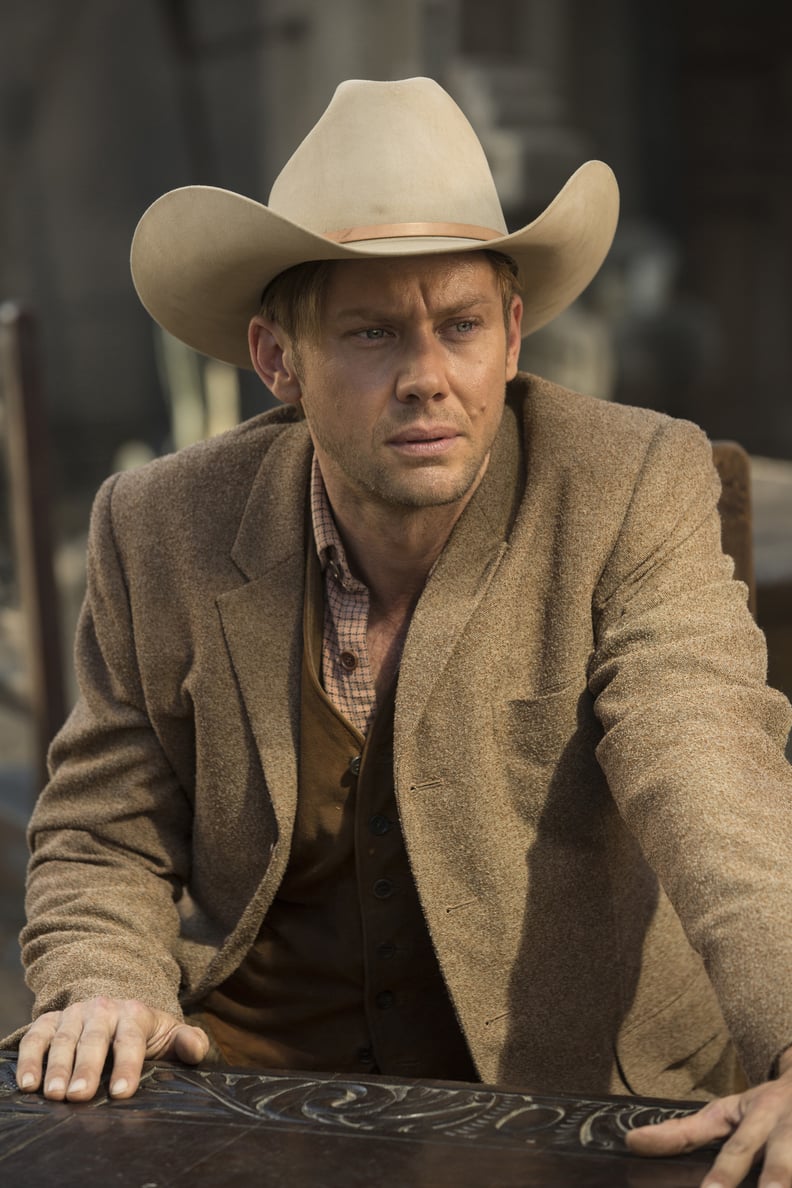 William
What to wear: Any combination of neutrals will work well, but if you really want to look spot-on, go for a slightly oversize beige coat with a dark-brown vest, a gray button-down shirt, and gray pinstriped pants. Oh, and don't forget that light-beige cowboy hat!
How to act: At first, reluctant, cautious, and morally sound, but then violent, frustrated, and infatuated with Dolores.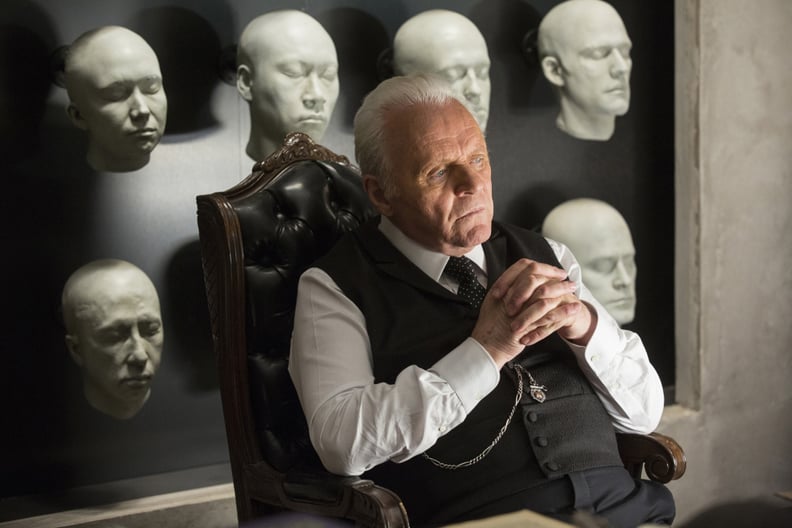 Robert Ford
What to wear: A white button-down shirt with a black vest, tie, and pants. Attach a silver chain to your vest. Bonus points if you use temporary white hairspray to dye your strands or DIY a "Founder and Creative Director of Westworld" name tag.
How to act: Controlling, egotistical, and a bit sinister.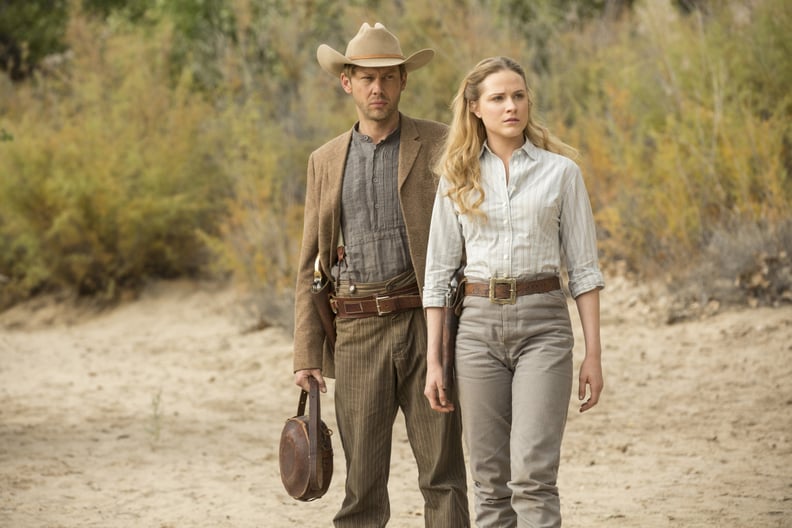 Dolores Abernathy (After Running Away With William)
What to wear: High-waisted gray pants with a striped button-down shirt, a thick leather belt, and boots.
How to act: Rugged, determined, and a bit violent. If people ask how you are, tell them you're sick of being the "damsel in distress."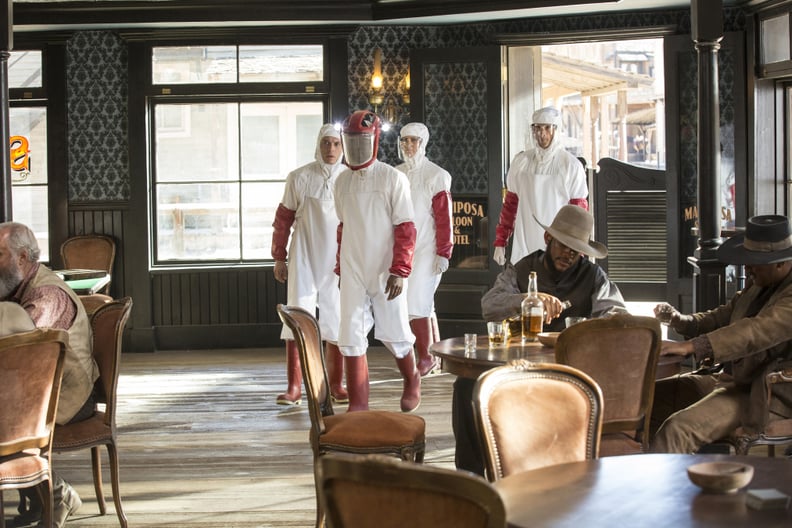 A Westworld Host Cleaner
What to wear: A white jumpsuit with a white apron, red rubber boots, and elbow-length gloves. If you don't feel like covering your whole face with a protective mask, a pair of plastic glasses (like you used to wear during chemistry labs) would get the point across. Oh, and maybe splatter some fake blood on your apron for a more realistic effect.
How to act: Unaffected by and numb to anything bad you may see. Scrub and clean anything in sight.