What Is The Deuce? James Franco Is Starring in Your New, Raw HBO Obsession
James Franco has become quite the renaissance man in recent years, from starring in 11.22.63 to executive producing Lifetime's Mother, May I Sleep With Danger? update to teaching classes at USC, UCLA, and NYU. Now he's coming to HBO on The Deuce, playing twin brothers Vincent and Frankie Martino, based on a real pair of twins who were part of the emerging porn industry in New York City in the 1970s.
This realistic, raw drama explores the world of prostitutes and pornography, race relations, the rise of HIV/AIDS and the drug epidemic of the '70s and '80s against a backdrop of scene-setting '70s fashions, cars, and musical cues. It costars Maggie Gyllenhaal as a Times Square sex worker, Lawrence Gilliard Jr. as an NYPD officer, and Chris Coy as a bartender and LGBTQ advocate.
The show comes to us courtesy of David Simon, the mastermind behind The Wire and Treme (who is also a former police reporter), and his frequent collaborator, writer George Pelecanos. The pair are highly concerned with portraying this time period the way it really was, so they've brought in former porn actors and directors from the era. Pelecanos told the 2017 Summer TCA press tour audience that their "biggest fear" is that someone will say their show is "bullsh*t" and that they "got it wrong."
Part of having such a realistic look at the porn and prostitution industry means that there is a lot of violence (and sexualized violence) toward women on the show. But Simon says that the objectification of women is not one of the currencies driving the show. It's the actual subject matter, and it's hard to make a show about the pornography industry and clean it up.
Gyllenhaal added that with The Deuce,, they have "an opportunity to pick [misogyny] up and lay it on the table and to do it in a way that's thoughtful and smart, I think, and also real, so that includes having to see things that look violent and uncomfortable."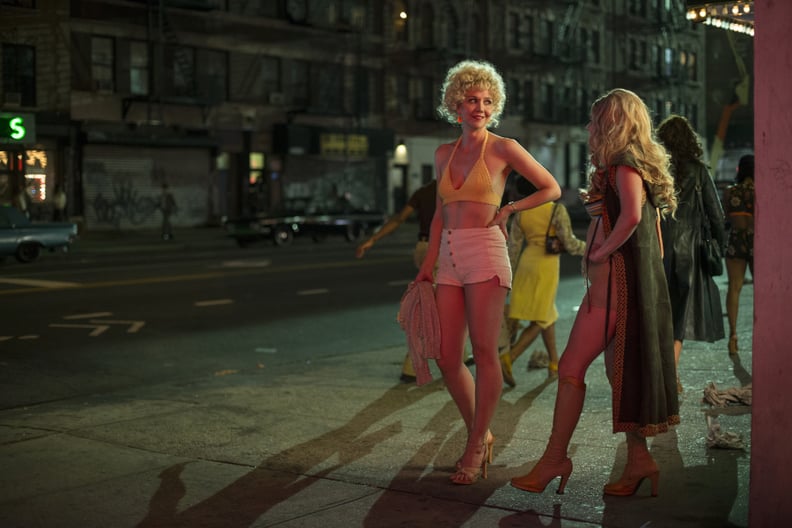 The actress also added that the show should titillate audiences because that's part of the conversation. "If the show also turns you on a little and then makes you consider what's actually turning you on, and the consequences for the characters who are turning you on and what's getting you hot, I think it's a better show," says Gyllenhaal.
The Deuce, which has already been renewed for a second season, premieres Sept. 10 — set your DVRs now, because this is going to be your latest HBO obsession.