Bird Box's Director Hinted at Where Felix and Lucy End Up, and Now I'm Even More Confused
Watching Bird Box can be frustrating for a lot of reasons. Like, why do we never see the creatures? And why can Gary look at them and no one else can? And what, exactly, was John Malkovich going for with his character?! While most of those questions will remain eternally unanswered, the film's director, Susanne Bier, recently sat down with People to hint at another mystery: where the f*ck did Felix (Machine Gun Kelly) and Lucy (Rosa Salazar) go?
Warning: spoilers for Bird Box ahead!
As you might recall, about halfway through the film, the home of survivors where Malorie (Sandra Bullock) has taken refuge experiences a major blow when they wake up and realize the car — their only way to get to the grocery store safely, since they can use its GPS system to navigate while still having blacked-out windows — has disappeared from the garage. Lo and behold, Lucy (a cop) and Felix (an obnoxious jerk), who recently consummated their relationship in the laundry room, decided to steal the car and run off together, presumably because they believe their chances of survival will be better off without a loud alcoholic waving a gun around.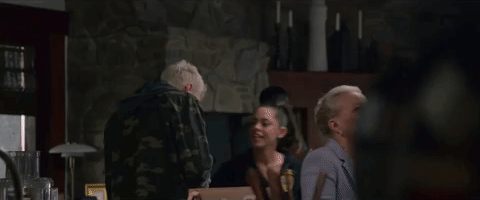 Well, it seems Bier has no idea where the couple ends up. But she does know what their initial goal is, which is better than nothing, I suppose. "I think [the grocery store] was their plan, but we don't know!" she explained to People. "I think that that's where they wanna go, but I actually think it's quite exciting that we don't know exactly where they went."
Since Malorie and her two young children are the ones left standing by the end of the film, thanks to her extremely harsh rules and dedication to keeping them all from "looking," we'd hazard a guess that Lucy and Felix don't survive long on their own. Their impulsive behavior and roller-coaster relationship doesn't exactly scream survivor material, you know? If the movie ever does move forward with a sequel, though, maybe we'll get an answer about their fates once and for all.