How Mark and Becky's Relationship Will Be Acknowledged in the Roseanne Reboot
Roseanne hasn't been on for over 20 years, which made the idea of rebooting the beloved family sitcom a daunting one. Would all of the original characters return? How would the story change? Would we even recognize the Conner family we grew up with? The show, which ended after nine seasons in 1997, is definitely getting an update here and there — David and Darlene are getting divorced, Dan is magically alive, and some new faces are joining the show — but the heart of Roseanne is still there. If you need proof, just take into account how the reboot plans to honor the relationship between Mark and Becky.
Mark Healy, played by the late Irish actor Glenn Quinn, is first introduced in season three as a James Dean-esque hunk who sparks a connection with Roseanne and Dan's older daughter, Becky (Lecy Goranson). Despite Roseanne's vocal disapproval, the relationship between Mark and Becky is the real deal, and they end up eloping later on in the series. By season nine, Becky (at this point being played by Sarah Chalke, who replaced Goranson when she left for college off screen) is pregnant with their first child and the couple presumably lives happily ever after. Of course, none of that actually happened, since Roseanne reveals she's been writing a novel all these years and has taken liberties with the lives of the characters in order to make the story compelling.
Once news that the reboot was coming along was released, however, some fans wondered if ABC would recast the role of Mark since Quinn died from an accidental opioid overdose in 2002. With most of the original cast returning — even Chalke is back, albeit in a different role — having someone take the place of Quinn and continue on with Becky and Mark's relationship would have been a major bummer. Fortunately, the reboot has other plans.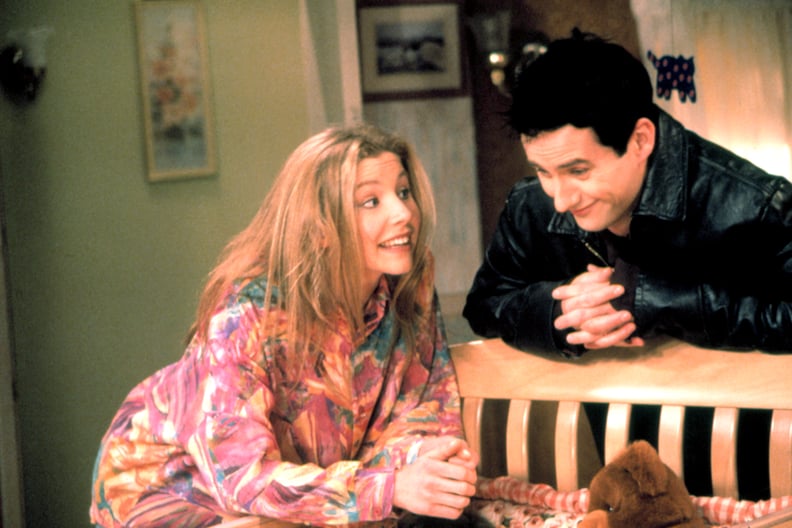 At a Winter TCA event in January, executive producer Bruce Helford confirmed that Mark dies off screen before the events of the new episodes. Though he won't physically be a part of the show, he certainly won't be forgotten by the Conners.
"From the writing standpoint . . . when you have a show that's so naturalistic, we had to deal with that and that Becky was going to be single," Helford explained. "We all had great affection for Glenn. We really wanted to say something. He comes up a couple times. It isn't just [the premiere episode]. He comes up a couple times in the course of the nine episodes."
Roseanne Barr added, "We all missed Glenn so much, because he was just a great part of the show, and it's not something we wanted to just gloss over."
That means we'll get to see Becky navigating the single life, as well as her adventure as a pregnancy surrogate for Chalke's new character, Andrea. She'll also get to be a part of the lives of sister Darlene's kids, one of whom shares a tender connection to their late uncle — Darlene's son, whom she had with estranged husband David (Mark's brother), is named Mark as well.
It's comforting to know that, while Becky and Mark's relationship has sadly run its course on Roseanne, the memory of their bond will live on through the Conner family.