Outlander Just Made a Significant Change to Brianna's Character From the Books — Here's Why
Some Outlander fans were undoubtedly surprised by the events of the most recent episode, titled "Down the Rabbit Hole." Not only are Claire (Caitriona Balfe) and Jamie (Sam Heughan) absent, but there are a couple of surprising faces that pop up over the course of the hour. Plus, Brianna's (Sophie Skelton) time in Scotland on her way to 1760s America is quite different than it is written in the book. Read on to find out why the Outlander writers made these changes, but be warned: spoilers to follow!
Book readers know that originally when Brianna travels to Scotland, she makes her way to Lallybroch and meets not only her Uncle Ian (Steven Cree) but also her Aunt Jenny (Laura Donnelly) and several of her cousins. They welcome her with open arms, the only blemish on the otherwise happy family reunion being when Laoghaire (Nell Hudson) shows up, ranting and raving about how Jamie belongs to her and that Claire stole him away with her witchcraft.
In the show, Brianna is actually taken in by Laoghaire after collapsing in the cold wilderness. It isn't until much later that Laoghaire's "truth" about Claire and Jamie comes out — because neither woman knows who the other one is in the context of Claire and Jamie.
It certainly makes for an interesting story, but we'd be lying if we said we weren't sad that we didn't get to see Brianna meet her Fraser family. As it turns out, that made the Outlander writers sad as well, but it couldn't be helped.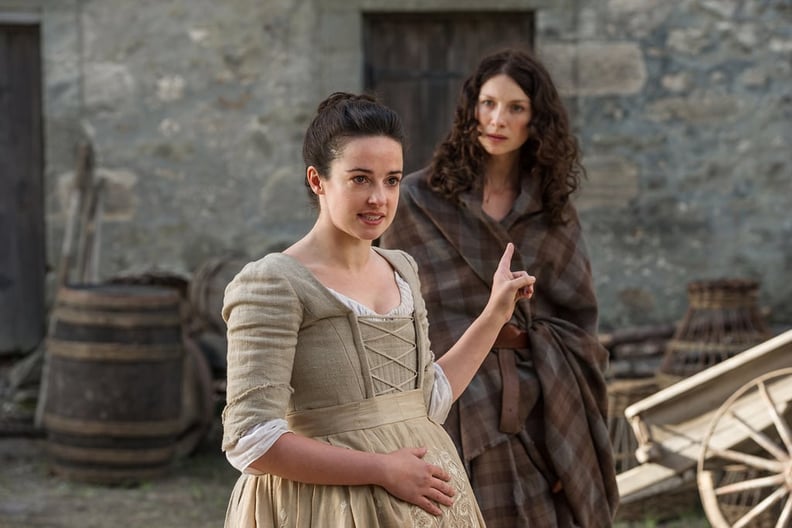 "Originally, when we started the season, we had every intention of taking [Brianna] to Lallybroch and having a Jenny-Brianna story . . . but sadly Laura Donnelly was not available," executive producer Maril Davis explained to POPSUGAR. "We actually really dragged our feet on that one because we had a story all ready and a script ready and we were all excited about it, and she had other commitments and was just not able to come back."
"We just adore her — not just Laura, but the character of Jenny — but she just wasn't able to do it," Davis added. "So at the last minute we had to struggle to find another story to do in this episode because for us, it's really about Jenny and Brianna and that relationship when she was going to Lallybroch."
Now, the writers knew they were going to include Laoghaire in the story "in some way," just like how she appears at Lallybroch in the book. So, as they got to talking about that, they decided focusing on Laoghaire could be a really interesting way to take this episode.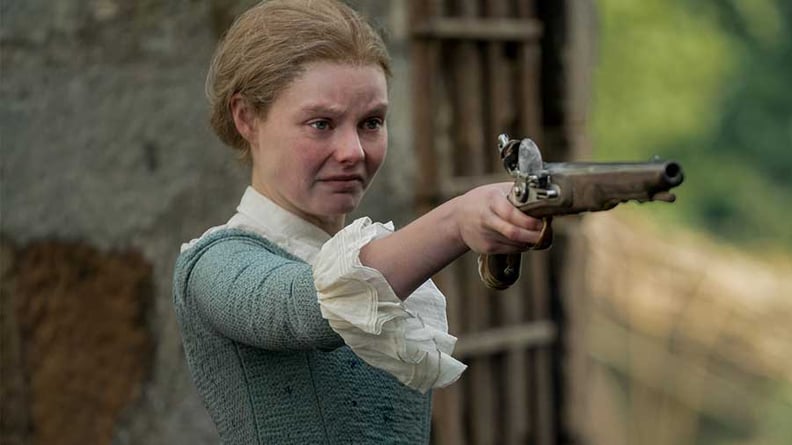 "The more we talked about Laoghaire, the more we thought what an interesting conversation that would be, if Brianna ran into Laoghaire and didn't know who she was," said Davis. "Certainly Claire has shared some of her journey with Brianna and has certainly shared this story, but the likelihood of Brianna necessarily remembering Laoghaire's name out of context, if she met her randomly, isn't something we thought she would do. And we liked the idea of seeing Laoghaire as a normal person. What would she be like if she weren't a crazy person? She's obviously a good mom. And it's interesting to meet Laoghaire without any expectations of what we know of her in the past."
"And it's interesting to meet Laoghaire without any expectations of what we know of her in the past."
Another reason the writers thought Laoghaire's tale would fit in well with this episode is because they had already decided to juxtapose Brianna's time in Scotland with flashbacks to her time with Frank (Tobias Menzies) before he died. As the writers worked out Laoghaire's story, they realized that Frank and Laoghaire actually pair very well together in an episode because they have "parallel" stories when it comes to Claire and Jamie.
It actually makes a lot of sense to take an episode without Claire and Jamie and focus on the people who are basically the anti-Claire and Jamie. And regardless of how you feel about the characters, Menzies and Hudson are talented actors, so it's kind of fun to see them pop up unexpectedly from time to time. Thumbs up, Outlander.