Stranger Things: This Tiny Detail About Chief Hopper Will Break You
One of the best aspects of a show like Stranger Things is that there are levels to each of the characters. You'll pick up something new or heartbreaking every single time you rewatch a season. And now that we've plowed our way to the end of season two, there's even more depth to each one of the residents in Hawkins, Indiana. Take Chief Hopper for instance, who's expertly played by David Harbour. While you may have been more enamored by his good looks and epic dance moves in the newest installment, there's something much smaller about his character that provides a large dose of insight: his bright blue bracelet.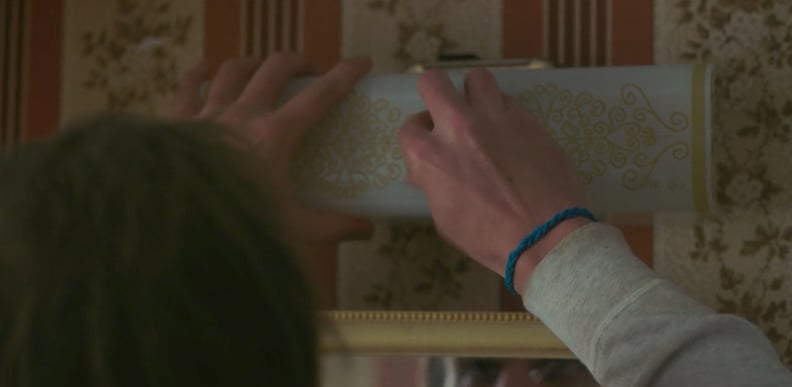 You can spot Hopper's teal bracelet in tons of scenes in season one. In fact, he's wearing it in his very first scene in the series, where he wakes up on the couch and has a shirtless smoke on his porch. In this picture, you can see it poking out of his sleeve just after he's woken up from his Hawkins Labs drugging. (As a refresher, he breaks into Hawkins Lab to get some answers about Will Byers.)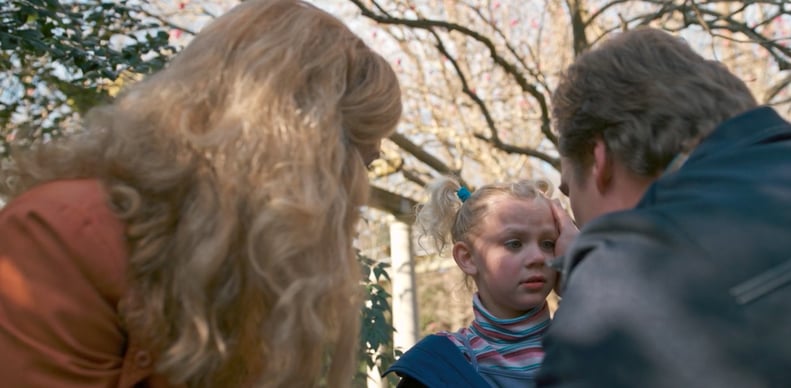 In the season one finale, there's an apparent connection. While searching for Will in the Upside Down, Hopper flashes back to his moments with his late daughter, Sara. Even though we don't get this full backstory until the finale, we hear bits and pieces about how the Sheriff lost his little girl long before the events of the show take place. This turned Hopper into the slightly hopeless, kind of bitter, divorced man he is in episode one.
In the first flashback scene in the finale, Sara appears to have a panic attack, and you can spot her wearing hair ties of the same color. It's worth noting that Hopper isn't wearing his bracelet in this scene.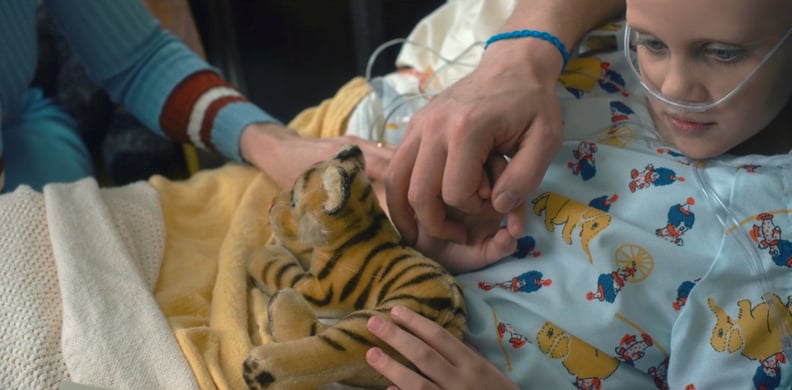 Later, we find out that she presumably had cancer. In another scene, she's bald and breathing with the assistance of oxygen tubes. Hopper reads her a children's book. On his wrist, he's wearing the bracelet. Again, there's no overt mention of her hair ties or his new bracelet, but it's safe to assume he's begun wearing her hair ties around his wrist (a very poignant show of support, since his daughter has lost all her hair).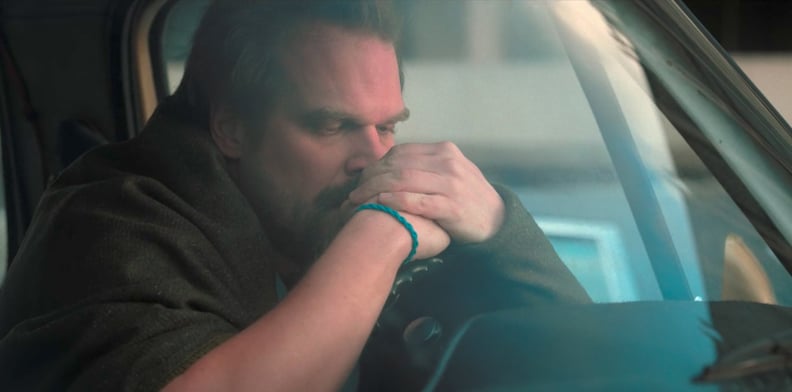 In season two, it's a bit harder to spot the bracelet, but it's definitely still there. You can spot it in this scene about halfway through the season, when Hopper's trying to get in touch with Eleven via radio.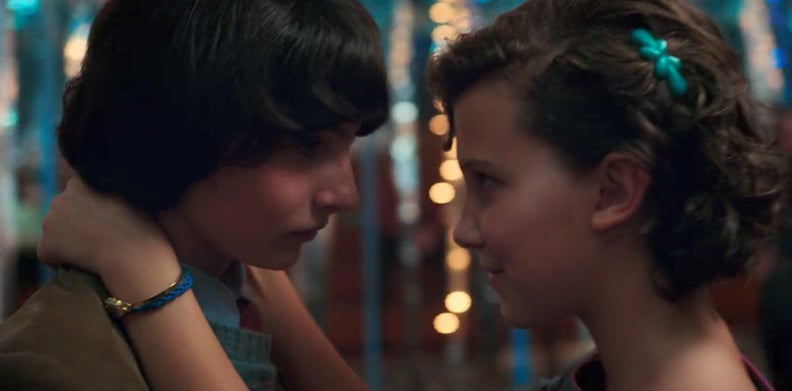 In one of the final scenes of the season, Eleven appears to be wearing the exact same bracelet. This happens after she officially becomes his daughter, or rather after Dr. Owens produces a fabricated birth certificate saying so. It could be just coincidence, but given the show's supreme attention to detail, it's very likely that Hopper has given his bracelet to her.
The easy assumption is that Hopper has "replaced" his late daughter with Eleven, but that's not my read on it at all. I think the small gesture is a promise. Hopper is promising to love and protect Eleven as he loved and protected the daughter he once had. He's taking all the fatherly care that still lingers in his heart and finally putting it somewhere. It's a sort of closure for him, even though (I assume) he'll always love and miss his biological daughter. But in Eleven, he sees an opportunity to mend and move on. He sees a second chance.