Don't Forget What Happened Last Time Arya Saw Littlefinger on Game of Thrones
The following contains spoilers for Game of Thrones season seven.
Arya Stark is making a list and checking it twice, and her enemies can't hide if they're naughty or nice. Petyr "Littlefinger" Baelish might not officially be on the youngest Stark daughter's list, but she certainly isn't pleased to hear that he's hanging around Winterfell when she finally returns home after six long years. To understand this reaction — especially after Arya has been on the run for so long — it's important to understand what happened the last time Arya and Littlefinger saw one another.
"It is my opinion that chaos breeds opportunity that is lost soon after."
Way back in season two, Arya Stark finds herself serving as cupbearer to Tywin Lannister at Harrenhal, which leads to a pretty interesting dynamic between the Lannister patriarch and the (secret) Stark daughter. During her stay at Harrenhal, Arya also becomes privy to several meetings between Tywin and cohorts as they plan war strategies. One of his visitors during this period is none other than Littlefinger, who is still acting on behalf of the Lannisters.
During his visit with Tywin, Arya witnesses firsthand that Littlefinger does not — despite his assurances to Catelyn and later Sansa — have the Stark family's best interests at heart. Arya overhears as Littlefinger plans with Tywin to enact revenge on the Starks and Baratheons through an advantageous alignment with the Tyrell family. "It is my opinion that chaos breeds opportunity that is lost soon after," Baelish tells Tywin during this scene, as Arya listens in. He later tells Tywin: "Perhaps that treason [by the Tyrells] should be punished, one day; but after Stannis, and Robb Stark."
It's clear that Arya notices this scheming against her family, which Littlefinger later claims to have supported nonstop. She doesn't outright add him to her list, but she definitely notes that Littlefinger is not to be trusted. And of course, once Arya learns of Sansa's sexual abuse and torture at the hands of the husband Littlefinger promised her to, she'll have even more reason to dislike and distrust him.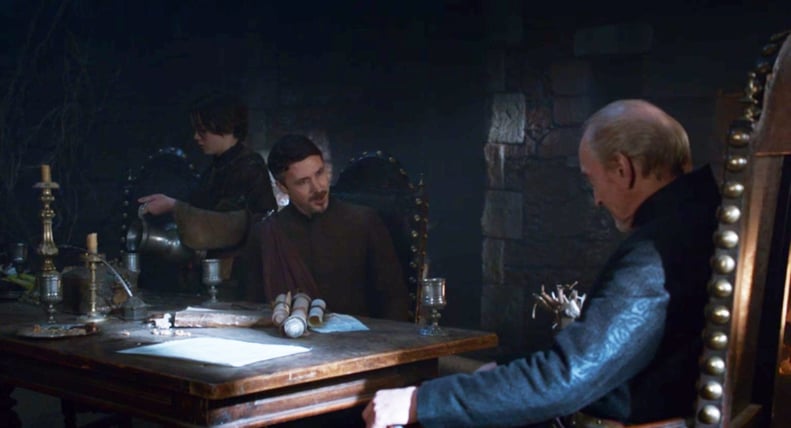 Uh-oh, Littlefinger — Harrenhal is haunted, but maybe it's just with the ghosts of your past. This will come back to bite you!