If You Really Must Know, These Are the Characters Who Die in Avengers: Endgame
Warning: There are so many spoilers below. Tons. So don't read any further if you don't want to see them!
Avengers: Endgame is both the end of the Marvel Cinematic Universe's first "phase," as well as the start of the next adventure for some of its new heroes. But for a few characters we've grown to know and love over the last decade, the final Avengers film is indeed the end of their journey. So, who dies?
Although Infinity War wraps up with an astounding number of shocking deaths, Endgame takes a far more restrained approach to cutting short the lives of some of the most well-known characters from the film franchise. Ahead, find out which unlucky few perish over the course of the movie's three-hour runtime, as well as how each crushing moment goes down.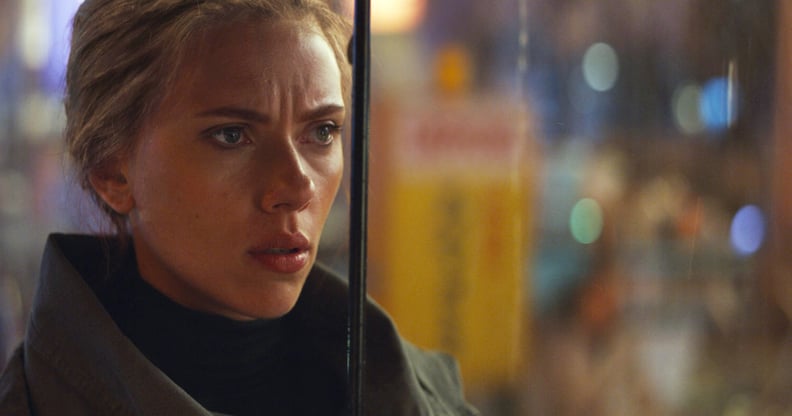 Natasha Romanoff, aka Black Widow
Scarlett Johansson has played Natasha "Nat" Romanoff (aka Black Widow) ever since first appearing in 2010's Iron Man 2 when she poses as a new personal assistant for Tony Stark named Natalie Rushman. Later, of course, Nick Fury arrives and tells Tony that Nat is actually a S.H.I.E.L.D. agent, which sets into motion the ever-expanding MCU.
Despite being one of the original Avengers, Nat is the first of them to die in Endgame. Much of the plot hinges around the group's effort to figure out a way to reverse Thanos's snap and bring back their friends, a cause that Nat is particularly obsessed with. All of the remaining Avengers deal with their loss in different ways — leading group therapy sessions, becoming deadly vigilantes — but Nat seems to give up caring about anything but finding a way to bring people back, throwing herself solely into her work.
Fortunately, Tony figures out how to time travel, and they're able to go back in time and collect the Infinity Stones before Thanos does in hopes of using the gauntlet themselves to reverse the villain's murderous snap. Nat and Clint (aka Hawkeye) are the ones who go after the Soul Stone, which they sadly don't realize comes with the price of trading a soul for a soul (as we find out in Infinity War when Thanos sacrifices Gamora).
They fiercely argue about who's going to go over the cliff, with Nat and Clint both insisting it should be them. After a violent scuffle that involves each of them saving the other from jumping, Nat succeeds in her sacrifice — she tells Clint "it's OK" to let her go, and she plummets off the cliff to her death.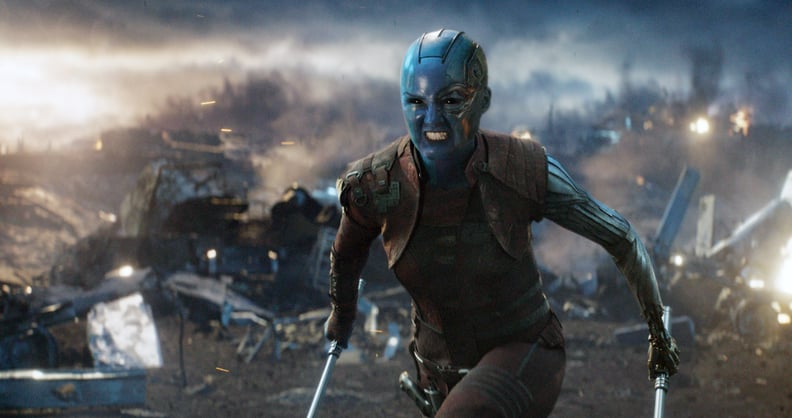 Nebula (Well . . . Sort Of)
So this is a tricky one. Since so much time traveling is going on in Endgame, we get to see multiple versions of the same character interacting with each other. One such pairing is Nebula — the newly chastened space soldier, who has had a change of heart after finding out her father, Thanos, killed her sister, Gamora, is forced to go up against her past self. That Nebula is far less understanding.
Past Nebula ends up imprisoning Regular Nebula on Thanos's ship during the former's journey to the past to retrieve the Power Stone with Rhodey. Then Past Nebula impersonates her future self and time travels forward with the rest of the Avengers in an effort to sabotage their mission to prove her worth to Thanos. When Regular Nebula travels forward in time, too, she has no choice but to kill her past self when Gamora is threatened.
So, while one (meaner) version of Nebula dies after being shot in the chest, the true version of Nebula continues on relatively unscathed (physically, at least).
Thanos
Yes, Thanos dies, too, but it takes a while. The past version of Nebula opens the time travel portal so that the past version of Thanos can travel into the future, too (Thor beheads Infinity War Thanos at the very start of Endgame, FYI). He blows up the Avengers compound and faces off against Thor, Steve/Captain America, and Iron Man as his men search for the Infinity Stones, which the Avengers succeed in collecting. Hulk is able to wear the gauntlet and snap all the heroes who "died" from Thanos's snap in Infinity War back into existence, but loses track of the gauntlet in the explosion.
Toward the end of the battle, all that stands between Thanos and victory is Tony, who steals the stones from Thanos at the last second. Tony assembles his own gauntlet and snaps, making it so that Thanos and his army disintegrate the exact way the Avengers do at the end of Infinity War. The lavender villain is the last to die, forced to watch his men disappear all around him and come to the realization that he's truly been defeated. Justice, served.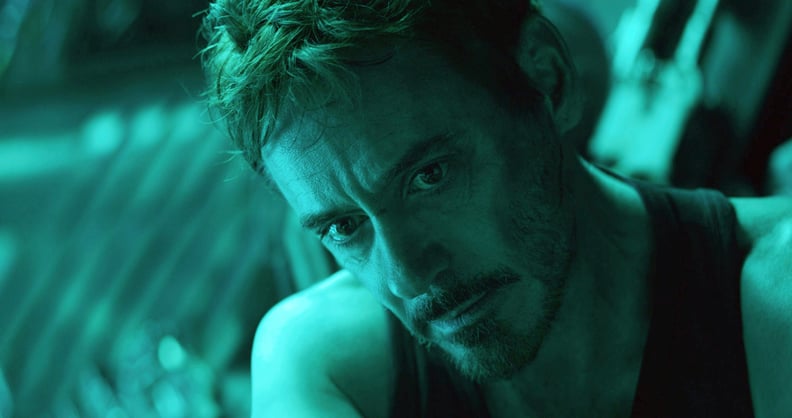 Tony Stark, aka Iron Man
Ready for the most crushing death of all? The one that made me cry so many tears during my screening of the film that the stranger next to me slowly turned his head and whispered, "Are you alright?" Welp, yes, Iron Man is dead. He dies. Tony Stark is gone. What is even the POINT of anything anymore, you guys?! Tony is usually one of the best parts of any Avengers movie (no matter how questionable his facial hair decisions are), which is why his death during the film's final big battle against Thanos's galactic forces is the most emotionally gutting.
Although the team is able to hold their own (for a while, at least) against Thanos's massive army, things start to turn in favor of the big purple baddie when he gets his meaty hand on the Infinity Gauntlet, as previously stated. We know from an earlier scene in Endgame that putting on the glove (when it has all the stones) is a daunting enough task due to the amount of energy it sends coursing through the body of its wearer. And snapping while wearing it beams out enough gamma radiation to fry half the bodies of both Thanos and the Hulk, leaving them severely (but not fatally) wounded. For a human to try would mean certain death.
Tony knows this when he steals the stones from Thanos's glove and puts them in his own makeshift gauntlet built into his Iron Man suit. He snaps anyway, ending the battle and killing Thanos and his army, as well as saving the world. His sacrificial snap instantly sends a fatal wave of energy through his body, though, and he dies with his wife, Pepper, and protégé, Peter Parker, at his side.
What makes Tony's sacrifice truly special — among many, many things — is that just before Thanos attempts to snap for the second time (before realizing Tony lifted the stones), he utters his pompous catchphrase, "I am inevitable." When Tony snaps, he returns the barb with, "I am Iron Man." It's extremely fitting, considering those are the exact same words that kicked off the MCU over 10 years earlier at the end of 2008's Iron Man. Rest in peace, Mr. Stark.