The Empire Season Finale Ended With a Classic "Who Died?!" Cliffhanger
Empire had been making an ominous promise over the last few weeks that "a Lyon would fall," and last week, that seemed fulfilled. Jamal is shot by Freda, and that episode wraps up with a cliffhanger over whether he'd survive. Well, in this week's season finale, that question is answered immediately: Jamal is alive and recovering, albeit grumpy and lacking his will to sing. But you didn't think Empire would go quietly into the Summer without leaving someone's fate in the balance, did you? Season two wraps up with a major death cliffhanger, and one of two characters is probably dead — if not both of them!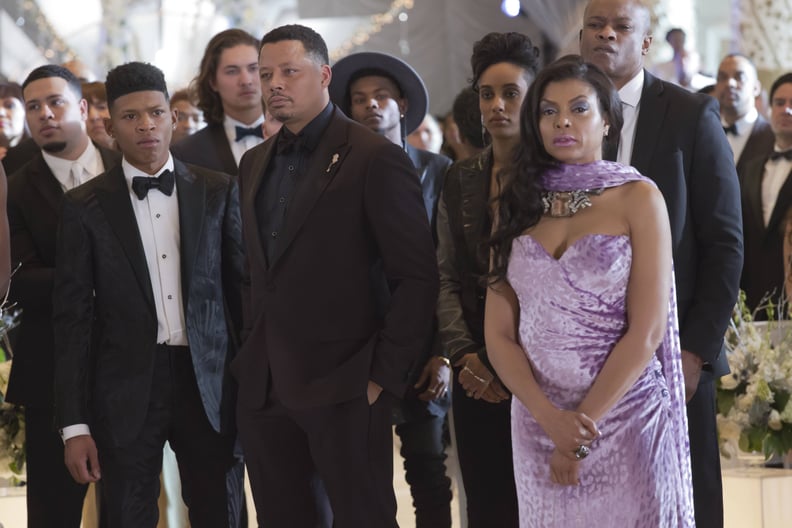 Here's how it goes down: after the most awkward quickie wedding to Lucious, pregnant Anika is getting some air on the balcony of a very tall high-rise. Earlier in the episode, Rhonda had attacked Anika, after figuring out that it was Anika who had pushed her down the stairs weeks earlier, causing Rhonda to lose her and Andre's baby. Having taken a solid punch to the nose that day, you'd think Anika would have been a little more careful, eh? Anyway, there we are, Anika in a postnuptial glow (sort of), looking like the Bride of Frankenstein in her red lace dress, when Rhonda quietly approaches her. They scuffle, bash each others' heads into the wall, and have some words about the Lyon heir. It's still unclear who has the upper hand when Andre happens to walk out and see them, but before he can stop anyone, a scream — and his face — makes it clear that someone has just fallen.
So is it Anika or Rhonda? Either of their deaths would have a pretty significant impact on the show and the characters, but it's unclear. In case you think the showrunners could just be playing a trick on us and didn't actually kill anyone, executive producer Ilene Chaiken seemed to confirm to The Hollywood Reporter that a character did fall, saying, "I'm not going to answer who it is that went over the edge, if indeed someone did — and I would venture that it sure sounded like someone went over."
Thus, in the grand TV tradition of killing a mystery character and making us wait months to find out what happens, Empire has given us a cliffhanger we'll be pondering all Summer long.