The Dramatic Hospital Incident on The Bachelorette Was Actually REALLY Silly
Warning: spoilers for the third episode of The Bachelorette below!
The Bachelorette's 14th season reached its third week on Monday night, and it blessed us with a ton of drama between the guys. It seems a few select dudes have yet to learn from the May 28 premiere, when Becca Kufrin had to defuse a confrontation between two disgruntled suitors and then eliminate someone else before the rose ceremony even began because she knew he wasn't there for the right reasons. The dramatic ups and downs continued in week three when Jordan (the model) and David (the chicken) got into a few verbal disputes, and later David ended up in the hospital, drenched in blood. It turns out he got in a fight with . . . the floor?! Let's back up a second.
In a video preview of the upcoming season released on the night of the premiere (above), we got to see Becca on a plethora of romantic outings with her hunky cast members, which totally checks out since we know she'll get engaged by the time the season wraps up (as for to whom, we're still waiting to find out!). But at the 3:15 mark of the clip, we also discovered that one of the suitors gets seriously injured at some point down the line.
The person was unidentified in the footage, but we knew he was shirtless, covered in blood, and wrapped in bandages and a blanket while being wheeled out by paramedics and into an ambulance. In a voice-over during the ambulance montage, Lincoln describes the situation. "He's lying down in a pool of his own blood, and then I see Blake just screaming," he says. "Like in panic mode."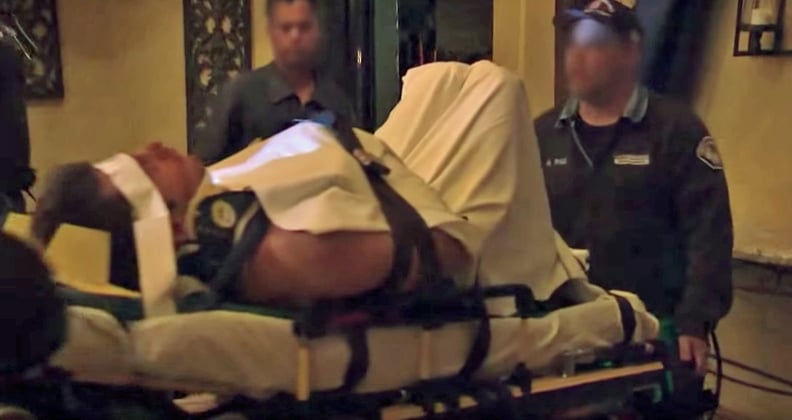 Fortunately the show doesn't leave us hanging for long! About halfway through the third episode, David is revealed to be the one covered in blood and bandages, and later Chris Harrison heads to Becca's room to fill her in on what happened.
"There was an incident at the house last night. One of your guys was rushed to the hospital and is now in intensive care," he began dramatically. "It was David who got hurt. Busted nose, busted face."
When Becca started to ask which of the other guys did it to him, the longtime host revealed the borderline embarrassing truth: David fell out of his bunk bed and landed on his face. Fortunately David is going be totally fine, and Jordan even installed a small barrier on the side of his bunk so that he won't be able to fall out of bed again. I guess . . . chicks dig scars?