Can We Talk About How Perfect Adam Brody's Casting Is in Shazam?
Warning: BIG spoilers for Shazam! ahead!
Adam Brody once portrayed one of the greatest comic book fans in TV history, The O.C.'s Seth Cohen (though your opinion may vary on whether or not he was a great character in general). Now the actor is fulfilling his character's greatest wish: playing a superhero in a comic book movie. The 39-year-old actor has joined the DC Extended Universe for its latest release, Shazam!, and he honestly could not have chosen a better role.
Shazam! follows the adventures of Billy Batson (Asher Angel), a mischievous foster kid who is granted powers by the wizard Shazam. Every time he says the wizard's name ("Shazam!"), Billy is transformed into the best version of himself — a tall, muscular, superhero played by Zachary Levi who can shoot lightning bolts from his hands and fly (though that takes some getting used to). He and his superhero-obsessed foster brother Freddy (Jack Dylan Grazer) use Billy's alter-ego to cause pranks, get out of school early, and get up to other mischief. Of course, things can't stay perfect for long, and the big bad — wealthy scientist Dr. Thaddeus Sivana, played by actor Mark Strong — comes through to claim Billy's powers for himself.
When he realizes he can't defeat Sivana and his band of creepy crawlers alone, Billy gathers his five foster siblings to take hold of the wizard's magical staff, and together they all say the immortal word – "Shazam!" – to transform the whole family into their superhero selves, the Shazam Family. And who does the snarky, attention seeking, comic-lore obsessed Freddy transform into? Adam Brody, of course!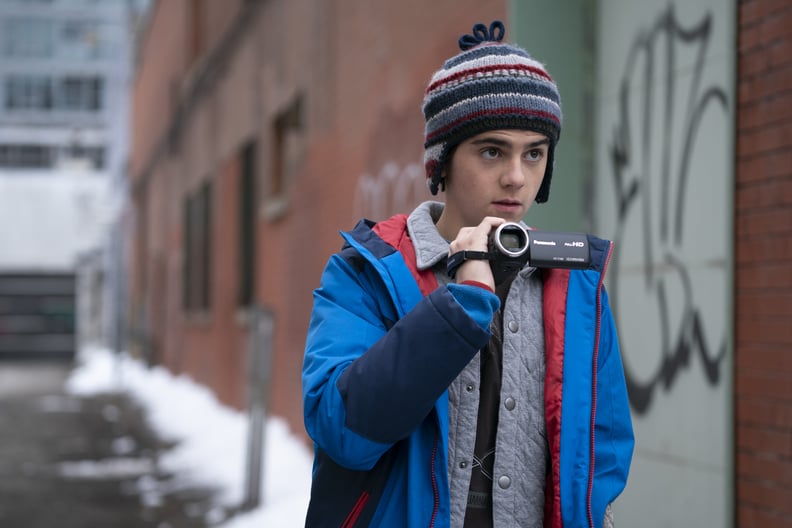 Honestly, any O.C. fan knows in their hearts that this is casting done to perfection. Not only do Brody and Grazer share an incredible physical likeness, but Freddy is basically a miniature version of Seth Cohen. A majority of the film's snarky humor is from Freddy himself, as well as the multitude of comic book references that come from either his shrine of superhero paraphernalia or his seemingly endless collection of superhero themed shirts. And while Brody isn't actually Seth Cohen, he definitely paved the way for geeky fan boys in film and TV.
The casting gets even better when you learn that Brody actually has a history with the DCEU. The actor was supposed to star in George Miller's Justice League: Mortal. Brody was cast as the Flash, alongside Shazam! costar D.J. Cotrona, who would have been Superman. Mortal never came through, but both Brody and Cotrona finally found their way to the DCEU, thanks to Shazam!, and it's absolutely perfect.
Now, we just need a Shazam! 2 so we can see the whole crew kicking butt and taking names once again.