GLOW: A Moment of Appreciation For Geena Davis's Sandy Devereaux St. Clair
It would've been so easy for GLOW to turn Sandy Devereaux St. Clair into a villain. With her sequined skirt suits and her glory days as a showgirl still clinging to her puffed-up leopard-print shoulder pads, Sandy — played with aplomb by Hollywood legend Geena Davis — seemed primed to become the season's biggest antagonist. But one of GLOW's biggest strengths has always been its knowledge that sometimes we are our own worst enemies, and it has therefore never needed to dream up cartoonish or predictable villains for its stars to wrestle with, either literally or metaphorically.
Sandy saunters onto the screen in season three's first episode, when the Gorgeous Ladies of Wrestling are relocated to Las Vegas. As a former showgirl who cut her teeth in Sin City and now works as the entertainment director of the Fan-Tan Hotel and Casino, she's got grit, but she isn't so jaded that she's given up on what she sees as the sparkly necessity of show business in times of crisis. This is apparent when she gives the order that GLOW continue on with its first show despite the Space Shuttle Challenger disaster happening earlier that same morning, offering up a simple "That's Vegas" as explanation.
Although she initially comes off a bit callous — "I'm a big fan of anything that sells out and gets people in the casino" — and clashes with Debbie (Betty Gilpin) on numerous occasions, season three doesn't take the easy way out by making Sandy a standard money-obsessed, unfeeling antagonist for the empathetic cast of characters we've come to know and love over the last two seasons. She extends an olive branch to Debbie, "woman to woman," telling her she can come to her for advice day or night.
Hell, she even sheds all those loud '80s prints she loves so much to help out with the LGBTQ+ charity show at the end of the season by strutting through the crowd in her itty-bitty, glittery showgirl costume and belting out a song. (Side note: she's still got it, WERK.) It's unexpected but perfect (obviously). She's willing to go the extra mile for the right reasons, just like Ruth, Debbie, and everyone else on the show. (OK, maybe not Sam . . . at least not all the time.)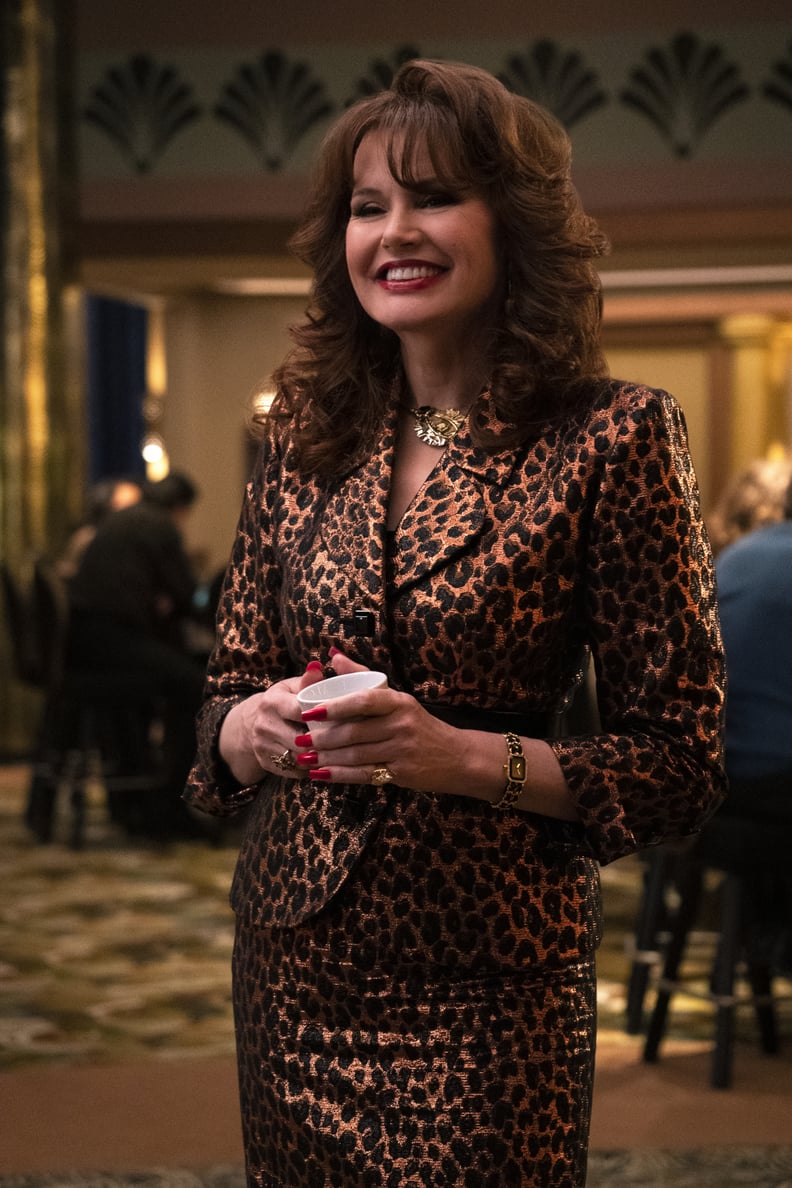 The Oscar- and Golden Globe-winning Hollywood icon — who's been in everything from Thelma & Louise to the recent TV reboot of The Exorcist — guest stars in a total of five of the 10 episodes of the female wrestling comedy, and she makes the most out of every second on screen. Given the way season three ends, with Sandy's option for GLOW to stay in Las Vegas (basically) for good on the table, we have hope she'll be back in the yet-to-be-officially-confirmed season four.