5 Baby Items You Should Always Buy New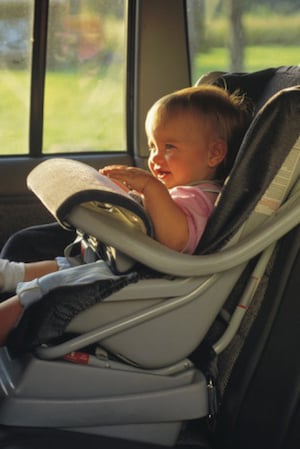 When you first have a baby, it's hard not to get swept up in the joy and excitement, and going overboard on purchases is usually a given. Granted, there are many items your baby doesn't really need, but there are a handful of products that are best to buy new. Here's what you should refrain from borrowing, or from buying used or secondhand to keep your baby happy, healthy, and most of all, safe!
Car Seats: I know a car seat may be the last thing you want to buy new for your baby, but here's why you should: car-seat designs are constantly changing and evolving. Older car seats may have been recalled (many are), or maybe it was in a crash or has missing parts. Even if a secondhand car seat looks perfectly fine, you don't want to take the chance and put the safety of your baby in jeopardy.
Here's what else you should always buy new.
Mattress: Maybe you were planning on getting a new mattress for your baby's crib, but your older sister's baby has transitioned into a twin bed, so she is going to give you hers? The thing is, used mattresses may be contaminated with vomit, urine, and feces, which tend to be a breeding ground for bacteria and mold. Something else to keep in mind is that a baby's mattress should be very firm to reduce the risk of SIDS (Sudden Infant Death Syndrome). And a used mattress usually gets soft over time, which can increase the chances of your baby suffocating.
Crib: Cribs are probably one of the most common item parents buy secondhand or used. Your baby will spend hours upon end in his or her crib, so you want to make sure it is a safe sanctuary and not a danger zone. Just like car seats, cribs can be recalled, and older cribs may not meet current safety standards. In addition, it's hard to tell if a used crib is missing an important part, and you don't want to learn the hard way that it is.
Breast Pumps: This may seem like a no-brainer, but you'd be surprised how many people think they can wash and sterilize a breast pump and give it to someone else to use. The exterior parts of a breast pump can be thoroughly washed, but the safety hazard is inside the pump — which provides areas for bacteria to thrive — is very unhygienic. Reusing someone else's breast pump can expose your baby to harmful bacteria and possibly even mold.
Soft Baby Carriers: Soft baby slings and carriers have been subject to recalls, so you may want to do your homework before you buy one secondhand. Even when you get a new carrier, make sure its straps and closures work properly so that your baby stays secure and safe.