5 Tips for Surviving a Camping Trip with a Toddler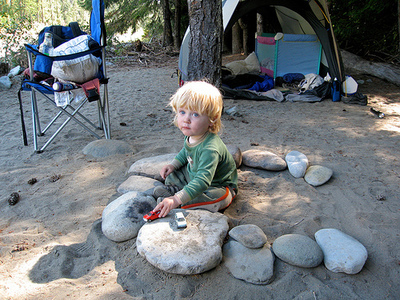 Sleeping under the stars on a good ol' fashioned family camping trip might sound like an inexpensive and fun summer activity, but not to many moms of toddlers!
Ashley G. is one of them. This Circle of Moms member was convinced by her father to bring her 2-year-old twins along on a family camping trip, and she's now worried. Her toddlers, who sleep in toddler beds at home and "get up screaming once in a while," are not potty trained and "enjoy not listening." Will they be too far out of their comfort zone to enjoy the trip? And will she spend the whole trip struggling with them?
Rest assured, say members who are veteran family campers: toddlers can be perfectly in tune with the great outdoors. Here they offer five tips for surviving — and enjoying — the quintessential outdoor adventure with your little ones.
1. Put Safety First
The first step towards ensuring a successful camping trip with a toddler is picking the right location. It goes without saying that safety should come first, as with any family activity. But to Circle of Moms member September W., this also means picking a campsite where there is cell phone reception in case of an emergency.
Mom Kehli D. also recommends that parents be mindful of other outdoor hazards, such as campfires that could burn, lakes tots can fall into, warm weather that could cause dehydration, and wide fluctuations in daytime to nighttime temperatures, depending on where you are camping. When she took her twin seven-month-olds camping, Kehli let her daughters wear just T-shirts and diapers on warm days, but also had blanket sleepers on-hand to prevent them from getting overly chilled at night. She also encourages her daughters to drink a lot of water to prevent dehydration.
2. Pack Essentials and Comfort Items
Items that should be included on a camping "must-have" list include mosquito repellant, sunscreen, flashlight, first aid kit, several changes of clothing, diapers and wipes for when kids get dirty, toys to play with, and a camera to capture memories, say Melissa G. and J. Behrens.
Additionally, for toddlers who are unfamiliar with the outdoors, creature comforts from home can make a camping trip more palatable. Jamie H. suggests bringing a favorite blankie or bedding from the crib or bed that your child normally sleeps in, in order to make the rustic sleeping arrangements a little easier for your little one. 
But skip sleeping bags, say several Circle of Moms members, including Marne S. "Even at [age] two, mine would still kind of get twisted up inside them," she explains.
As an alternative, Jennifer S.'s 15-month-old twins stay cozy-warm zipped up in their sleep sacks.
If you don't mind the bulk, then Callie H. is among several moms members who recommend bringing a pack-n-play that can be contained in the tent for your child to sleep in or used out in the open to keep your child occupied with toys when, for instance, you are busy cooking meals. Umbrella strollers can be used as campfire seats. "Just strap them in and line them up with the rest of you," she adds.
Because Dawn M.'s 13-month-old twin girls are not yet walking, she brings a comforter to lay on the ground that they can crawl on. Also in her bag are long sleeved, lightweight footed pajamas to prevent mosquito bites when not in the tent at night. http://www.circleofmoms.com/twins/camping-with-14-month-olds-297847
Once camp is set up, J. Behrens. And Marcy C. use a large, plastic storage container as a water activity when toys are tossed in, but the "bucket" serves as the baby bath tub, and then the dirty-clothes hamper when it's time to head home. 
3. Keep Food Simple
Camping is meant to be fun, so keep food simple to make the trip easy and enjoyable. Elizabeth F. plans easy meals with little cleanup so that she doesn't spend all her time "working" at the campsite.
"I will second the easy meal [suggestion,]" says Brittany G. Her standard camp meal is a freezer-weight quart-sized Ziploc bag filled with eggs, meat and veggies that she places in boiling water over the campfire.
Similarly, Diane B. pre-freezes meals such as sloppy joes and taco meat prior to the trip, then organizes her cooler according to days with what will be eaten first on top. "Then all I have to do is thaw and warm it up," she says.
And don't forget to thrown in typical easy-to-grab snacks like peanuts, granola bars and fruit that won't melt without refrigeration, J. Behrens adds.
4. Assume That You May Have to Leave Early
As every mom knows, when it comes to children, you have to be prepared for the unexpected, and camping is no different.
Heather H. lets her twin two-year-olds sleep comfortably with her on an air mattress, but recalls they woke up screaming in the middle of the night so she had to take them to the minivan and sleep there with the windows rolled up so that they wouldn't disturb anyone else in the campground.
Even worse, Dawn M. recalls a summer storm that unexpectedly brought 50-mile-an-hour winds through the campsite that crushed the family's tent poles and tore the top cover, forcing them to "high-tail it home." Her husband had to drive back to the site the next day and retrieve their belongings, yet she nevertheless says she might venture out again — just at a different time of the year.
5. Model a Positive Attitude
Moms (and dads) will get the most enjoyment out of a camping trip with their toddlers if they put on a bright face and expect to have fun, say experienced Circle of Moms campers. If you are not a camping person to begin with and go into the trip with a bad attitude, then you really should think about why you're even going, says Terrie H.
On the other hand, moms who don't mind when their kids get dirty will find the adventure especially enjoyable. "Camping with kids is a breeze," says Jennifer H., noting she first took her son camping at 18 months old and continues to do so nearly every month.
To be honest, it's really no different than going on any other trip with your toddler, Shawnn L. says. "You pack extra, you plan [for] mishaps, and you muddle through," she says, noting she took her youngest child camping for the first time at 10 months old and continues to "have a blast."
The views expressed in this article are those of the author and do not necessarily represent the views of, and should not be attributed to, POPSUGAR.