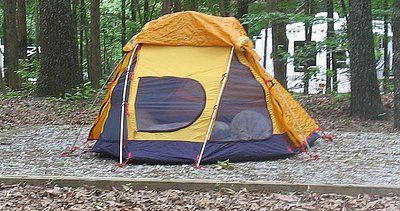 Ah, the joys of family camping! Fresh air and sunshine, invigorating hikes, relaxing attempts at fishing, s'mores around the campfire…what's not to love? Family camping vacations are a wonderful way to spend time together and to enjoy the great outdoors. But before you pitch a tent this summer, check out these seven key family camping tips from Circle of Moms members.
1. Unplug
Mom, leave the iPod at home. Dad, same goes for your e-reader. And kids, don't even think about bringing your handheld video games. As Kris H. advises, taking a break from electronics is a important part of keeping family camping trips focused on family: "The only electronics that come camping are the weather radio and Mom or Dad's cell. Kids don't bring electronic games, cells, mp3s or ipods. Unplug. It's only a weekend."
2. Bring Fun Family Games
Whether your family is partial to Bananagrams, Settlers of Catan or old-fashioned card games, remember to pack a few games to play in the evenings. As Kris H. advises: "Bring board games or card games or trivia games for quiet nights and rain delays."
3. Start Camping Food Traditions
You're never hungrier than when outdoors, so camping is a perfect time to introduce or invent a new food tradition. Circle of Moms members suggest hobo pototoes, eggs in a bag, and berry cobbler in a dutch oven, all of which are fun adaptions to cooking and eating around a fire. And don't forget ingredients for s'mores!

4. Prep Food in Advance
Another great family camping tip comes from Angie M.: "Do as much food prep before you leave as you can...We have a FoodSaver [and] we cut up meats, veggies and cheeses before we leave. That way it is all done." By prepping food at home, you'll have more time at the campground to relax with the fam' around the campfire.

5. Prepare for Bugs
Prepare to fend off bugs — or catch them! Pack bug repellent and a citronella candle to avoid bites, as well as mosquito nets if you've brought a playpen for a baby or toddler. Many moms also recommend bringing a bug catcher. And for extra daytime bug fun, "don't forget a butterfly net," suggests Heather W. (See also: Summer Buggin': How to Keep the Mosquitoes at Bay.)
6. Baby Safety
Wondering whether your baby is ready for a family camping trip? Most Circle of Moms members say to go for it; just be especially cautious of bugs and nighttime temperatures. As Lisa C. advises: "Just make sure your baby is not too hot or cold, and [protected from] bugs and sun." 
7. Invest in a Good First Aid Kit
"Funny how the boo boo rate climbs on a camp out," Angie G. wryly notes. And kids aren't the only ones liable to need a BandAid or antihistimine — grown-ups get bee stings and splinters too! As Heather A. suggests: "Invest in a first aid kit. One with tweezers, butterfly stitches, bee-sting treatment, antihistamine cream/ointment, TONS of band aids, alcohol swabs, etc."
What's your top family camping tip?