7 Movies Moms Let Toddlers Watch
7 Mom-Approved Movies Toddlers Love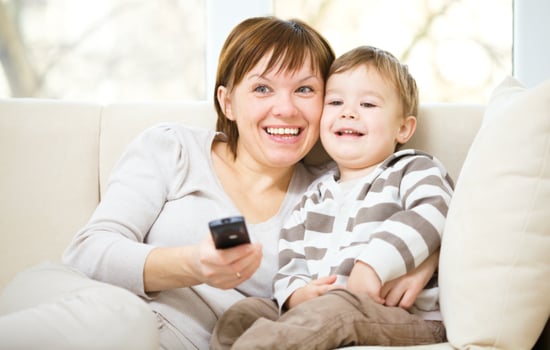 Whether or not you let your toddler watch movies is a momentous decision. Once you do, there's no turning back. So it's up to you to choose flicks that your kids love — and that you can live with. Important things to consider include the type (cartoon, live-action, scary, funny), length, and content themes. Here are seven prescreened movies for toddlers that get the seal of approval from moms.
1. Monsters, Inc.
Monsters, Inc. is a top choice among Circle of Moms members across multiple community conversations. It's the story of a group of monsters who generate electricity for their city by scaring children. What's interesting is that even the youngest viewers who might not want to be scared are able, according to a member named Meagan, to differentiate imagination from reality. While this might be categorized as a scary film, it's certainly not in the "horror" category, and it has enough humor to offset the fear factor.
Keep reading to see all seven.
2. Shrek

Another cartoon classic, this one by the brilliant Mike Myers and Eddie Murphy duo is the first Shrek movie, a film about a lovable ogre who goes on a journey with a donkey to save his beloved swamp. For Circle of Moms member Nina's son, the appeal is all about the unlikeliness of this friendship. It also helps that there are great animal sound effects throughout the movie.
3. Finding Nemo

This film, which is about a clown fish who gets lost in the open sea off the Great Barrier Reef, is an adventure-thriller with enough linear plot to hold even the antsiest kid's attention. Holly's kids, who need a lot of stimulation in their visual entertainment, are riveted by Nemo and his travels.
4. The Karate Kid

Most movies intended for toddlers are cartoons, but are there live-action films that hold little ones' attention? One is The Karate Kid. It may sound way over the average toddler's head, but scores of moms say it's a favorite in their homes. Cheryl's daughter has watched it (or part of it) every day for the last six weeks, a fascination her mom attributes to the graceful and fun karate scenes, which her daughter likes to mimic.
This is a longer film (126 minutes), and some toddlers don't have the attention span for it. Britany's daughter watches feature-length films in half-hour increments, which you could do with any of the longer recommendations on this list.
5. Babe

Babe has a delightful musical score, and Joanna's 2-year-old loves to hum along with songs in specific scenes. One possible reason this film appeals to toddlers is that its stars are theater actors who know how to entertain with physical acting, which can be somewhat melodramatic. It's a hybrid cartoon/live-action production, and it likely helps that there's a simple narrative arc that's easy to follow. It also seems to appeal to girls and boys fairly equally. 
6. The Jungle Book

A shorter film (78 minutes), The Jungle Book is one of the best adaptations of Rudyard Kipling's work. Naomi's kids love it for its content alone, as the compelling tale of Mowgli, a boy who has been raised by wolves in the Indian jungle. It helps that this is an older film (1967), so production values are a bit less amped than the new releases of today. Toddlers don't get left in the dust because the story line is clear and unfolds fairly slowly.
7. Annie

Annie is a classic film that has it all: music, dancing, and an evil villain. It's a staple for Melissa's kids, and Cheryl says hers love to act out the songs from the movie, complete with pretend tap dancing with brooms and mops. This movie has had many incarnations, but the classic version is the 1982 original.
What other movies do both you and your toddler love?