Advice on Becoming a Mom
Moms' Advice to Young Women Who Want Kids Someday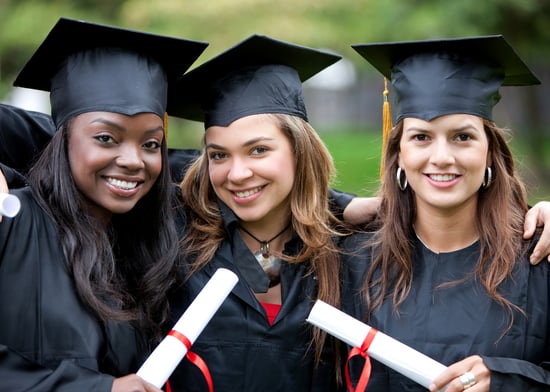 With graduation season at hand, many young women are beginning new chapters of their lives and thinking deeply about their futures, including if and how motherhood will fit into their lives. So we asked women who are already in the thick of motherhood to offer words of wisdom for graduating women who want to be moms someday. Here is a selection of their heartfelt and encouraging advice for future moms.

"Right now? Take care of yourself. Use this time now to build confidence, trust your inner voice, find your inner peace, take vitamins, and enjoy your bubble bath. Don't take that bubble bath for granted. Someday, you won't have it." — Dribbles and Grits

"You can have it all . . . just not all at once. You can't be the best at everything all the time. Don't expect to be. Figure out what is important to you right now and make it a priority. Your priorities will change. Don't be afraid of the changes. Embrace them." — Michelle M. of Scraps of My Geek Life

"Do what you want to do for YOU before you have kids, be it travel, education, shopping. When the kids come it is all about them, not you. If you've had a few fun years for yourself you will be more ready to embrace the selflessness that is motherhood." — Anna B. of Murphy Must Have Had Kids

"Motherhood is not an either/or situation. You don't have to be either a mother or a professional, either a mother or a follower of your passion, either a mother or yourself. You can be a mother AND all of these things, for motherhood is a job that coexists with every other aspect of your life from the moment you hear your baby's heartbeat for the first time. It is not always a peaceful coexistence, but it is almost always one that helps put everything in perspective." — Kelly S. of Are You Finished Yet?

"Don't pile up a load of debt! Work hard through school and make sure you get a degree in something that can help you make money from home. No matter how much you love working, when you see your little baby in your arms you won't want to leave them with a stranger." — Ashley W. of Embracing Beauty

"I would say that it will change your life forever and to say goodbye to that person you used to be. And do it with a smile on your face because the rest of your life is going to be one exciting and interesting adventure and you will never want to turn back. Embrace the change that comes with motherhood and adapt yourself to your surroundings and your new responsibilities and have FUN doing it!" — Mommy Diaries

"Laugh at yourself, laugh at your [future] kids, laugh in the face of disaster. Finding the hidden humor in even the most frustrating and stressful situations — like talking to your daughter about sex and STDs, for example — will make your motherhood experiences a lot more bearable for both you and your kids." — Michelle of You're My Favorite Today

"One piece of advice I would share with young women who hope to include motherhood in their futures would be to try to remember that they and their children will be more resilient than they imagine. Becoming a mom carries along with it all kinds of anxiety baggage, starting with whether or not to breast-feed to how to get a baby to sleep through the night to whether or not to hold a child with a late summer birthday back or push him or her ahead in school. A mother can become entangled in the snares of overanalyzing every decision, large and small, and imagining that each new step will carry grave repercussions in its wake. All of this worrying can end up paralyzing parents and children. Trying to grasp a hold of the idea that children are actually quite strong, physically and emotionally, and that they usually rebound from setbacks fairly well, can help parents feel more at ease in their new role." — Courtenay Harris Bond

"Trust your instincts. Whether it's as a mom or in life, if your gut says, 'yes,' go with it. If your gut says, 'no,' go with it. Sometimes you won't know why, but it will become clear later." — Michelle M. of Scraps of My Geek Life

Add your own advice in the comments!