Advice For Kids' Summer Birthdays
How to Make Summer Birthdays Special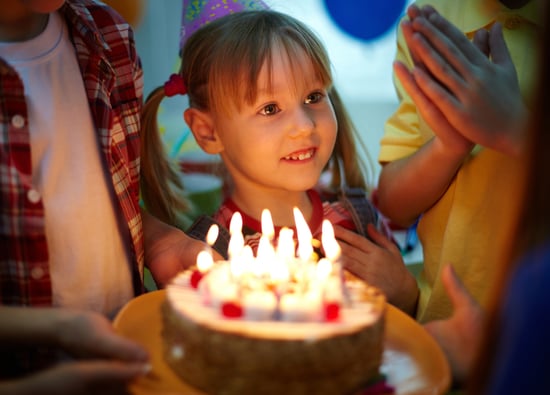 Every parent wants their child to have a great birthday, but how do you do that during the Summer, when your child may not be in touch with classmates and you need to coordinate a celebration around Summer activities and travel plans?

"My daughter's birthday is in July, so that means no bringing cupcakes to school to share and most of her friends are not around in July to celebrate," says Mary M.

Similarly, mom Laura says her son's sixth birthday falls on July 9 and she was planning to have a birthday party at a bowling lane, but no one RSVPed. "I dont know what to do," she says. "This happens every year to my son. I feel really bad for him because it seems to be because of the fact [that] his birthday is during the Summer and so close to the fourth. Can someone please give me some advice?"

Even if not as many friends and family are around to help celebrate during Summer, Circle of Moms members say it's still possible to make Summer birthdays special. Keep reading for their top three tips.

1. Make a Big Deal of the Actual Day

No matter what day your child's birthday falls on — even if it's during the Summer or a holiday — parents should make a big deal about it, Circle of Moms members say. "Whatever day of the year, it is their day, no matter what else goes on," says Alinna S. "In my family we have birthdays which fall on Christmas (both Roman Catholic and Russian Orthodox), as well as many Russian holidays and American ones as well, such as Thanksgiving, the Fourth of July . . . it only makes that day extra specially special!"

Another mom who calls herself "munchkinmomma" agrees that you can make the actual birthday memorable — and make your child feel even more special — by focusing on the positive aspects of the day. "My birthday is on Christmas, so I know firsthand about holidays and birthdays," she says. "My family was wonderful when it came to my birthday. We had Christmas in the morning, went to Grandma's house . . . had Christmas there and then the traditional huge family lunch, then celebrated my birthday late afternoon (complete with a birthday cake and birthday presents wrapped in birthday paper). I never felt slighted, just extra special to share a birthday with Jesus. On a funny note, when I was a child I asked my Grandma if they put up lights because it was my birthday. Of course she said yes."

2. Move the Party Date

Although you should celebrate your child's actual birthday, several parents say it's OK to hold larger festivities on a date when it'll be fun and convenient for others. Hester V. says her daughter's birthday is in the middle of the South African June holidays. So, "we have a party on her birthday, and when the schools start we have another party for the school friends," she says. "Two parties for a 6-year-old is great stuff."

With the teacher's permission, Yvonne J. suggests holding a birthday/end-of-school-year celebration, just before Summer vacations start. Because her son's birthday falls on July 3 and people are rarely around for the long weekend, this year on the last day of kindergarten, she "hauled a wagon full of loot to school at early dismissal to pick up him and eight of his friends. We followed him, 'the leader,' behind the school under a nice shady tree to find a picnic waiting for us. We ate fruit kebobs and cupcakes, painted their faces, and played tag in the field while all the 'big kids' and teachers finished leaving school." On his actual birthday, she took her son and cousin's children to the beach. "Both times we got to enjoy our favorite people, and I got to come home to a clean house with a very happy 6-year-old."

Kay K. says she also has a birthday party for her son on the last day of school before the Summer holiday. "Everyone's still in town, and kids love it as an end-of-school de-stresser," she says. Kristi N. also likes the idea of hosting a birthday party during the school year even if it doesn't coincide with your child's actual birthdate. "Many people do that, sometimes in the opposite way. My daughter is invited to a half-birthday party for a boy whose sixth birthday was in January but has always wanted to have his party during warm weather at the park. So this year his parents asked him if he wanted to postpone having a party until Summer," she explains.

Celebrating half-birthdays during the school year helps to make sure children don't feel left out, Lori says, noting she does this for all three of her children who have Summer birthdays. While Mary M. brings cupcakes to school at her daughter's half-birthday in January. Her 5-and-a-half-year-old "understands now that her birthday comes at a time when school is no longer in session, and she is OK with this arrangement."

3. Take Advantage of the Outdoors

One big advantage of having a Summer birthday is that there is more opportunity to take advantage of warm-weather activities. "Summers are the best time to host luau parties, spa parties, garden parties, barnyard parties, and other themes that need an outdoor venue. For boys, you can consider sports-theme parties such as soccer party, football party, etc.," suggests Lisa R.

Summer birthday parties also can be inexpensive. "If you've got a nice backyard, that's a great, cheap place to hold a celebration," Grace F. explains. "You can . . . do a jungle theme for a Dora/Diego party, garden theme for a tween or adult party, barbecue for Independence Day," she says. "Get some inflatables for a bouncy party, sprinklers, water balloons, water guns," she suggests for the backyard celebration.

Lorena F. says she rented a shelter at a nearby lake one year. She and her husband snuck out to the shelter early on her child's birthday and decorated it with streamers and balloons. "This would work for any age. Even a baby would enjoy the outdoors and the lake and deco, too," she says.

Maureen C. sets up tents and lets her children "camp out" for Summer birthdays. "[They] catch fireflies [and] toast marshmellows. It is a blast."

Felicia F. is another mom who picks a Summer birthday party theme. One year it was baseball, so she worked with the local stadium, and for not too much per child, they got a hot dog or pizza meal and got to throw the first pitch. Another year the theme was "wet fun in the sun," so she rented out the local pool and had a pool party. The goody bags included flip-flops, and after swimming everyone went to the park beside the pool and had a cookout.

Whatever theme you choose — or season your child's birthday falls on — "just make it special" and remember to have fun," Amy W. reminds. "It isn't about when, it's about the love you show them," she concludes.