Annabel Karmel's Make It Easy Baby Food Prep
Annabel Karmel's Food Gadgets Get New Moms Chopping!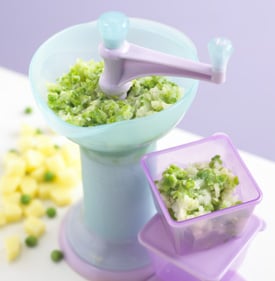 Kiddie cooking guru Annabel Karmel is helping new moms get busy in the kitchen. She's teamed up with baby manufacturer Infantino to launch Make it Easy, a line of seven baby food prep items that include a masher and bowl, a food mill, freezer- and microwave-safe food pots, a microwave steam dish, a lunch box, and cube trays for freezing fresh creations. The products will be available at Babies R Us stores next month, but we got a sneak peek at the brightly colored pieces and found them to be surprisingly durable, given their cute design.
Who is this product designed for? Moms and dads who want to prepare their lil ones' foods on their own, rather than from a jar or packet.
Is it practical? The seven pieces in the line may not be all you ever need to make your baby's food, but they are a great start. Durable, easy to clean, and easy to use, they certainly cut down on the cost of feeding your tot compared to premade versions. Each piece comes with a handful of recipes from Karmel's library of cookbooks, with detailed instructions for using the tool.
What could be better? I wish the line was more extensive. While a masher and a food mill are great, they take time to use, and a handheld blender would be a nice, faster addition.
Would I buy it? Yes! In particular the silicone Food Cube Tray ($10), which is perfectly sized for babies' meals and easy to clean, and the Puree Pops kit ($9), while nothing new in the world of homemade popsicles, is designed for smaller mouths and teethers. After testing out a batch of homemade mango pops (using Karmel's included recipe) on my lil one, I'm a convert to popsicle teethers for sore gums!