Appaman Spring 2011
Appaman Goes Hipster-Chic With a '70s-Inspired Spring Collection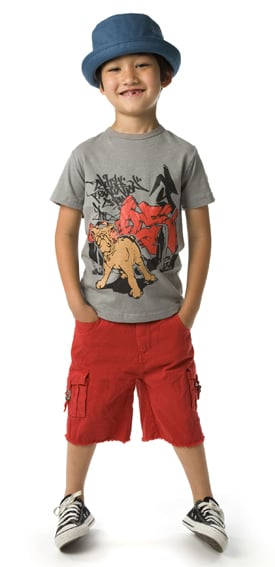 Take a step back to the '70s this Spring! Brooklyn-based Appaman, whose street-chic line of kids clothes attract Hollywood tots and more, invited us to an exclusive sneak peek at their Spring 2011 line, and all I can say is it's going to be a colorful season.
Inspired by the playfulness of Japanese style, which tends to include more cartoon designs and bright colors, the Spring collection is made up of a number of hip t-shirt designs, including a collaboration with SRC, a New York street art team known for its graffiti art (though the group's signature spray can is replaced with paintbrush for the junior set!). Swim, track, and camp shorts, capri jeggings, and an adorable four-layer twirly skirt round up the base of the line.
But the highlight is the boys' English-style mod suit with a tapered leg. The company's founder and lead designer, Harald Husum, was "inspired by the hipster Brooklyn moms who go all out with their children. It's prepster, superhip." With its monkey lining and cool detailing, parents won't have a tough time convincing tots to don the suit for an upcoming wedding or special party.
Check out highlights from the collection, which will be available starting tomorrow, when you read more