Apple Cinnamon Teething Biscuits
Chew Baby, Chew: Homemade Apple Cinnamon Teething Biscuits For Achy Gums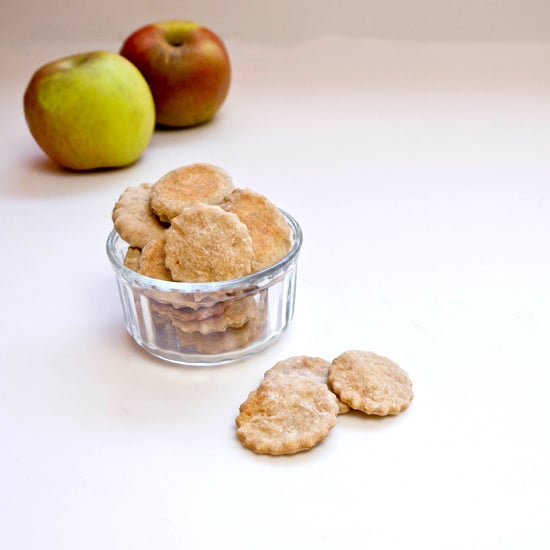 Teething tots love to gnaw on things, so why not make their gum action productive? Making your own teething biscuits is easier than you think (and much tastier than anything they sell in the store). For this recipe, we combine apple sauce and molasses to give the biscuits a slightly sweet flavor and add cinnamon to not only add flavor but also help soothe those aching gums.
Having something handy for your lil one to chew on makes everyone happy during teething, and this batch makes a whole bunch. Toss a handful in a zip-top bag and carry them in your diaper bag — or stash a few in the freezer to cool aching gums!
Keep reading for the recipe.
Apple Cinnamon Teething Biscuits
From Sarah Lipoff, LilSugar
Ingredients
1/2 cup whole wheat flour
1 1/2 cup white flour
1/2 cup applesauce
1/2 teaspoon molasses
1/2 teaspoon cinnamon
1/2 cup water
Dash of salt
Directions
Preheat the oven to 300F and then measure and add the ingredients to a mixing bowl.
Once the dough comes together, place on a dusted work area and knead until it doesn't stick to you or your work surface. Add additional flour as needed.
Dust your work surface and then roll the dough until it is about 1/2 inch thick. Use a cookie cutter to create shapes, a pizza cutter to make a long rectangle, or a round glass to create big circles, and then place the teething biscuits on a lightly greased sheet pan.
Place the teething biscuits in the hot oven and bake for 35 to 40 minutes.
Remove from the oven and let cool. The biscuits stay nice and crisp in an airtight container for up to 2 weeks.
Makes about 20 medium-sized teething biscuits.
Information
Category

Other, Snacks

Cuisine

North American