Baby, It's Cold Outside: Moms' Product Picks for 4 Winter-Weather Challenges
Baby, It's Cold Outside: Moms' Product Picks for 4 Winter-Weather Challenges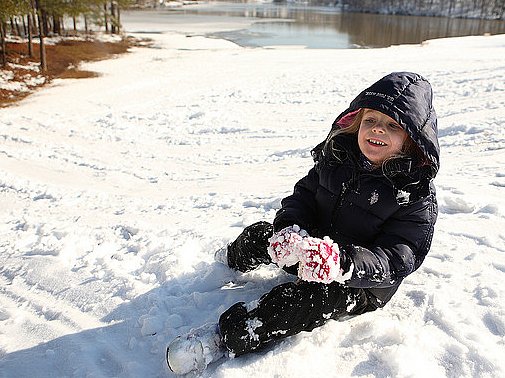 As the chill sets in, Circle of Moms members are discussing all kinds of cold-weather solutions, including sturdy strollers for navigating slushy sidewalks, effective treatments for dry skin and stuffy noses, and must-have outdoor gear for playing in the snow. Here are some of moms' best tips for surviving the season.
1. Get a Stroller That Works in the Snow
When you're walking in a winter wonderland with a baby, a flimsy umbrella stroller just doesn't cut it. Many Circle of Moms members recommend using a three-wheeled stroller with large wheels and plenty of clearance between the ground and lower part of the stroller. Moms give high marks to several specific stroller brands. "Valco makes a great stroller," shares Morgan B., a Canadian mother of one. "I live in Alberta where it snows a ton; my Valco has no problems even in very deep snow." Meanwhile Danielle T., who lives in upstate NY, recommends the Baby Trend Safari travel system: "It is great in the snow...[and it] goes through standard doorways very easily...the MP3 hookup is a plus too." And Saylor M. loves the Peg Perego GT3 for two: "It plows through snow and is narrow enough to fit on buses."
2. Prepare for Coughs and Congestion
Winter air can be terribly dry, especially if you're running the heat round the clock in a closed-up house. To prevent coughs and reduce congestion, moms recommend humidifiers. Reasonably-priced models from Vicks are mentioned repeatedly. Cindy S. says of hers: "It works great and is easy to clean." Others, including April M., say that a cool mist vaporizer works like a charm: "I live in NY so the heat is on and it's as dry as a desert. The cool mist works great!" Other moms suggest Vicks BabyRub, warm baths, saline rinses, and steam.
3. Have These Products on Hand to Soothe Dry Skin
Indoor heat and dry winter air can also bring on or worsen red, scaly skin and eczema. Karen P. swears by Johnson & Johnson's Aveeno Eczema Care Moisturizing Cream for her children's dry skin: "I put it on before bed and by morning they are all cleared up!" Eucerin moisturizer and Aquaphor healing ointment also receive positive reviews from many moms, including Christi T., whose daughter has extra-sensitive skin: "The best stuff I have found is called Aquaphor (made by Eucerin)."
4. Have Fun in the Snow...But Dress For It
Whether you're visiting relatives in a colder climate or enjoying your first winter with a baby in the family, a cold weather clothing checklist will help you prepare. Elaura P. shares the list of gear her kids needed on a trip to Alaska: "Gloves, hats, sweaters, jackets, snow boots, even a snow suit, ear muffs. Better to have the child too warm so they can take the clothes off. Layers are always good as well." Meilan S., a mom in Belgium, also emphasized the need for appropriate footwear: "Just normal sneakers won't do it. We have warm winter boots for our daughter for normal walking and snow boots for the snow."
Looking for more tips on winter baby products? Got a dependable dry skin remedy to share?
At Circle of Moms you can find all kinds of conversations with a seasonal slant, from keeping children entertained indoors, to buying discounted winter clothing, to favorite holiday traditions. Get great parenting tips from fellow moms, and share your own secrets, too!