Baby Face Cream From Baby Spa
BabySpa Face Cream: Kid-Friendly or Are You Kidding?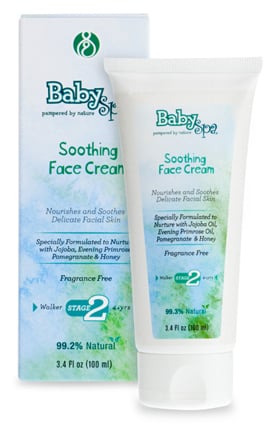 We've tried dozens of lotions and creams for infants, but BabySpa's Soothing Face Cream — yep, it's made just for baby and toddler faces! — is a first for us. The product line, which also includes more traditional body washes, lotions, and diaper creams, is inspired by therapeutic spa cultures and ancient traditions. Each product comes in two versions: stage one for infants through crawlers, and stage two for toddlers through preschoolers.
Stage one Soothing Face Cream ($11) contains botanical songa, an ingredient used by ancient Native Americans for its soothing properties, along with skin conditioners including jojoba oil, beeswax, and shea butter. The stage two face cream ($11) has a combination of pomegranate and honey to moisturize and jojoba and evening primrose oil to soothe. More Native American botanicals, nyamplung oil and kizis, add a dose of SPF.
So what do you think? Do babies deserve their own skin care line? And would you invest in a baby face cream? Weigh in below.