Baby Orajel Teething Gels Warning
Will You Stop Using Baby Teething Gels?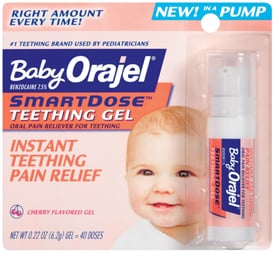 Teething hurts, but just how far will you go to give your tot some relief? Though tales of issues regarding the use of Baby Orajel and Anbesol have circulated via email and chatty moms on the playground for years, the FDA didn't issue a warning about the numbing gels until just this week. At issue? Benzocaine, the main ingredient in the products, can cause a rare condition called methemoglobinemia that limits the flow of oxygen through the body. While some doctors suggested that the level of Benzocaine in baby products wasn't strong enough to cause the condition, the FDA now warns that even low concentrations of the ingredient are unsafe for tots under 2-years-old.
Grandparents love to remind today's parents that they used to rub alcohol on baby's gums to ease the pain of incoming teeth. Do you think teething gels will become just another legend that we tell in the future?