Baby Shower Etiquette
Baby Shower 411: Your Top Questions Answered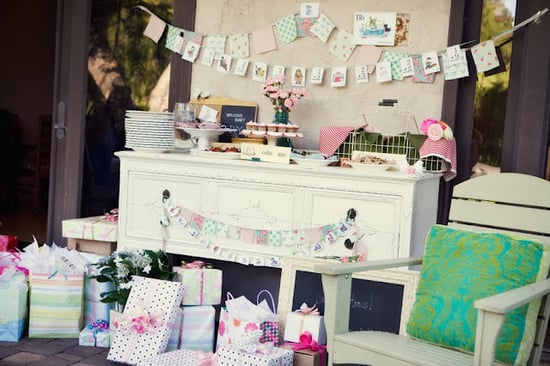 Since there are just as many types of baby showers as there are moms-to-be, the etiquette behind hosting such an event can be a challenge. From who to invite, to how to invite them, and what to actually do once you're there, the range of "what's appropriate" varies depending on the honoree and her family/social circle, but there are some basic guidelines that everyone can adhere to. Here's our best advice:
When should the shower be held?
Typically, a shower is held four to six weeks before the baby's due date. This allows for some "wiggle room" in the event of any unexpected complications. If the mom-to-be has to travel for her shower, it's appropriate to host it even earlier, as most doctors advise staying close to home during the end of the third trimester.
Who should host the shower?
The honoree's close family or friends are typically the hostesses. Nowadays, couples showers have become increasingly popular, so your shower needn't be limited to just women (though we suggest switching up the dynamic from a luncheon or tea to an evening event or barbecue if men are included). Historically, it was considered self-serving to have the honoree's mom or mother-in-law host her shower, since there's gift-giving involved. But the practice has become much more widely accepted, and no one will bat an eye if they receive an invite from a proud grandma-to-be.
Who's invited?
This completely depends on the size of the event, but it's generally appropriate to include family, friends, and co-workers — anyone who's excited about the lil one on the way. There are varied opinions about the appropriateness of inviting long-distance guests who would have to purchase a flight or make a lengthy journey to attend the shower. We're in favor of including them as a gesture, but making sure that they don't feel obligated to attend. You may want to include a short, handwritten note, or follow up with a phone call letting these guests know that they're more than welcome, but not expected, to make the trip.
Keep reading for more of our best advice.
When should invitations be mailed out and what information should be included?
Invitations should be sent out at least three weeks before the event (and a little further in advance if travel is involved). Be sure to include who's being honored, who's hosting, the date, time, and venue, and baby's gender (if applicable). According to Emily Post, registry information should not be included on an invitation, but we think that for a less formal event, it's totally acceptable to give guests some guidance.
What should we do once we're at the shower?
While the idea of baby shower games is likely to yield some moans and groans, it's nice to incorporate some special (tasteful) activities to differentiate your shower from another event. Of course there should be some food and drink and, depending on the size of the shower and the honoree's preference, gift opening.
Have any shower etiquette questions that we didn't get to? Ask away here, or via Facebook or Twitter, and we'll do our best to get back to you!
Source: Sara Westbrook