Back-to-School List Resources
Back-to-School Supply Lists Empty Parents' Piggy Banks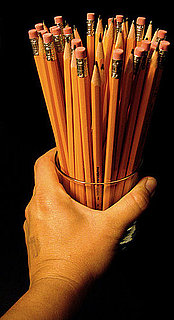 Back-to-school lists are breaking household budgets! Facing financial cuts, many public schools have been adding supplies (that they used to provide) to the items on a child's must-have list. Clorox wipes and pencils for sharing are now the norm. If a school is requesting cleaning supplies, a spokesman for the Washington Education Association tells the Seattle Times, this means that the school is looking for savings "wherever they can find them. Increasingly, parents and other members of the community are being asked to supply more of these kinds of things."
If your child's school supply list is adding up, use these tips for saving on back-to-school items:
Shop discount stores, compare prices, and shop during tax-free days.
Browse thrift stores and yard sales.
Use old wallpaper or paper bags to cover books.
Stock up on supplies for next year once they go on off-season sale.
Shop online for greater discounts.
Source: Flickr User Merelymel13