Baked Parsnip and Sweet Potato Chips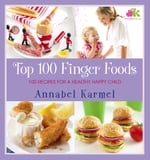 Ingredients
1 small parsnip, peeled
1 tbsp olive oil
1/2 small sweet potato, peeled
A little salt (optional)
Directions
Preheat the oven to 300 F. Line 2 large baking sheets with parchment paper.
Use a sturdy potato peeler or small swivel peeler to peel thin strips from the parsnip. Put the strips in a bowl and toss with half of the oil. Spread out in a single layer on one of the prepared baking sheets. Do the same with the sweet potato, spreading the strips on the second baking sheet.
Bake for 10 minutes, then rotate the baking sheets. Bake for a further 5 minutes, then check and remove from the oven if crisp and browned at the edges. Otherwise continue cooking for a further 4-5 minutes, checking every minute, as the crisps can go brown very quickly. You may find that the parsnips cook slightly more quickly than the potato.
Transfer the cooked chips to a bowl and sprinkle with a little salt. These are best served the day they are made but can be stored in an airtight container overnight (they may soften a bit).
Information
Category

Snacks, Crackers

Cuisine

North American