Bathroom Cleaning Tips
5 Mom Tips For Keeping Bathrooms Clean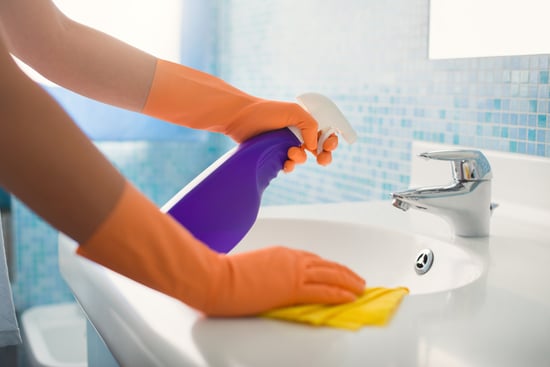 Dread cleaning the bathroom? To help streamline your bathroom cleaning, we've rounded up five strategies from real moms on how to make the task easier. Keep reading.


1. Declutter So There's Less to Clean
Bathrooms all too easily become a clutter of towels, bath toys, hair products, and teeth brushing supplies. As Jacinda of the blog Homemaker Hand Guide shares: "[I] minimize the clutter by not keeping a lot of items in the bathroom. Just the basics. This helps prevent dust and makes cleaning a breeze."
Ideas to try include corralling bottles and products into baskets, moving bulk supplies of toilet paper elsewhere, removing rarely used bath toys, and minimizing the towels that find their way into the bathroom.
As Pam of Momma Can relays: "My newest trick to keep the clutter down is one towel for each family member and everyone has their own color. I packed away the rest of the towels and hid the extra guest towels. Oddly enough the floors and hampers have never looked so empty! We wash the towels on Wednesdays and Saturdays."
2. Keep Cleaning Supplies in the Bathroom
"The best tip for keeping the bathroom clean in my house is the bucket I keep under each sink," shares Pam of Momma Can. "It holds clean rags and a spray bottle of diluted vinegar."
Several moms echoed her tip, including Jenn Farr of Kitchen Counter Chronicles: "Keep cleaning supplies in the bathroom. If I have to go searching for the supplies then I won't clean as often." Of course, if you have young children, make sure products are in a childproofed area.
3. Find Products You Love
Did you know bathroom-cleaning supplies come in scents like peppermint, almond, lavender, and eucalyptus? Look for products with your favorite scent to help energize you while you're cleaning. As AlexisAnne of Clean, Smart Simple Style shares: "Finding a product that I love (that smells clean, but in a good way, not in a chemically way) has really helped motivate me to keep the bathrooms clean."
4. Spot Clean Daily (or Every Other Day)
Several moms advise that spot cleaning regularly helps keep their bathroom mess manageable. "Each day I try and do a 'wipe-down' of the sink, toilet and shower with a Clorox wipe, shares Jacinda of Homemaker Hand Guide. "This takes me less than five minutes and prevents the bathroom from becoming unbearably dirty."
Can't fit in a daily once-over? Pam of Momma Can says a three-day-per-week cleaning schedule works for her: "After I drop off little guy to school I have three designated days that I run around a spot clean the mess."
5. Multitask During Bath Time
"I tend to clean the rest of the bathroom while my kiddos are in the tub," shares AlexisAnne of Clean, Smart Simple Style. Whether you have a few minutes to spare during your child's potty training, teeth brushing, or bath time, they can make a difference.
Jenn Farr of Kitchen Counter Chronicles agrees: "Wipe out the sink every night while the kids are in the bath. I like to take advantage of the time I am in the bathroom hanging out while they bathe." She wisely adds, "Multitasking is a mom's best talent."