Belly Armor Radiation Protection For Pregnant Women
Belly Armor Radiation Protecting Blanket: Ga Ga or Gag?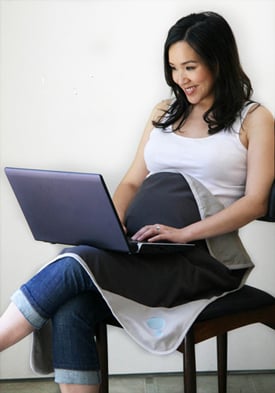 At one point, every pregnant woman who spends a significant time on her laptop will think, "This can't be good for my baby." But then email, your fave social networks (Facebook! Pinterest!), and of course, LilSugar call your name, and you're back clicking away. Now — in the "someone has thought of everything" category — Belly Armor is here to ease your mind. The brand promises to eliminate radiation exposure to your belly with products including a belly band, a T-shirt, and our favorite, the Belly Blanket. Belly Armor's blanket comes in three outer fabrics (cotton, organic cotton, and cotton microfleece and satin), all of which are lined with the company's trademarked RadiaShield fabric, which they say blocks 99.9 percent of radiation. The blankets are priced from $69 to $109.
So what do you think? Is that a small price to pay to protect your bump from radiation? Or do you think Belly Armor is an unnecessary product playing to prego women's fears? Weigh in below.