Best Foods to Eat to Avoid Stretch Marks
Molly Sims's Approach to Preventing Stretch Marks Is Internal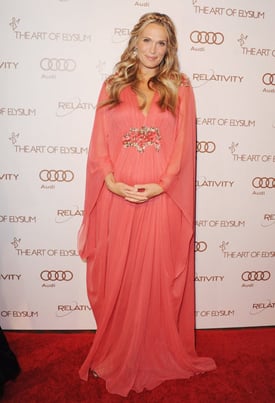 While your odds of developing stretch marks during pregnancy are (for the most part) left to fate outside of your control, Molly Sims is following a diet rich in good-for-you fatty acids to improve her odds of avoiding them. Molly is a follower of Lori Bregman's Rooted For Life program, a holistic approach to pregnancy and motherhood. Today on her blog, the 4-month pregnant mama-to-be shared some of her menu highlights, which include:
Fish, olive, coconut, canola, hempseed, and flaxseed oils
Hemp, flax, sesame, sunflower, and pumpkin seeds
Almond and nut butters
Salmon and cod
Avocados
Split peas
Lentils
Collard Greens
Other celeb moms who have shared their secrets to avoiding the dreaded stretch marks include Ali Landry, who's a devoted user of (and spokesperson for) Palmer's Cocoa Butter, and Victoria Beckham, who favored the pricey Elemis Japanese Camellia Oil last year.
Do you think that stretch marks are best treated from the inside or out? Do you have any other great tips and tricks for avoiding the battle scars of pregnancy?