Best Kids' Rooms and Nurseries of 2013
Best of 2013: Our Favorite Kids' Rooms of the Year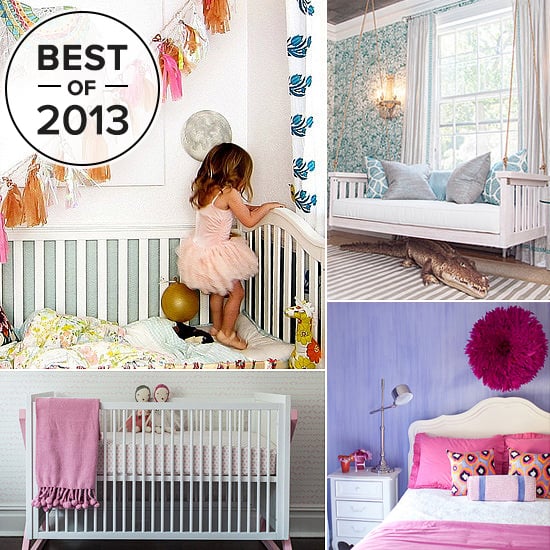 Even the interior-design averse have to admit, decorating your kids' rooms is pretty fun; and these 10 rooms designed for babies and big kids prove just how lovely the results can be. From girlie dens full of pink and purple to less traditional designs featuring antiques, boho details, and even an alligator (!!), the 10 rooms below are inspirational, beautiful, and, best of all, totally kid-friendly.
A Bold Baby Girl's Room With a Pop of Neon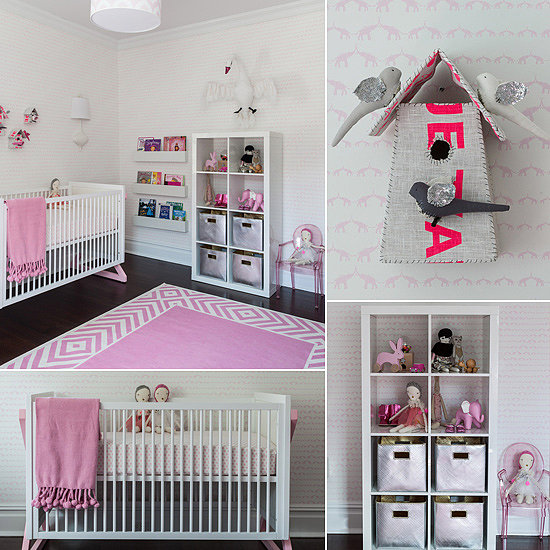 We've long been fans of the beautiful work of NYC-based Sissy + Marley, so when founder Chelsea Reale (aka Sissy) agreed to share one of her firm's very special baby rooms with us, we were just thrilled (and you'll soon see why!). This space was designed for a baby girl named Victoria, who has three older brothers. There was no question that this time around, her mom wanted everything to be pink! Click here to check out Victoria's pretty-in-pink nursery, made modern with fun pops of neon throughout.
A Serene Nursery Full of Incredible
DIY

Details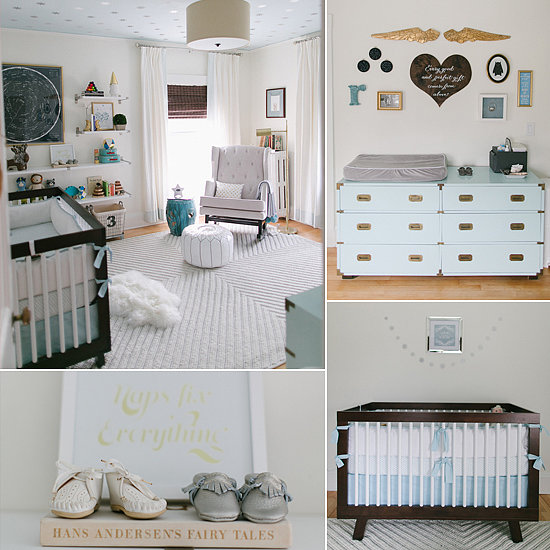 We knew Dina Holland of Honey & Fitz had a great eye, but we were still blown away by the gorgeous nursery she created for her son, Reed. Full of DIY details (A star ceiling! That lovely bedding! Art projects galore!) that you're going to want to copy, the nursery is somehow serene yet stuffed full of incredible details. A mix of vintage and new items makes for a timeless yet contemporary room that we'd love in our own homes! Click here for all the serene, celestial nursery details.
Keep reading for eight more of our favorite kids' rooms of 2013.
An Eclectic Electric Little Girls' Room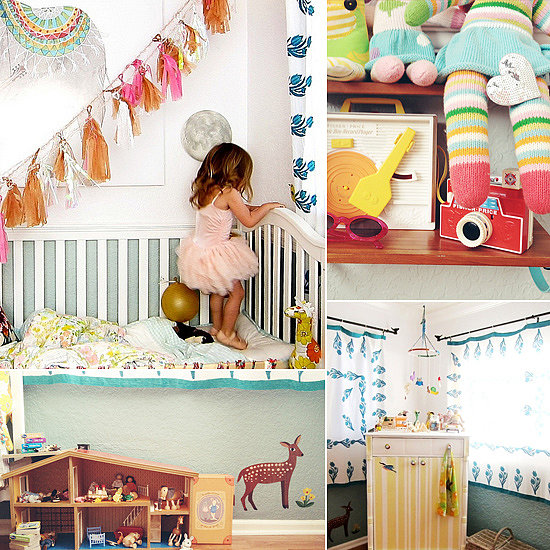 When it came time to update her daughter Marlowe's nursery, mom Drea of the blog Oh Dear Drea decided that it was time to lighten things up a bit. While the walls were painted with white and varying shades of blues, the room is also infused with prints, patterns, and little Marlowe's favorite color, pink. Click here to see all of the eclectic, imaginative decor details that make Marlowe's room truly one-of-a-kind.
A Playful, Wild Nursery, Complete With a Life-Size Gator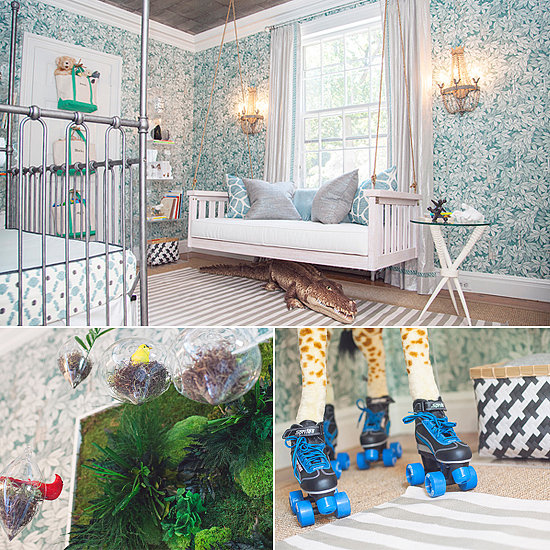 We've featured many an amazing nursery and kid's room, but this is the first room we've seen with a life-size, nonstuffed alligator! Lisa Hershman of Play Chic Interiors went all-out for this nursery design created for the Cedar Knolls Design Show House in Laurel Hollow, NY, and inspired by one of her favorite children's books, Maurice Sendak's Where the Wild Things Are. Lisa wanted to "illustrate to people that you can design a gender-neutral nursery that is neither boring nor blah. Yep, this is not a blah room." Click here to check out all the decidedly nonblah details in this nursery.
A Pink, Purple, and Posh Big-Girl's Room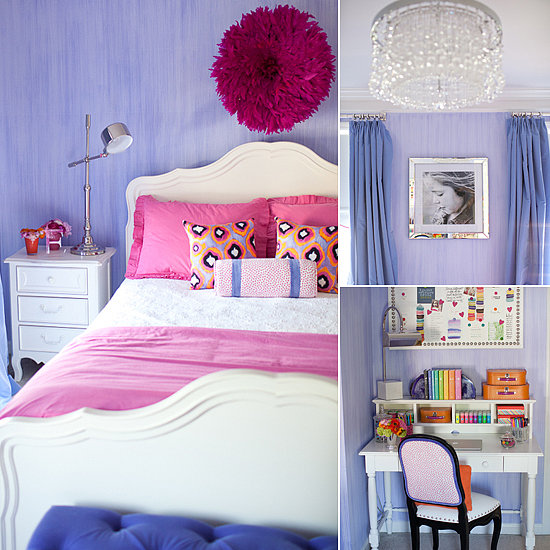 When her 8-year-old daughter decided she wanted her big-girl room to be pink and purple, mom, design blogger, and genuine style diva Krista Salmon of Kiki's List wasn't exactly on board. "It's probably my least favorite color combination," Krista says. "I started twitching at the thought that it might turn out like something out of a Barbie movie. Well, it didn't." Krista and her daughter managed to make purple and pink look sophisticated, painting the walls in a purple wash, reupholstering inexpensive furniture pieces in bold fabrics, and adding the most adorable little desk space ever. Click here to check out all the pink, purple, and posh details.
An Antique-y Nursery For Two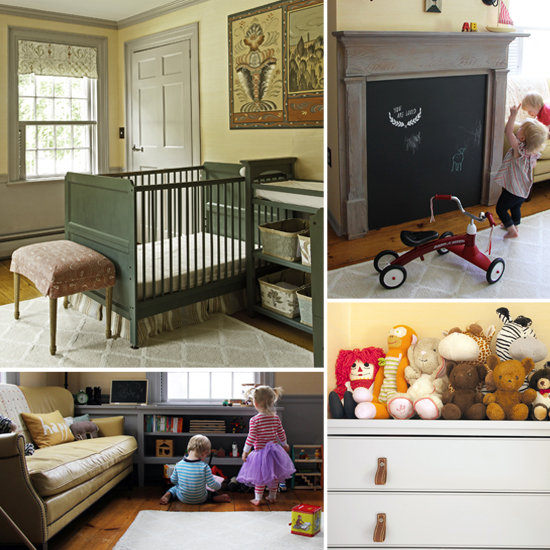 Kirsten Marchand, a retail designer for New Balance and design blogger, dreamed about what her nursery would look like long before she was even pregnant. "I wanted to create a nursery that could grow with the kids," says the mom of boy/girl twin toddlers. With its sophisticated, historic vibe, special art and toy finds, and muted color palette, the nursery is all about creating a cozy, kid-friendly family space. Click here to see all the antique-y, but kid-friendly details.
A Stylish Camp-Themed Shared Space For Two Girls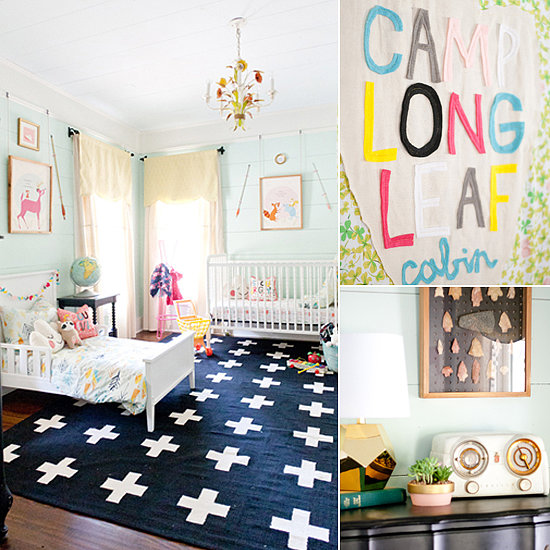 Joni Lay of Lay Baby Lay has a ridiculous sense of style, so it's no surprise that the shared space she created for her daughters at her extended family's vacation home is one of our favorite rooms ever! "The room is at the farm, so I really wanted an adventure/camping/scouting feel," Joni says. While Joni started with a rustic theme, she definitely put her own contemporary spin on the space, stocking it with a combination of vintage and modern finds, adorable bedding from The Land of Nod, and tons of DIY projects. Click here to check out all the camp-perfect details!
A Nursery Where Everything Comes Up Roses
What could be more lovely than bringing the outdoors into a floral, feminine nursery for a new baby girl? "I wanted to create something that felt personal and special in the nursery too, but could live past the infant stage," said mom and graphic designer Hannah Voermans. Inspired by the creation of one of her favorite bloggers, Katie Stratton, Hannah hand-painted this amazing wall full of peonies for baby Ella Charlotte. Click herefor a tour of Ella's flower-filled, inspiring space.
A Colorful, Cool Big-Girl's Room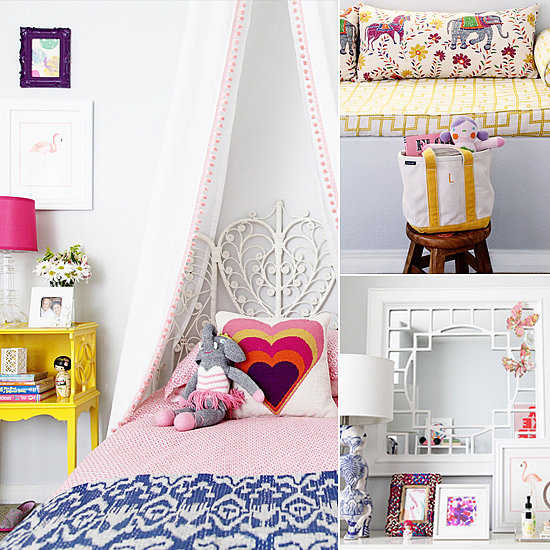 Earlier this year, we shared the gorgeous pink and yellow Hawaiian-inspired nursery that brand stylist and award-winning graphic designer Erika Brechtel of Small Shop Studio designed for her little girl, Leighton. Now that Leighton's 4 years old, her nursery's been transformed to an equally special big-girl room, complete with a vintage wicker headboard for her bed. Click here to see how the colorful, contemporary room's been transformed.
Photography by Sarah Lattos; styling by Irene Lovett
A Nursery Inspired by Nature and Full of Woodland Friends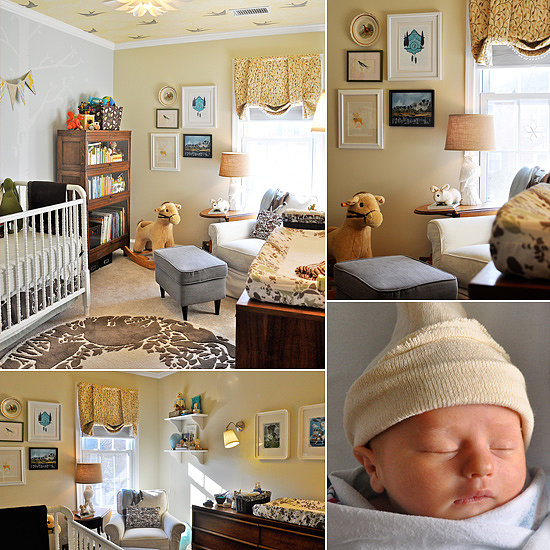 Birds, and bunnies, and bears — oh my! Born on Valentine's Day, sweet baby P. got to come home to this peaceful and serene woodland-inspired nursery designed by his artist mom, Katherine Sable, who chronicles her family's adventures at Fancy Goods. Dark wood furniture and a crisp white crib stand out against the soothing yellow and gray walls — an unexpected and beautiful palette for a little boy's room. Click here to check out this amazing space that brings the outdoors in!