Best Products For Baby Eczema Relief
Itchy Baby? 5 Products That Provide Eczema Relief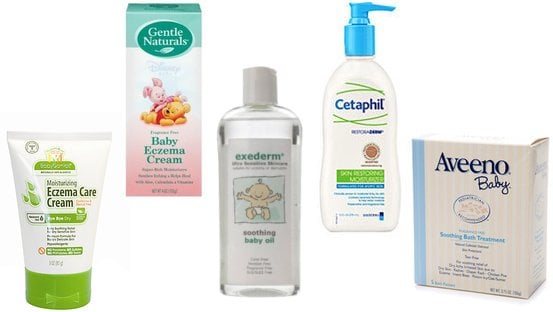 Are you itchy, baby? Eczema is an inflammation of the skin, characterized by redness and itching, and about one in five babies is diagnosed with the skin condition before their first birthday. Now that Fall is officially here, lower temperatures and indoor heating can dry baby's skin — causing eczema flare-ups — and mama will try just about anything to make it feel better. Check out these five tried-and-true products to help give your munchkin some much-needed relief!
Babyganics Bye Bye Dry Eczema Lotion ($7): Au naturel! Bye Bye Dry is a natural, nontoxic solution that provides relief from baby eczema. It's safe and gentle on your little one's skin and soothes baby's eczema itch.
Baby Naturals Baby Eczema Cream ($6): It's super rich! This rich moisturizer specially formulated for babies with eczema nurtures baby's dry skin, soothing it from redness and itching.
Excederm Soothing Baby Oil ($12): Oil up! The key to eczema control is moisture — and nothing delivers maximum moisture for dry, delicate skin than baby oil. It's nonirritating formula makes it ideal for children of all ages.
Cetaphil Restoraderm Body Moisturizer ($15): Moisture for all! This doctor-recommended lotion — for anyone 3 months of age or older — repairs and protects the skin's natural moisture barrier. It's also free of fragrances, parabens, and nut oils.