Bikini Onesie Controversy
Bikini Onesie: Kid-Friendly or Are You Kidding?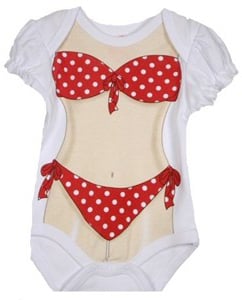 Have you seen the "bikini onesie" that's causing controversy in Southaven, MS? Here's a photo of the (sort of?) scandalous outfit, manufactured by Bon Bebe's "Wildchild" line.
Local residents' reactions included everything from "I feel it's very inappropriate for an 18-month-old girl" to "I just think people overreact to stupid stuff, I don't take offense to it at all," according to reports from Memphis, TN's Action News 5.
While the headline-making bikini style has been pulled from the site, other questionably tasteful options by the same manufacturer include a black onesie with a graphic of tattooed fists reading "Tuff Baby" and another that says "My Mom is the Bomb" — complete with an image of a not-so-baby-friendly bomb.
The Wildchild collection isn't the first we've ever seen of questionable kids' clothes, but it certainly is causing a stir in Mississippi, where it was being sold at Gordman's, a family department store where the tagline, ironically, is "Something Unexpected."