Black Friday: Tips For Shopping With Kids
Black Friday: How to Keep Your Kids Safe While Shopping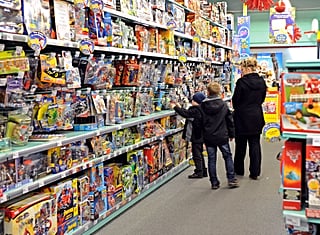 Packed parking lots and crowded stores aren't playgrounds for kids, but most parents have to take their tykes shopping at some point during the holiday season. To ensure your children's safety during trips to the mall — especially during the hustle and bustle of this season — check out these simple tips that provide peace of mind.
Pay Attention in Parking Lots
People in a mad dash to the mall can make parking lots especially dangerous, as they don't always look both ways before backing out. Winter weather is also worrisome because visibility isn't as good. Make it a rule to hold hands when you and your wee ones walk through any lots and garages.
Map Out a Plan
Once you get to the mall, map out a plan in case your family gets separated. Pick a central and easily accessible place to meet up. Your tot's favorite store is an ideal destination, as the youngster will likely remember its location and name. Advise small kids to seek store personnel or a security guard for assistance.
Stay Seated in Shopping Carts
While it's tempting to let an antsy tot climb in or around the shopping cart, it's not a safe practice. Children, especially babies, are at great risk of injury in doing so. So follow the rules and strap your wee one in the front seat and never leave her unattended.
To see the rest of the tips, read more.
Don't Talk to Strangers
In a crowded place, a predator can easily slip away with a child. Remind your kids not to leave your side and not to accept goodies or go off with strangers.
Carry a Snapshot
It's better safe than sorry so use your phone to capture your child's image before entering a crowded place. That way if anything were to happen, you would know what he was wearing. That said, it takes a matter of minutes for an abductor to change a child's appearance, so carrying pictures of your wee one's identifying characteristics whether it be a birthmark, a scar, or a unique eye color, could help in the event that he or she goes missing. While this is unsettling, it's best to be prepared.