Bobbi-Toad Kid Shoes With Paintable Toes
Bobbi-Toads Nail Polish Sneakers: Ga Ga or Gag?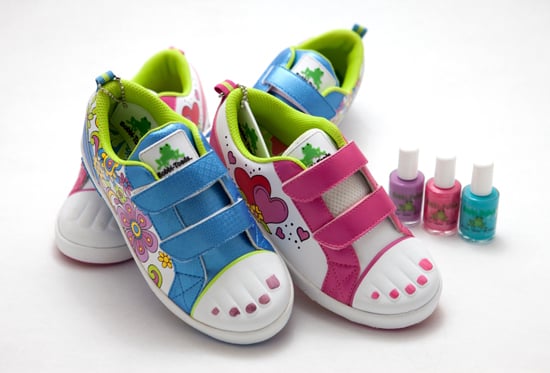 It's always a letdown when flip-flop season ends and closed-toe shoes work their way back into your wardrobe. I mean, there's a reason spans between trips to the pedicurist grow longer throughout the Winter. For lil girls who spent the Summer switching up their toenail colors based on their latest whim, the season can be especially cold.
That's where Bobbi-Toads ($50) comes in, a kids' sneaker with embossed toes (and toenails) that are prime for painting. Yes, we said painting — with real nail polish. Simply apply your lil one's favorite nontoxic nail color to the toe portion of the shoe — or purchase a bottle of Bobbi-Polish nontoxic color ($8) and apply it — let it dry, and send your colorful kid on her way. When she's grown bored of the color, simply use a nontoxic polish remover on the shoe and then paint on your next color.
The six styles of shoes, available in sizes from little girls' 11-13 to big girls' 1-6 are designed to "give girls the ability to express themselves, make a unique fashion statement, and, most of all, have fun," according to founder Jacki Stanley. So tell us: would your tot love a pair of Bobbi-Toads?