Bottled Water for Babies
Nourish Water Bottles: Kid Friendly or Are You Kidding?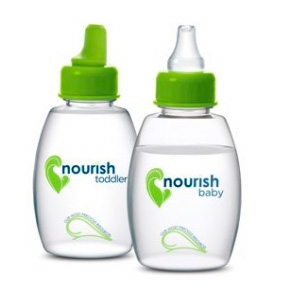 Being a mom also means being an acrobat. We juggle schedules, children, and our own needs in order to get everything done in a 24-hour period. It also means that we have to juggle our lil one's items as we run out the door or are standing in line.
For any mama who has tried to fill a bottle of formula while holding a screaming baby, Nourish Water Bottles ($3.50 each) were designed just for you. Each BPA-free, PET bottle is filled with eight ounces of purified spring water and is closed with a ready-to-use reusable nipple meaning that fixing your next bottle on the road simply involves adding your favorite powdered formula. No more running into a store to buy a bottle of water and no more measuring. For tots who have moved beyond the bottle, but aren't ready for a standard bottle of water, the company also makes a 10-ounce sippy cup version of the bottle.
Would you stock up on these ready-to-go bottles?