Bravery Badges For Kids
Boost Your Tot's Confidence With Easy-to-Make Bravery Badges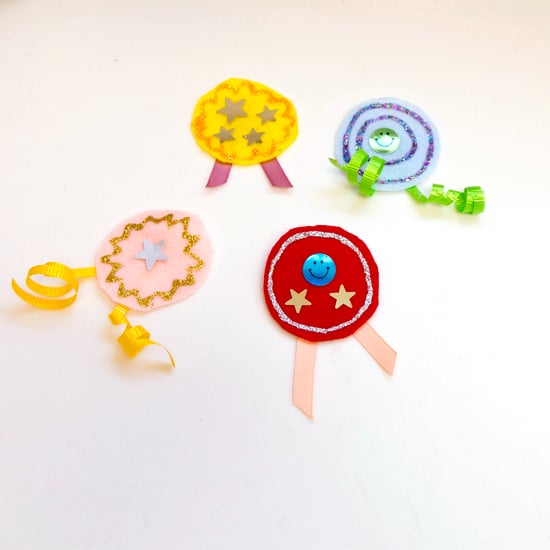 Any day is a perfect day for rewarding brave deeds, and a simple badge does wonders for boosting self-esteem. These bravery badges are easy to make and work wonderfully to remind your lil one to be courageous — especially in new situations. Ease your child's anxiety over the first day of school by fastening one of these small tokens to the front of a shirt or jacket to encourage you child to stay brave, even when feeling unsure. Not only will it keep a smile on your little one's face, but it will also help him try new things and have wonderful adventures. Invite your child to help create the badges, or make them alone for a special surprise.
Keep reading for the simple directions!
What You'll Need:
Sheet of felt
Scissors
Star and smiley-face stickers
Glitter glue
Ribbon
Hot glue gun
Safety pin
Directions:
Start by cutting a circle out of the felt around two inches in diameter. If your child is helping, then trace around a small glass with a marker onto the felt to create a circle to use as a guide.
Decorate the felt circle with a few stickers and then adorn with the glitter glue. Create fun borders for the badge or use for writing motivational phrases such as "Stay Strong" or "Be Brave."
Once the glue has dried, attach lengths of cut ribbon using the hot glue gun. Don't have a hot glue gun? You can also attach the ribbon with the safety pin when pinning to your tot. If you are using decorative ribbon that you can curl with a scissors, then add an extra pop by creating long curls before glueing.
Present the finished bravery badge to your child and pick the perfect place to pin it before heading off on a new adventure.