Bristol Palin Introduces Crying Baby iPhone App
Bristol Palin to Introduce Crying Baby iPhone App on The View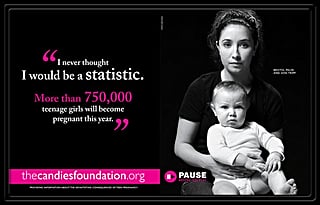 Bristol Palin gained fame being Sarah Palin's pregnant daughter, but she is now an advocate for abstinence and a spokesperson for The Candie's Foundation. The single mom, 19, will sit with the cohosts of The View tomorrow, National Day to Prevent Teen Pregnancy, and talk about the realities of being a young mother. The "Pause Before You Play" PSA she filmed with her son, Tripp, has garnered national attention since its release. Bristol will also discuss an application created specifically for teens. The website said:

The Foundation is introducing a free 30-second "Crying Baby" iPhone app featuring a crying baby that cannot be turned off. The app, ending with taglines such as "Now Imagine this in the middle of the night," is aimed at educating teens that a baby is a lifelong commitment. They are issuing a call to action on May 5 to download the app and are aiming to get 100,000 teens to download "Crying Baby."
If you want to watch Bristol and Tripp's PSA, read more.