Brooke Burke and Children
Valco Boy Meets Girl Stroller: Ga Ga or Gag?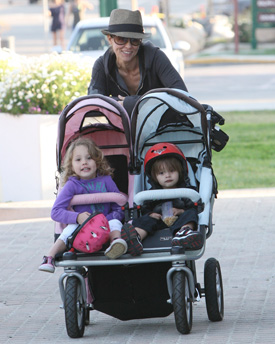 For any mom who has ever argued with her lil ones about who sits where, this double stroller settles all squabbles. Mom of four, Brooke Burke was spotted strolling Heaven, 3, and Shaya, 1, through a Malibu park in the Valco Boy Meets Girl Twin Trimode. The double buggy ($825) features a blue side and a pink side, each with their own canopy and color-coordinated stroller bar. If only the push chair could sort out snack arguments too!
Would you consider the Boy Meets Girl stroller for pushing your kids around town?