Bubble Paint Craft For Kids
Pop There It Is: A Summer Bubble Paint Project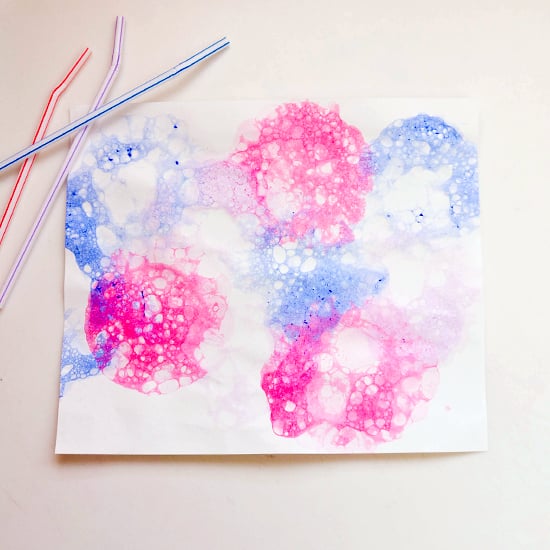 This time it's OK for your child to blow bubbles in her drink! With only a few ingredients you probably already have around the house, your lil one will make beautiful and dreamy bubble prints that turn into great book covers, handmade cards, or decorations for her room. Messy, yes, but that makes this project even more fun — and perfect for a sunny Summer afternoon! Take things outdoors and make cleanup as easy as a hose down.
Keep reading to find out how to get in on the bubbly fun.
What You'll Need:
Tempera paint
Dish soap
White paper
Straws
Small containers
Water
Directions:

Decide with your child how many colors of bubble paint to create and gather the same amount of small containers. Head outside with the paint, containers, straws, paper, dish soap, and water to a flat work area, like an outdoor table or driveway.
Squeeze about a teaspoon of one color of paint into a container, doing the same with the rest of the colors and containers. Now add the same amount of dish soap to each container. Add 1/2 cup of water to each container, making sure there are a couple of inches of room for making bubbles.
Offer your child a straw and blow some bubbles! Encourage your child to blow through the straw from the base of the container, which will really mix the water, paint, and soap together, making vibrantly colored bubbles. Stop blowing once the bubbles reach the top of the container.
Invite your child to press the paper on top of the container, making a bubble print. Keep blowing bubbles and pressing, creating lots and lots of bubble-filled circles.