Bug Bites During Pregnancy
Did You Get More Bug Bites While Pregnant?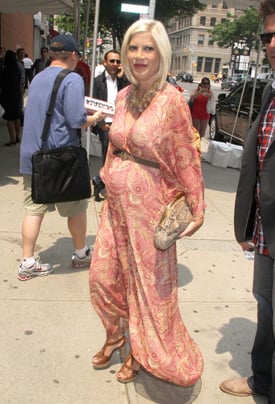 Is a pregnant woman's skin sweeter than others? It's quite possible that it is!
Last evening a vacationing Tori Spelling tweeted, "Liam helped me count my bug bites... 62 BITED in 3 days! NO JOKE! Guess these island bugs love some pregger skin!" Her tweet reminded me that I experienced something similar when I was expecting, and just hadn't mentioned it to anyone.
A quick search of the web proved that there is a link between the two. According to WebMD:
"Mosquitoes can smell their dinner from an impressive distance of up to 50 meters . . . This doesn't bode well for people who emit large quantities of carbon dioxide. 'Any type of carbon dioxide is attractive, even over a long distance,' [Joe] Conlon says. Larger people tend to give off more carbon dioxide, which is why mosquitoes typically prefer munching on adults to small children. Pregnant women are also at increased risk, as they produce a greater-than-normal amount of exhaled carbon dioxide. Movement and heat also attract mosquitoes."
Did you experience anything similar, and how did you treat them?